How to decorate a large wall in your living room
| Living Room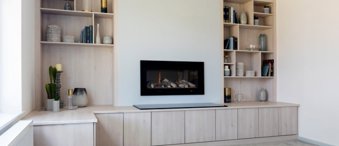 How to decorate a large wall in your living room
A large wall in a living room is a fantastic feature to have but it can often present the daunting task of how to fill it. Fear not, however, as large walls can become statement features for creativity and personalisation, as well as functional spaces.   
If you have an extra-long or tall wall in your living room, here we present some advice and ideas for filling the space for both practicality and visual appeal.
Add a large piece of art
A large wall presents the perfect blank canvas for a lovely piece of art. Most prints, paintings, and photos we put on display are generally postcard size, A4, or A3. However, to make the most of your big space, it makes sense to upsize your artwork too.
Whether you're a fan of contemporary art, landscapes or portraits, you need to find a unique piece that best reflects you and your family. After all, this is the room that you, your family, and most of your guests will see and spend time in. Remember that art doesn't have to be a print or a canvas − it can take other forms. Whether it's a large-scale replica of a flag or a hanging sculpture, you should find something that will make you feel happy each time you look at it.
When it comes to the right size of artwork against furniture, your large artwork should fill about 75% of the space above a sofa or cabinet and be hung about 15-20cm above the furniture piece for the best proportions.
Create a gallery wall
Your artwork doesn't have to be just one piece. You can group artwork to create even more impact to fill your large living room wall. For example, when you have three pieces of art in a row, it not only balances the size of your sofa below but can also make a stronger design statement too.
If you'd prefer to hang multiple items, you can turn your living room into a gallery. Mix and match different shapes, art styles and frames or create something completely unique and eye-catching. Again, remember to think about the proportions and spacing of the pieces. A space of around 4-5cm is usually about right so that they don't appear too close nor too spaced out from one another.
Hang a statement mirror
Mirrors are great for reflecting light and opening a room up. They can be largely decorative and designed to add impact to your space.
Wall mirrors work well in a living room, leaving you floor space for furniture and entertaining. Opt for a shape that echoes the lines of the furniture it's going to be placed above. For example, large, rectangular mirrors above fireplaces make a bold statement, while round mirrors look great over smaller pieces of furniture, such as console tables, and can also be used as part of a gallery wall.
A good rule of thumb is to choose a mirror that's around two-thirds of the size of the furniture it's going to hang above. Your room's colour and natural light levels will play a part too: for the biggest impact, use mirrors to maximise natural light by arranging them opposite each other, or near a window to amplify the effect.
Built-in storage
Naturally, our living rooms are well-used spaces, so they become a breeding ground for toys, games, shoes, and other personal accessories. Therefore, if you're considering how to decorate your large living room wall for the most practical effect then fitted vertical storage may suit your needs.
With a large wall, there are many ideas to consider when it comes to built-in furniture. You can create displays with floating shelves at different levels or install floor-to-ceiling bookcases or cabinets to house all the things you need out of sight.
Fitted living room furniture can be tailored to your exact requirements, tastes, and preferences to create something that brings the best out of your living space and the way you go about daily life. 
Experiment with wallpaper and paint
Sometimes all a large room needs is a splash of paint or a roll of wallpaper to make all the difference.
You can make your largest wall the star of the show with a bold contrasting colour, such as navy, deep green, or pastel pink. These colours not only add warmth and character to a room but also work well as a backdrop for your mirrors and artwork.
Wallpaper is firmly back in style and offers an easy way to experiment with different colours and patterns. A great way to balance out the use of wallpaper in a large room is to install wooden panelling to the bottom part of your wall and fill the top section with decorative paper. This will help to achieve a chic yet cosy feel which isn't too overpowering.   
Install a large TV
If your family members are big fans of film or TV, then you could use your large living room wall to create a home cinema space. A large wide-screen television will help to fill the space but can be costly. A budget alternative is using a projector, which offers a fun and portable option, working very well on a white, blank canvas. Just be sure to get a projector with the right throw distance for your space so that the picture is perfect.
Fitted storage can be placed around your large TV to house remotes, headphones, cables, and other electrical equipment, leaving you with a space that is tidy, practical, and enjoyable for all to share.
Create the ultimate living room wall with Hammonds
The Hammonds team would love to advise you on how best to incorporate storage to fill your large living room wall. With experience in so many types of spaces, we're sure to have an option to suit you and your lifestyle.
Fulfil the potential of your large living room wall and book a free design visit today to take the first step in transforming your living space.
You bring the space, we bring the inspiration
Whether you have an exact vision in tow, or are just at the beginning stage of your home renovation, we have heaps of inspiration for you to get stuck into. 
Find a wealth of design tips, trends and inspiration in the pages of our brochure, magazine and on our blog. Our experts are always ready to help you create dream home, pop in store or book your free design visit for experts to help on bringing your vision to life.