How to decorate a loft bedroom
| Bedroom, Loft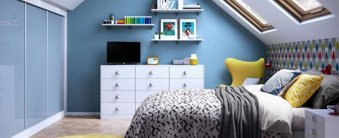 How to decorate a loft bedroom
Loft bedrooms are favoured by many as the perfect space for a grand bedroom and can maximise a property's living potential, as well as boosting the overall property value. However, they also create certain décor dilemmas due to awkward spaces and low-hanging ceilings.
Fear not, however, as there are many ways to overcome the complications of decorating a loft bedroom to ensure that you create a coherent and cosy living space.
Our loft bedroom décor ideas will arm you with the inspiration you need to complete your loft bedroom renovation in style.
Maximise natural light
Natural light is invaluable in a loft and something that you should try to maximise when you are decorating. Skylights can help to let in a lovely burst of natural daylight and are incredibly functional for letting in fresh air too. If you have these, make a feature of them and be sure not to block the area around them with furniture or heavy curtains.
Light tunnels are also an option when the installation of windows is not possible in a loft. These tunnels transmit sunlight from the roof down a reflective tube and into your loft room. They can be fitted on pitched roofs and flat roofs without spoiling the aesthetic of your property.
You can reflect further light around the room using mirrors on the walls and artificial lighting. Pendant lights can often make a loft feel taller, while wall lights will bounce light off an uneven ceiling. 
Choose bright and airy colours
Using light, neutral colours when decorating your loft bedroom can also further enhance the amount of light in the room. Shades of white, cream and pastel will maintain a bright and airy feel while allowing light to reflect off them. You could contrast this with a darker feature wall at the end of the room, as the tunnel shape will create the illusion of more space. 
If you are keen to incorporate a bit of colour into your bedroom, then think about which direction the room is facing and decorate accordingly. In the UK, north-facing rooms don't get as much natural light as south-facing rooms. Bear this in mind when choosing your shades, as dark walls in rooms facing north can more easily feel oppressive. Likewise, the direction of the light emphasises certain undertones of paint colour, so choosing a colour based on its undertone is advisable.
Invest in fitted storage
When it comes to choosing furniture to enhance your loft bedroom décor ideas, it's very often best to consider bespoke solutions. Off-the-shelf furniture can look out of place in awkward spaces, such as under slanted ceilings, and is rarely the best use of space in a loft.
Investing in fitted wardrobes means that you can facilitate an individual design that fits your loft shape perfectly. No matter how tight the wall space is or low the ceilings are, there is always a solution to ensure you have ample space to store all your clothes, shoes and accessories. This way, you can also customise the space inside to be exactly how you want it.
Highlight structural features
As with any space you are decorating, it's a good idea to start with the property's bare bones and decide on which areas you want to focus − and which, if any, you want to hide! Lofts come with many interesting and quirky features, which create opportunities to experiment with different designs and interior ideas.
Areas of exposed brickwork in a loft can make a stylish feature. Bricks can be left to their original colour for an earthy feel or painted in a colour to achieve a more modern look. Similarly, exposed beams add character to a room, especially if they are crafted from oak. The natural notches and nicks in the wood look authentic and help to bring a little bit of nature inside.
Make it cosy (but not cramped)
The premise of a loft bedroom is that it should feel airy and spacious, therefore, it's important not to add to much décor so that it feels cramped and stuffy.
Discreet, understated pieces of furniture work best in a loft space, as they don't feel overpowering or busy. Wooden floors (or LVT alternatives) also work really well as a flooring solution for loft bedrooms, with shagpile rugs added to make things nice and cosy with that extra layer of texture.  
Be selective
Keep that vision of a stylish New York-style loft apartment in your mind as you finalise the details of how to decorate your loft bedroom. Everything should appear effortless, cool and minimal to keep the trend on track. At the end of the day, less is always more when it comes to loft spaces.
Be selective about what is on show in your bedroom. Lamps, mirrors, bookshelves and artwork all add character and charm, but make sure they empathise the space rather than clogging up walkways and blocking out the natural light available.
Maximise your loft space with Hammonds
If you are in the process of renovating your loft bedroom and are looking for some expert help, we would love to introduce you to our Hammonds experts. 
We offer a simple, stress-free service to get the most out of your loft space. Helping you to create bespoke storage solutions for every need, budget and taste.
Book a home design visit to start creating your dream loft bedroom with Hammonds.
You bring the space, we bring the inspiration
Whether you have an exact vision in tow, or are just at the beginning stage of your home renovation, we have heaps of inspiration for you to get stuck into. 
Find a wealth of design tips, trends and inspiration in the pages of our brochure, magazine and on our blog. Our experts are always ready to help you create dream home, pop in store or book your free design visit for experts to help on bringing your vision to life.