How to decorate a spare bedroom
| Bedroom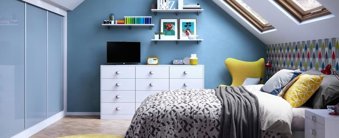 It's lovely to invite friends and family over to stay in your home. It gives you the chance to play host and make the people you care about feel welcome in your natural surroundings.
When it comes to spare bedroom decorating ideas, you want to ensure the space is as comfortable and inviting as possible for your guests, as well as practical and helpful for your family when the house is guest-free.
In this guide, we look at all the ways you can make your room feel welcoming, so that it doesn't just feel like an afterthought.
Creating a comfortable sleep space
First and foremost, you want to make sure your guests have a great night's sleep. Therefore, putting in a sub-standard bed and mattress just won't cut it!
Choosing a mid/firm mattress is a good option here, as it's likely to suit most people. There are many great options available to choose from, including roll-up mattresses, which are extremely easy to transport and install.
Choose high-quality bed linen to give that hotel feel, and remember than neutral colours such as white and cream are the most relaxing to sleep in. Opt for natural fibres such as cotton, silk or linen for the most comfort and coolness. When it comes to temperature control, keep the room cool but leave lots of options for layering with blankets and throws, so that your guests can wrap up if they feel too cold at night.
Providing practical storage
Spare bedroom design ideas should also factor in a good level of storage. This will ensure your guests have ample space to store their clothes and other items whilst in your company.
You need to ensure that they have enough room to accessibly place their suitcases, coats and shoes, so that the room doesn't become cluttered and messy. Investing in fitted wardrobes can be a very good solution for this, as they provide great storage space, which you may also find useful, even when you don't have guests.
You can also co-ordinate your fitted wardrobes with matching furniture such as dressing tables, bedside tables and chests of drawers so that everything stays chic and classy to wow your guests.
Bringing in your personality
It can be tempting to keep spare bedrooms completely neutral, but decorating with care gives you the opportunity to try something new and weave in a bit of your own personality too. 
You might want to keep the walls, flooring, and bed linen plain, but this means that you can play around with some bright wall prints or photo collages, as well as colourful rugs, bright towels or quirky clocks.
Plants can also add a welcoming and calming feel to a room, so incorporate some greens around your spare room to bring it alive – literally!
Adding thoughtful touches
Just as we all find when checking into a hotel or B&B room, it's the small things that really make a difference and stick in our minds.
Chocolates on the pillow, a bottle of water next to the bed and a personal mug to use while in your home; these are all the little touches that can make your guest feel extra special.
Remember to leave the Wi-Fi code written down somewhere too – chances are they will want to get connected as soon as possible!
Making it work for you
Although spare rooms primarily function as a place for guests, they should still offer added value to your family, even when guests aren't around. Therefore, consider designing your spare room so that it has multi-functional use.
Perhaps you can incorporate a zone for homeworking, reading or exercising, depending on your day-to-day needs and the size of the space.
Get your spare room in shape with Hammonds
Having fitted wardrobes installed will mean that you have ample storage to clear away certain items to prepare for guests arriving.
Therefore, if you want to take the first step to making your spare bedroom comfortable and clutter-free, book in a free design visit with our team to chat over some ideas and discuss your bespoke spare bedroom needs.
You bring the space, we bring the inspiration
Whether you have an exact vision in tow, or are just at the beginning stage of your home renovation, we have heaps of inspiration for you to get stuck into. 
Find a wealth of design tips, trends and inspiration in the pages of our brochure, magazine and on our blog. Our experts are always ready to help you create dream home, pop in store or book your free design visit for experts to help on bringing your vision to life.