How to decorate a stylish home entrance
| Hallway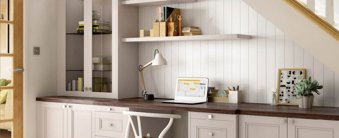 How to create a stylish and inviting entrance to your home
It's the first thing you see when you open your front door and the first space your guests see when they come over to visit. The main entrance to your home should, therefore, be both welcoming and practical – and that can be a fine line to balance.
In this article we look at hallway décor ideas to enhance your home entrance with the aim of maximising storage as well as visual appeal.
Opt for neutral paint
The width and length of your entrance hall may well determine what colour palette you choose. A large hallway space may require some depth in tone to make it feel less vast, whereas a narrow hallway décor might better suit something less bold. Neutral shades of white, cream and beige will always help to give a friendly and airy welcome each time someone walks in and attract more light to the space.  
A neutral palette offers a soft welcome and gives you much more choice to furnish and accessorise with other shades and textures. When it comes to selecting the paint for your entrance, remember that it's a high footfall area, therefore wipe-clean paints will be necessary to ensure your neutral walls stay clean and fingerprint-free!
Light it up
Natural light will help add to the fresh and airy feel of your home entrance. And, if you do have windows, skylights, or glass door panels, then all the better to let that daylight flood in.
If your home entrance is a little on the darker side with less natural light, however, there are still plenty of options to help light it up. Recessed LED spotlights in the ceiling work well for a larger or longer hallway space and can be fitted with a dimmer so you can adjust according to the seasons and time of day. Mounted wall lights or pendant lights hung from the ceiling are also suited to hallways and can add character if you fancy something a little more personal.
Generally, smaller, softer lights appear cosier and warmer (as well as being more cost-effective with your energy supply) so you might also want to place some table lamps or floor standing lamps on or next to console tables to help create that inviting ambiance.
If you're looking to create more of a dramatic entrance, a large pendant light or chandelier will help add that effect. This will certainly help to create that wow factor when guests first enter.  
Keep clutter out of sight
It's quite easy for mess and clutter to accumulate in your home entrance as coats, bags and accessories are often left here. Therefore, clever hallway décor ideas always include good storage options.
One way you can incorporate storage in your home entrance, without taking up floorspace, is to utilise the space under your stairs. Fitted wardrobes can be cleverly designed for this awkward space, giving you ample room to store shoes, bags, coats and more. Depending on the width of your staircase, you might also be able to make room for bulkier items like pushchairs or suitcases too.  
Other slim furniture options like storage benches or console tables are also practical and stylish in a hallway. These will allow you to hide away the smaller things like umbrellas, keys, and mail, as well as giving the option to decorate the surface with pretty lamps, photo frames and floral displays.
Include a mirror
Mirrors can help to make a home entrance look wider than it really is. They're also a great statement piece if you decide to go with something antique or ornate. If you have a long, narrow hallway, then you could hang a few identical mirrors side by side along the hallway wall to give the illusion of space.
Mirrors come in all shapes and sizes, so opt for something that you are going to love long-term. Bear in mind that you are going to see it each time you walk through the door.
Provide seating
Seating is often really helpful as part of your hallway décor as you often need a place to sit down and put shoes on, take shoes off or wait for other family members to get ready!
A wooden bench or ottoman would make a great addition to your entrance, providing it will still leave enough walking room beside it. This could also double up as further useful storage space if you choose a piece with built-in storage. If you can't fit anything so large in your entrance hall, a stool might just do the job or you could consider something that folds up when not in use.
Hammonds can help you to create an inviting entrance
We hope you have found our ideas on how to decorate a hallway useful. Our Hammonds team are experts in creating storage out of awkward hallway spaces and are on hand to find you the best solution. Get in touch and book a free design visit to make the first step in creating a more inviting entrance to your home.
You bring the space, we bring the inspiration
Whether you have an exact vision in tow, or are just at the beginning stage of your home renovation, we have heaps of inspiration for you to get stuck into. 
Find a wealth of design tips, trends and inspiration in the pages of our brochure, magazine and on our blog. Our experts are always ready to help you create dream home, pop in store or book your free design visit for experts to help on bringing your vision to life.