How to decorate your home for the festive period
|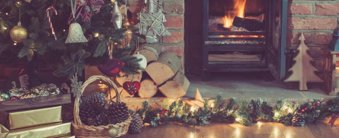 How to decorate your home for the festive period
Christmas is a great excuse to transform our homes into magical places, where fairy lights twinkle, the candles smell of spice, and bright, warm colours lighten the spirit. Even the smallest details can make a difference - a simple wreath, for example, or some paper snowflakes in your window - but we're here to help if you want to make a bigger statement. Here are our tips on how to decorate your home for Christmas.
Pack away your clutter
If you're planning to bring a tree into your home and fill your surfaces with fairy lights, you need to make some space, so almost all great Christmas decorations start with a tidy-up. Pack away any non-festive ornaments so that the house doesn't look cluttered. Dust your shelves ready for the garlands and, if you have fitted living room storage, then make the most of it by squirreling away anything that usually takes up surface space.
Say hello to sophisticated neutrals
Festive decorations don't have to be based on gaudy shades of red and green. Christmas this year is all about sophisticated (but sparkly) neutrals - think shimmering golds and silvers, soft whites and copper tones. Fill your tree with baubles to cement your colour scheme and use warm, white fairy lights around the rest of your home.
Create cohesion with shapes
Christmas decoration ideas for your home can go a bit wild if left untamed, so try to keep some sense of style and order by limiting yourself to certain shapes. If you like stars at Christmas, then try to repeat this throughout your décor to create a theme. You could incorporate some star-shaped baubles on your tree, and pair them with pretty paper star decorations in your windows and in the kitchen. Snowflakes are another classic shape for Christmas themes, and white paper honeycomb snowflakes look gorgeous hung together in groups.
Think 'top to toe'
Christmas is a time for excess so fill your house to the brim with pretty decorations and accentuate height. Hang some big paper decorations from ceiling hooks to create a magical effect. Place garlands over the tops of mirrors or pictures to add to their height and then try displaying some bunched fairy lights to the floor so that they sparkle beneath cupboards and in the corners of rooms. A fully top-to-toe approach with your décor will make a real impact when guests come to visit.
Embrace rustic styles
Rustic style works brilliantly at Christmas as it has that age-old, traditional vibe - harking back to snowy Christmases of years gone by when people sang carols around the piano. Green foliage garlands across mantlepieces and lush eucalyptus wreaths look lively and beautiful as well as adding some festive scent to your home. Traditional popcorn garlands always look fantastic hanging on the tree or along picture rails - they are fun to make, too! - and pretty ribbons tied in big bows add a sense of fun. Wicker baskets also work well and add a Nordic cosiness, especially when they are filled with fairy lights.
Don't forget paper crafts
Some of the best Christmas decorations don't cost a thing so, if you are watching your spending this year, it's time to get creative. Paper chain garlands can look beautiful draped along the staircase or around the tree, and the whole family can join in with making them. Use old magazines or newspapers and find a willing helper to cut out lots of strips for you. We also love these origami stars - once you have mastered the folds, they look gorgeous strung together and hung over a door or a fireplace, or as simple tree decorations.
Get Christmas decoration ideas for your home from the Hammonds experts
Christmas is many people's favourite time of the year and, if you're among that number, then there's no better feeling than surrounding yourself in seasonal cheer. For help with how to decorate your home for Christmas, book a free design visit with one of our experts who will help you to maximise your space for holiday happiness.
You bring the space, we bring the inspiration
Whether you have an exact vision in tow, or are just at the beginning stage of your home renovation, we have heaps of inspiration for you to get stuck into. 
Find a wealth of design tips, trends and inspiration in the pages of our brochure, magazine and on our blog. Our experts are always ready to help you create dream home, pop in store or book your free design visit for experts to help on bringing your vision to life.