How to design a bedroom layout
| Bedroom, Inspiration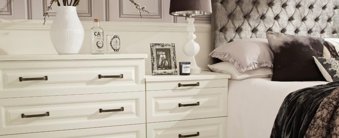 Are you rethinking your bedroom setup? Read our guide to find out how to change your bedroom layout.
How to design a bedroom layout
Are you ready to change up your bedroom? Whether you've recently moved in or you're thinking of refreshing the space, one way to make a real difference is to rethink the layout.  
Having the setup that suits you is important. This room is where you rest up after a long day, so it needs to be arranged in a way that works for your lifestyle. To help you work out how to change your bedroom layout, take a look at our inspired planning ideas and make the space your own.
Size things up
Before you start moving things around, you'll need to think about the size of the room. It might be that you need to figure out how to design a small bedroom layout in a smart way, or it could be that your bedroom is large and you need to know how to fill the room without wasting space. By assessing the dimensions, you can work out where things will fit and how to make the layout work for you.
As well as the size of the room, you'll need to consider the shape. Is it an awkward shape? Maybe you're in an attic room, so the sloped roof makes it tricky to set out the furniture? This might mean that you're limited when it comes to moving your wardrobe around.
However, at this point in the planning process, it's worth noting that you can invest in bespoke pieces that slot into the space. For instance, you can swap out your freestanding wardrobe for a fitted version or update your bed.   
You'll also need to think about where the window is located. Would moving things around mean you block out the natural light? Is there an alcove that's not being used? Maybe there's a fireplace that you need to factor in?
Take the time to work out what the space looks like before you make any decisions about where your furniture can go.  
Draw up a plan
To make your new bedroom setup work, try drawing up a plan. This is a simple, yet effective way to work out how to design a bedroom layout that works for you.
Using the measurements that you've taken, try to map out on paper where you'd like to move things to. This will help you work out where you want things to go, as well as flag up any furniture that you might need to add.
Doing this is especially useful if you're re-jigging a smaller space as you might not have the room to move things around and try different setups out.  
Prioritise the bed
Whatever size or shape room you're working with, the bed is the first thing you're likely to focus on. It's the dominant detail and knowing where you want this to be positioned before you do anything else will help you plan the rest of the room. 
Positioning the bed in the centre of a wall will create symmetry and give you the chance to add the rest of the furniture around it. If you're updating a smaller room, pushing the bed up against two walls will free up floorspace and will help you to easily work out how to lay out bedroom furniture.
As well as the positioning, use this update to think about the bed itself. Is it comfortable? Does it suit the look you're going for? Now is a good time to change this key piece of furniture.
Introduce clever storage solutions
Keeping your bedroom clutter-free can help you to unwind at the end of a busy day without worrying about tidying the mess. Plus, in smaller bedrooms, every square inch of the space counts. To do this, invest in some storage solutions that suit your home.
Even if your bedroom is a decent size, swapping out space-taking freestanding wardrobes with sliding options can mean that you have more room for other pieces of furniture. By making some simple updates like adding organisers to your drawers or swapping what you have for a fitted wardrobe, you can maximise the space.
Look at your lifestyle
Are you a book lover or do you prefer to flop in front of the TV at the end of a busy day? Are you an early riser or a night owl? The type of person you are the routines you have will also play a huge role in how you change your bedroom layout.
For instance, would you like to turn that awkward box above the stairs into a reading corner? Or would you prefer to set up your games console there? Is it better for you to sleep opposite the window so you can wake up to natural light or are you happy to tuck your bed into a dark corner so you can snuggle up?
Keep this in mind before you start rearranging furniture as you might find that the updates you make don't account for storing your winter coats or finding a home for your house plants.  
If you're rethinking the setup of your bedroom, we're here to help. We'll help you work out how to lay out your new bedroom furniture and neatly fit your new wardrobes into place. Book a free design visit to see how your dream bedroom can become a reality.
You can also find further guides on the Hammonds blog.
You bring the space, we bring the inspiration
Whether you have an exact vision in tow, or are just at the beginning stage of your home renovation, we have heaps of inspiration for you to get stuck into. 
Find a wealth of design tips, trends and inspiration in the pages of our brochure, magazine and on our blog. Our experts are always ready to help you create dream home, pop in store or book your free design visit for experts to help on bringing your vision to life.