How to design a blissful sunroom
| Inspiration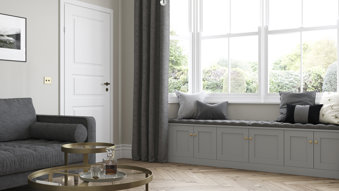 How to design a blissful sunroom
Looking to add an extra space in your home? Whether you're dreaming of a cosy reading corner or a space to chat with friends, a sunroom could tick all the right boxes. These lovely rooms suit homes with south-facing windows or those where space might come at a premium.
Above all, sunrooms offer the perfect place to relax and admire your garden with all the usual comforts from inside your home. With the summer months in full swing, there's no better time to refresh your space with your brightest ideas for sunrooms.
Keep things cool
With sunshine beaming through the window, things might quickly start to warm up in your sunroom. Since hot summers are likely to continue, it's important to take the heat seriously. Regulating the temperature can be challenging but there are several handy ways to keep your sunroom comfortable.
Firstly, using blinds or shutters could be an effective way to control the midday heat. Close the blinds before the heat of the day hits and keep the doors closed whenever temperatures start to climb. Fans only help when they're used in the right way so try to create a cross-breeze by pointing the fan away from a cooler area and into a hotter one.
Use durable furniture
As much as your sunroom needs to be a comfortable space, it's likely that you'll be coming in and out from the garden. With the distinct possibility of wet or muddy footprints passing through, durability is a key aspect to consider.
Invest in sturdy and hard-wearing furniture, especially if children live at your house too. No matter how you choose to decorate, sunroom ideas should be practical as well as stylish.
Linen and polyester make for durable upholstery fabrics on the sofa, offering more stain resistance than velour or velvet. As for the floor, it's a good idea to choose low-maintenance tiles over something soft or porous. You should complete the space with a rug – and preferably one that's hard-wearing and colourful!
Think about the lighting
Sunrooms look their best when the outside light is pouring in from all angles. Floor-to-ceiling windows are the most natural way to encourage this but you can still get creative if changing the structure isn't an option. Skylight windows help to extend the space from above, especially if the roof is concave or slanted.
You could also add some feature lighting to keep you cosy through the evenings. We'd always recommend layering your lighting, which is a simple technique that involves using different types of lights in a space. In the sunroom, a small table lamp paired with wall lights could make a cosy and unobtrusive addition.
Pick an inviting colour scheme
No matter the intended purpose or your desired aesthetic, your ideas for sunrooms should be clean and bright. Lighter colours could make the space look bigger, while darker shades accentuate the outside light and help you to make the most of your garden view.
From sage green to light beige, neutral sunrooms echo the natural hues in the garden. For a soft and feminine touch, rose petal tones suit sunrooms with wood plank floors and dainty rattan furniture. Above all, you should try to choose a colour scheme that suits your décor ideas for the sunroom.
Add a home working space
If you work from home, why not set up a little home office space in your sunroom? Not only could it offer a comfortable and inviting space to work but the natural light could help you to focus throughout the day.
Conventional office spaces might feel a little bit oppressive. With natural foliage and garden views, however, you might find that working in the sunroom not only boosts your mood but leaves you feeling more inspired and productive. When you add some bespoke fitted home office furniture, you can return to a tidy and organised working space time after time.
Bring the outside in
Add a little bit of greenery to keep things calm and natural in the sunroom. As long as the plants you choose can withstand direct sunlight and heat, you could implement plant-focused décor ideas for the sunroom that seamlessly blend the indoors and outdoors.
From hanging botanical plants to neutral rattan furniture, giving a nod to nature is simple.
Build your dream sunroom with Hammonds
Need some help to bring to life your most stylish ideas for sunrooms? At Hammonds, we're experts in home design. With years of experience helping our clients to create beautiful and productive spaces, we're here to help you find the perfect sunroom solution.
Just book a free design visit today to discuss your ideas with our team of experts. After that, we'll help to build a sunroom that you'll love for years to come.
You bring the space, we bring the inspiration
Whether you have an exact vision in tow, or are just at the beginning stage of your home renovation, we have heaps of inspiration for you to get stuck into. 
Find a wealth of design tips, trends and inspiration in the pages of our brochure, magazine and on our blog. Our experts are always ready to help you create dream home, pop in store or book your free design visit for experts to help on bringing your vision to life.