How to design a compact hidden home office
| Home Office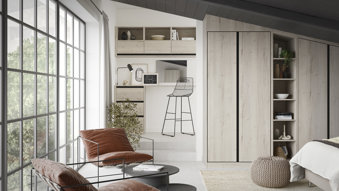 How to design a compact hidden home office
Not everyone has the luxury of a free room or unused space, and some home features take priority over others. Whether you've built a children's playroom or utility room instead, it's not always possible to have a separate office at home.
All is not lost, though – with a few creative steps, you can create a hidden home office space that includes everything you'd expect from a functional workspace.
Hide a desk behind the sofa
If the layout of your living room allows you to create a natural divide, you could have a hidden computer desk behind your sofa. Whether your seating is an L-shaped giant or a plush three-seater, you can create a natural divide with a low office desk and slimline chair hidden behind it.
It's all the better if you can line up your home office desk with a window. You'll enjoy plenty of natural light while you work to keep you motivated and productive.
Build a desk under the stairs
Understairs space might feel limiting and wasted but you might be surprised at the illusion of square footage it can create with the right furniture. This spot could be perfect to install a hidden home office desk, complete with storage and shelving to keep it organised.
With stripped-back panels and some handy LED task lighting, you can design your own trendy and comfortable understairs working space that's separate from the rest of your home.
Fill an empty alcove
No matter how small or awkwardly shaped, that empty alcove in your home could make the perfect spot for a hidden computer desk. Investing in fitted furniture is the best solution for making the most of the unused space and creating an office area where you can focus.
At Hammonds, we have a wide range of bespoke fitted office furniture that is made to measure in order to maximise your space. In addition to the countertop area for your laptop or monitor and keyboard, you'll be able to take advantage of the useful built-in storage.
Divide the space
If you're not sold on the idea of blending your working space with your living room, you can divide the two spaces to keep the focus.
Making clear distinctions between different areas is one of the main tricks to making small rooms look bigger used by interior designers. Whether you use a new sliding door, a plush curtain or a room divider instead of a hidden desk, there are many ways to conceal your office from social spaces in your home.
Design your hidden home office with Hammonds
Your dream hidden home office isn't as far away as you might think thanks to fitted office furniture from Hammonds. We have a whole range of storage solutions that will give your space a revamp and help you keep the clutter at bay. Book a free design visit to discuss your ideas on how to build a sleek and unobtrusive home office space, in person with one of our experts.
You bring the space, we bring the inspiration
Whether you have an exact vision in tow, or are just at the beginning stage of your home renovation, we have heaps of inspiration for you to get stuck into. 
Find a wealth of design tips, trends and inspiration in the pages of our brochure, magazine and on our blog. Our experts are always ready to help you create dream home, pop in store or book your free design visit for experts to help on bringing your vision to life.