How to design a creative home office
| Home Office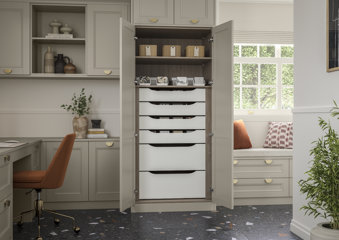 How to enhance your home office design for creative work
If you work in a creative industry, you'll know all too well how your office setup influences your work. From the lighting to the height of your desk, it can take more than just a few minutes to start working at your best.
It's time to get started in an environment that inspires you and keeps distractions at bay. In this article, we'll explore how you can get your best ideas flowing with focus-boosting home office design ideas.
Start with the walls
Although a sleek, white, minimalist office works for some, if you're creative at heart, sometimes blank walls feel a little bit oppressive. To turn your home office into a creative space, don't be afraid to be a little bit bolder with your colour scheme.
For example, mint green can add a jolt of personality. If you're pairing this tone with leafy plants or darker décor, the walls could help to define the wider colour scheme. Blues have also been proven to boost creativity – but just be careful not to use pale shades, which might be better suited to the bathroom.
Ensure your space is fit for purpose
Although a few objects that bring visual interest could make an important feature, there's a fine line between that and clutter! To keep the chaos at bay, try to incorporate design ideas for a home office that's calm, tranquil and organised.
Make sure to add plenty of storage to pack away any mess that you've accumulated during the day. You could achieve more tidiness than ever before with our bespoke fitted office storage, perfectly adapted to help you to make the most of your working space.
Ditch the clock
Sometimes, creativity simply needs some time to flourish. By removing any wall or desk clocks from your home office space, you'll spend more time creating and less time watching the clock.
However, we understand that being aware of the time can be invaluable if you're working to tight deadlines for the next project. If that's the case, try to hang or place your clock in an inconspicuous place – or at least away from your desk. That way, you can keep your focus only on what's in front of you.
Bring the outdoors in
Although a full-scale living wall isn't always necessary, a few nods to nature could help to inspire your creative home office design. By ensuring that you have a direct line of sight to something leafy, you might even unlock new lines of thought.
Along with substantial evidence pointing to the mood-boosting properties of plants, research shows that plants could also protect you from illness by disinfecting the air. Whether you only have a small window or you'd like a leafy companion, then, a houseplant could do the trick.
Add some personal touches
When they're used in moderation, personal items can spark creativity in a space that might otherwise be quite plain. Whether you choose your favourite art print, a matching keyboard and mouse set or a photograph of your pet, a little personal touch could be a major motivator.
Sometimes, cool home office designs reflect tastes and personality in subtle ways. For example, if your home interior follows an industrial-style theme with exposed metal, rugged furniture, and darker tones, matching your office decor could add a smooth, uniform transition from one room to the next.
Add some more lighting
Lighting adds another dimension to your home office. When it's used effectively, lighting can enhance both your productivity and creativity, so it's important to get the balance right in your home office.
One of our favourite design ideas for home office lighting is to use a technique called layering. This involves using different types of lighting – desk lamps, floor lamps and task lighting – to create a textured, inviting atmosphere.
Bring your home office design ideas to life with Hammonds
At Hammonds, we know just how to help you to create a home office that inspires focus and allows your creativity to grow. Book a free design visit today to discuss your plans with our experts, who can help to design a tidy and distraction-free working setup for you.
You bring the space, we bring the inspiration
Whether you have an exact vision in tow, or are just at the beginning stage of your home renovation, we have heaps of inspiration for you to get stuck into. 
Find a wealth of design tips, trends and inspiration in the pages of our brochure, magazine and on our blog. Our experts are always ready to help you create dream home, pop in store or book your free design visit for experts to help on bringing your vision to life.