How to design a meditation room at home
|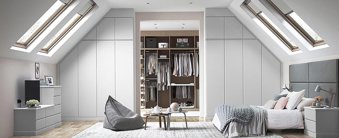 How to design a meditation room at home
Home life can be busy and, if you live with others, it can feel hard sometimes to find a space of your own. A meditation room may sound indulgent but designating a place for calm and quiet can be beneficial to everyone in the house – and when you think of it like that, it sounds like a perfectly sensible idea. We could all do with a little bit of peace and quiet sometimes, so here are our tips on how to create a meditation room at home.
Invest in some beanbags
Start your planning by asking yourself: what do you need from a meditation room? Comfort is probably fairly high on your list and bean bags are a great option for this. They are comfortable and flexible so, whether you are sitting, lying down or moving around, they will work with you and the space.
Secondly, because beanbags are noticeably not a traditional chair or sofa, the room will feel and look different to other places in your home, and that can be helpful in making you feel and behave differently, too. Also, unless you have plenty of spare bedrooms, your meditation room may also have to double or triple up as a room with other functions. Beanbags will make it a perfect den for the children (though you might have to draw up some strict timetables, as children and meditation don't generally combine well).
Get rid of clutter
Meditating while surrounded by clutter is difficult. It's hard to imagine yourself on an idyllic beach somewhere when you are surrounded by a pile of paperwork or a pair of old shoes. By investing in some made-to-measure storage units from Hammonds, you can ensure that your meditation room is simple, elegant and mindful. Go for one of our contemporary ranges, without handles or any decorative features, in a soft muted tone. Our floor-to-ceiling storage melds gorgeously into the room so that you can forget that the cupboards (or, more specifically, the contents of the cupboards) are even there. Otherwise, a half-height storage unit can double up as a shelf for you to display some of your most mindful items – like a salt lamp or a room diffuser.
Pick a colour scheme
When you are drawing up your meditation room ideas, a calming colour scheme will be one of the most important factors. There are no hard-and-fast rules here, except that you should pick a tone that feels calming to you. Green is often thought to be a relaxing colour because of its link to nature and growth. Soft oranges can feel warming and cosy, while blues can feel fresh and conjure images of the sea or sky.
Neutrals like greys and beiges are also an obvious choice here and can react well to mood lighting or candles.
Bring nature inside
It's no secret that nature has a calming effect on our senses, so incorporating some plants into your meditation space is a great idea. Try adding hanging plants and greenery to create a restorative vibe at home. Orchids can work well as they have beautiful flowers while, if foliage is your thing, a peace lily would also fit the bill.
Plant clips are a good way to display plants in a room as you can clip the stems around windows or doorways – if you really want to go to town, you could create a living wall. There are a number of shop-bought planters available, or you could make your own.
Make it child-friendly
Mindfulness isn't just for adults. If you think that your children could benefit from a bit of quiet time every now and then, why not make your meditation room family-friendly? You could add a rocking chair or swing that suspends from the ceiling. A music device that your little ones can easily operate would also be useful. Otherwise, you could try keeping a mindfulness colouring book handy, which should hopefully keep them calm and occupied for a while.
Add curtains for some noise insulation
Finally, to finish off your meditation room design, make sure to add some curtains and drapes. As well as adding a touch of softness, you'll dampen any noise coming from the rest of the house. Thick fabric is better for sound proofing, and you could fit a hanging rail above the doorway. When it comes to windows, though, floaty fabrics can look gorgeous, especially in the summer months when they add movement and beautiful shadows to a space.
For interiors advice and help to create clever storage in your home, book a free Hammonds design visit. One of our experts will visit you at home and talk through all your needs, before creating the perfect design solution for you and your space.
You bring the space, we bring the inspiration
Whether you have an exact vision in tow, or are just at the beginning stage of your home renovation, we have heaps of inspiration for you to get stuck into. 
Find a wealth of design tips, trends and inspiration in the pages of our brochure, magazine and on our blog. Our experts are always ready to help you create dream home, pop in store or book your free design visit for experts to help on bringing your vision to life.