How to design a minimalist home office
| Home Office, Office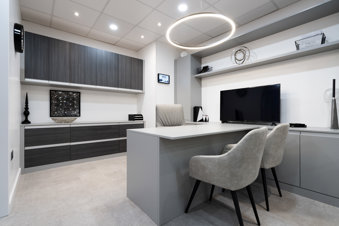 How to design a minimalist home office 
With over 44% of us working from home for at least part of the working week, it's important to have a dedicated space where you can comfortably sit and get your work done.
But when it comes to your home office, not all design schemes are made equal. Although maximalist home office designs work well for some, minimal home offices reign supreme. The reason we say this is simple: they've been scientifically proven to help increase your focus, productivity, and well-being. Not to mention they look the part too!
Here, we'll discuss how you can take inspiration from minimalist home office decor trends to design a new work-from-home zone that'll boost your productivity.
Keep things light
Minimalism is tied to Nordic home design. It's a trend characterised by simple, clean lines and a focus on functionality. And a lot of this is to do with maximising natural light in dark, cold winter months.
So, it's only fitting that top of the list for a minimalist home office is ensuring you have plenty of natural light in your office area.
When natural light is pouring into the room, you'll become more productive – and happier as a result. Although adding skylights to an existing home office might prove tricky, you can mimic the same effect by just repositioning your desk beside a window.
Choose the right colours
Firstly, we'll start by saying that if you like dark colours – you do you!
But if you're wanting to create a minimalist home office, light colours are your friend.
As well as helping your home office look bigger, by keeping to classic minimalist shades such as whites, greys, and beiges, you'll remove unnecessary distractions. Clashing wallpapers work wonders in cosy living spaces but can be a disturbance when you're trying to get your head down and concentrate.
Have a clear space
The clue is in the name: minimal. Although you might think that your calculator, desk hoover, and notepad need to be prominently displayed, they don't.
The less you have out, the better.
Where you can, try to keep as little as possible on your desk to ensure your home office looks neat and organised. If your current desk allows it, consider putting some of your most frequently used items in drawers, so they're out of sight – but not out of reach. If not, you might want to consider purchasing a minimalist home office desk with added storage.
Although tidying everything away at the end of a long working day might seem like another chore to add to the never-ending list, it's worth it. It's a small price to pay if you're serious about boosting your creativity and reducing stress levels.
Purchase a comfortable office chair
When it comes to purchasing an office chair, don't cut corners.
Although picking up a bargain from a car boot sale might seem appealing, it's going to be less so when you're riddled with back pain.
Try to choose a chair that's comfortable enough for you to sit on for long periods of time – without causing back or neck pain. As a rule of thumb, ergonomic office chairs with headrests are the most supportive if you're prone to slouching.
Or, if you want to go one step further, ergonomic standing desks are one of the new home office trends set to continue throughout 2023 and beyond. As well as helping you get your 10,000 steps in, standing desks give you the option to change your position while you work, helping you to improve your posture.
Include stylish storage
It's all well and good saying your office needs to be organised, but if you have no storage space, it's easier said than done!
To keep your home office organised, it's a good idea to have stylish storage fitted to help keep the clutter at bay. Here at Hammonds, we have a wide range of minimalist home office storage options that suit all manner of home office styles and budgets.
Create a minimalist home office with Hammonds
At Hammonds, we're experts in minimalist home office design. With decades of experience designing home offices that boost productivity and creativity, we're here to help you find the right home office storage solutions.
Book a free design visit to discuss your minimalist home office ideas with our experts. Then, all that's left to do is sit back and relax as we get to work designing a minimalist home office that'll help you beat the Monday morning blues!
You bring the space, we bring the inspiration
Whether you have an exact vision in tow, or are just at the beginning stage of your home renovation, we have heaps of inspiration for you to get stuck into. 
Find a wealth of design tips, trends and inspiration in the pages of our brochure, magazine and on our blog. Our experts are always ready to help you create dream home, pop in store or book your free design visit for experts to help on bringing your vision to life.