How to design a nursery
| Inspiration, Nursery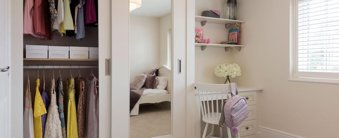 If you have a baby on the way, you'll be thinking about how to design your little one's nursery. For top nursery design ideas, read our guide and get inspired!

Nursery design guide: design and decorating tips

Are you about to have a baby? There is so much to think about before your little one arrives, and decorating their nursery will be one of the main jobs on your to-do list. However, you can easily tick this off when you follow our nursery design guide.
This is a decorating process that can be exciting and rewarding. The nursery is a place that you and your baby will spend a lot of time in, so it's worth taking the time now to think carefully about how you want it to look.
So, if you're wondering how to design a nursery that you and your baby will love, here are some ideas to help you get started.
Safety first

Make safety a top priority. Before you invest in furniture or begin painting, think carefully about the steps you'll need to take to baby-proof the space.
This begins before they arrive. Think about when you'll be decorating the room. Typically, you can paint while pregnant. However, the NHS states that, while the risk from modern household paints is low, solvent-based options could affect your little one. Use water-based paints and wear protective clothing if you're going to be using the roller.
The NHS also recommends avoiding painting in the first trimester. This is because these early weeks of pregnancy are when your baby's organs develop.
Next, think about the cot. This is the main piece of furniture that you will invest in and it's the one that requires the most consideration. All cots in the UK must meet the British Safety Standard BS EN 716-1:2008+A1:2013. This makes sure that the cot doesn't have any cut-outs or steps, the bars are safely spaced out, and it's deep enough.
Your little one will be in a cot next to your bed for the first six months, so by the time they are ready to go into their nursery overnight, they might be able to roll over. Therefore, try to position the cot away from walls that they could hit and make sure the cot is clearly visible from the door so you can get a clear view of your baby.
Also, avoid placing any shelving above the cot. This will reduce the risk of items falling on your baby.
Consider the colours

One of the key questions when working out how to design a nursery is what the best colour ideas are. When designing the colour scheme, there are plenty of options available depending on your personal style and tastes. If you know whether you're having a boy or a girl, you may wish to go down the traditional route and go for pink or blue palettes.
But if you're keeping the sex of your baby a surprise or you'd like something more neutral, there are plenty of designs and schemes to choose from. For instance, you could opt for warm beige and honey tones as a base palette and add vibrant colours and patterns to make it pop.
A brightly coloured rug and wall stencils in primary colours, for example, make the room playful. You can choose by theme, too, using your neutral walls as a base for animal stencils or woodland images.
Ultimately, the décor it totally up to you. Enjoy playing around with colour palettes and introducing patterns.
Get smart with storage

Babies need a lot of things. From clothes and nappies to bottles and bibs, there is a lot that comes with your little person. Investing in storage solutions for the nursery early on can be a great way to get organised before they arrive.
Size up the space you have left once the cot is in the room. This will give you an idea of how much storage you can include.
One of the ways to consider storage is to divide the room into 'stations' and see where these can double up. For instance, your chest of drawers can be turned into a changing station with the addition of a changing mat on the top, or the chair you use for your nursing station can double up as storage if you choose a chair that has space underneath for a box filled with bibs and muslin cloths.
Also, a fitted wardrobe can be game changer. The various babygrows and blankets can be safely stored away and any clothing that you might not need right away can be stored in its own section. If you're thinking of adding a fitted wardrobe before the birth, it's worth looking at the different styles to see which one will suit your design and arranging a design visit with a specialist.
Manage the lighting

Lighting plays an important role in any nursery. For useful design ideas that help you get the levels right, you'll need to work out how much light is coming into the room right now.
Whether you want to use the nursery for their naps or you're planning ahead to their bedtime routine, you'll want the room to be dark and snug enough to let your little one know it's time to rest. To do this, invest in blackout blinds or curtains.
Consider your colour palette before you buy. You might want to choose a patterned blind or keep the window dressing neutral. Think about the overall look of the room and combine practicality with style.
Also, invest in night lights. Soft lighting controlled by a dimmer can help you to control the light in the room and is less likely to wake the baby up too much when they get up for a feed or a change in the night. Keeping the lighting low will allow you to soothe them back to sleep more easily.
Make it personal

This is where you can add your own personality with some well-placed accessories. Maybe you have a teddy that's been passed down through the family or an ornament that would look perfect on a shelf.
Try to add your own style here, too. Perhaps a fun lampshade or a vintage accessory that isn't necessarily related to the baby but fits neatly into the room.
You choose

Designing your baby's bedroom can be a fun and enjoyable process. While this nursery design guide is here to give you inspiration, ultimately the overall look will be down to your own personal taste – and that's what makes it so special.
Doing the groundwork before baby arrives can be a brilliant way to get organised. If you're thinking about any additions that you need to make before they can go into the room, such as adding curtains or fitted wardrobes, it's worth doing that early on.
If you're planning to add furniture to the space, we're here to help. We can build furniture that works beautifully and seamlessly complements the design of the room. Book a free design visit and we'll work with you to create your dream nursery.
You can also find further guides on the Hammonds blog.
You bring the space, we bring the inspiration
Whether you have an exact vision in tow, or are just at the beginning stage of your home renovation, we have heaps of inspiration for you to get stuck into. 
Find a wealth of design tips, trends and inspiration in the pages of our brochure, magazine and on our blog. Our experts are always ready to help you create dream home, pop in store or book your free design visit for experts to help on bringing your vision to life.