How to design a practical teen bedroom
| Bedroom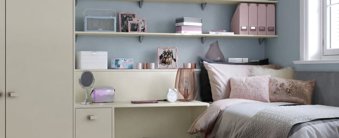 How to design a practical teen bedroom
Of course, we love our teenagers and their messy (and sometimes moody) ways, but their bedrooms can take a bit of careful managing when you share a home with them.
Having the right storage solutions can help keep clutter at bay. It needs to be practical and plentiful, while also being classic and simple enough to withstand a few changes in style over the years. Read on for our best bedroom ideas for teenagers.
Have a clear-out
The first step when designing your teen's room is to have a thorough sort-out. Your teenager might surprise you with some uncommon enthusiasm about this. While most teens aren't keen on tidying up, many do like the feeling of getting rid of things they feel they have outgrown.
Go through all the drawers, shelves and hidden boxes together so you can get a gauge of how much storage you actually need. Teenage bedroom storage ideas can range from fitted furniture to small boxes and drawer dividers, so it's useful to get a sense of what you need first.
Get creative with under-bed storage
The most effective teenage small bedroom ideas incorporate storage that works for them; sometimes that involves a bit of creativity.
If you're working with a small space, the one thing you can maximise is the storage underneath the bed. Divans and ottomans are great as they come with in-built storage – those roomy divan drawers are the perfect place to store piles of schoolbooks and paperwork. You could also opt for a platform bed so there is room beneath to put pull-out boxes.
Inject some personality
Just because you want to keep the room tidy, that doesn't mean you have to put absolutely everything away. Storage for a teenager's bedroom should be flexible so that some things (strategically chosen to fit their mood) can be kept on display.
Shelves are great for this as they enable your teen to show off any favourite books, trophies or things that make them feel happy. Baskets can also help compartmentalise various things, from accessories to tech cables and craft bits. They look lovely lined up neatly on the floor or on top of a chest of drawers.
Add some fitted wardrobes
Fitted wardrobes can have a transformative effect on any bedroom. By filling awkward spaces and adding easy, sensible storage options, a room can suddenly start to make sense and feel ordered.
If your teen loves clothes and shoes, you'll need a robust wardrobe that stands the test of time. We have a variety of ranges that can be set up to fit your perfect ratio of hanging and drawer space.
With teens, it's always best to go for a simple design that can fit with any style changes they may have. Libretto, Radley and our Rialto Square ranges would all work well in a teen bedroom.
Make it adaptable
One moment your teenager might be feeling the boho vibes, another they might be into full-on grunge. Your teen's style and taste can change dramatically in a short amount of time. Their bedroom needs to be adaptable so you're not starting from scratch with the decorating each time.
Try to avoid too many bold colours or dramatic patterns on the walls and instead keep them neutral. Warm beiges and mid-tone greys can cover a range of moods and styles. Use bedding and wall art to display their individuality. Notice boards for photographs are also a great way to inject a bit of fun.
Choose the help of Hammonds
For help creating a stylish teen bedroom with plenty of storage that works for your home, book a free design visit with one of our experts.
You bring the space, we bring the inspiration
Whether you have an exact vision in tow, or are just at the beginning stage of your home renovation, we have heaps of inspiration for you to get stuck into. 
Find a wealth of design tips, trends and inspiration in the pages of our brochure, magazine and on our blog. Our experts are always ready to help you create dream home, pop in store or book your free design visit for experts to help on bringing your vision to life.