How to design a small home cinema
|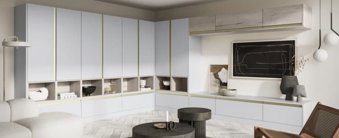 How to design a small home cinema
If you'd rather stay at home to catch the best new releases and revisit classic films, why not design your very own small home cinema? This blog will guide you through setting up an immersive media room with a comfortable sofa, the right hi-fi system, and how to keep it all tidy while you enjoy family viewings.
Choose the right screen
It's crucial to factor in the size of the space available when you're choosing a screen for your small home cinema. Remember: films often have different display aspect ratios to your usual television programmes, so you should choose a longer, wider screen. Likewise, make sure that your seating positions will allow everyone in the room to have a good view of the screen.
If you're an action fan, a 3D TV is an incredible investment to complete your cinema room. Or, if you're working with a compact space, why not consider a screen with a curved aspect for ultrawide display? Whichever screen you choose, make sure you spend plenty of time researching to find the best fit for your small home cinema.
Keep cables organised for a tidy space
If you've been wondering how to make a cinema room at home, you're probably after a sleek setup. Try to keep things clear and tidy, with long cables tucked away behind your cabinets and media units. Since the ultimate cinema experience usually involves minimal light, it's a good idea to choose dark, purpose-built furniture with helpful cable holes and grommets.
For an impressive custom display in your small home cinema, bespoke media units make the perfect finishing touch. Classy and refined, built-in furniture completes your small home cinema with precision and style. Whether you'd like to house just the screen or an entire sound system and your prized DVD collection, expertly crafted storage solutions will bring your visions to life.
Consider a projector
For small home cinema rooms with enough space for a 100-inch screen, a projector is the best way to go. This versatile piece of technology also allows you to use a drop-down screen instead of a large TV, which opens floor space to use the room for reading or relaxing when you're not watching a film.
Learn how to make a cinema room at home with surround sound
Hi-fi can make or break your home cinema experience. Even if you're working with a smaller space, finding a surround sound stereo system within your budget will help to deliver an immersive, exciting experience. From dramatic music to blood-curdling screams, you won't want to miss out on the soundtracks to your favourite films.
Try using different levels to create a textured sound experience. With the help of media units and shelves at different levels, make your speaker system discrete so the cinema screen is the main feature of the room and the centre of everyone's attention.
Get the lighting just right
Whether you're watching a rom-com or a horror film, having mood lighting or no lighting at all gets you in the zone. Plus, you don't want any glare bouncing off the screen. Just make sure you can easily switch your lights back on for the snack breaks!
If the room you've chosen for your cinema room has a window or two, it's worth investing in some thick curtains or modern Venetian blinds to block out the natural light, ensuring an undisturbed cinematic experience. As far as artificial lighting is concerned, minimalist spotlights offer a trendy aesthetic, or widely available dimmable bulbs make a fantastic option, too.
Keep your small home cinema comfortable
Depending on your budget, try to look for comfortable seating to complement your home cinema room. If you're going to be watching with friends, why not go for an L-shaped sofa? Don't be shy on the cushions and blankets, especially if you'd like to unwind with a touch of luxury.
Plus, your cinema room doesn't have to be reserved just for films. If you have teenagers in the family, it could double up as a cool, separate space for them to use. With a media unit to house games consoles, remotes, and accessories on top of your DVD player, your cinema room could quickly become a favourite hideout.
Create a sensational cinema space with Hammonds
If you'd like to take your first steps in creating a small home cinema, why not consult an interior design professional at Hammonds to help? You can book a free design visit online today and look forward to expert, tailored advice on how to make a cinema room at home.
You bring the space, we bring the inspiration
Whether you have an exact vision in tow, or are just at the beginning stage of your home renovation, we have heaps of inspiration for you to get stuck into. 
Find a wealth of design tips, trends and inspiration in the pages of our brochure, magazine and on our blog. Our experts are always ready to help you create dream home, pop in store or book your free design visit for experts to help on bringing your vision to life.