How to design a sophisticated Victorian-style home office
| Office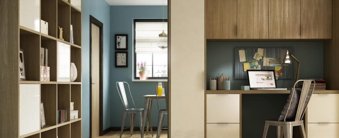 How to design a sophisticated Victorian-style home office
Remote working has become part and parcel of modern life, but that doesn't always mean our homes are set up for it. Many of us are still working from bedroom corners or kitchen tables. Even those of us with an actual room to work in might not yet have the perfect set-up (we've been too busy working!). But with so much time spent on video calls, we need to build a backdrop that shouts professionalism and a space that encourages productivity.
The Victorians got a lot of things right about design, so taking a few tips from them can help you create a sensible, classy and stylish office space. Here's how to create a sophisticated home office, whatever the size of your space.
Go to the dark side
If you're a fan of white walls, anything darker than greige might have you feeling a bit panicked. But the Victorians were big fans of dark colours, and they can work well in a home office.
Inky shades such as dark blues and teals add a grown-up style to an office that can help set your intentions for the day. They are serious and classy with just a touch of drama. Plus, with some soft desk lighting, these darker shades can be flattering on video calls.
Oranges and greens can also work well as they're meant to encourage concentration and help you feel energised. If you want to keep the walls lighter, try to incorporate some of these bold tones into your soft furnishings.
Add some storage
Modern Victorian home offices need plenty of storage – a tidy room can help you feel calm and organised. Our fitted home office furniture is a great solution, whether you have a room of your own or just a little corner.
A simple desk and some shelves can elevate small spaces, while built-in cupboards spanning the length of the room can give large spaces what feels like acres of storage. For a Victorian twist, go for one of our traditional panelled ranges like Seton or Hatton. You can always give it a contemporary look by pairing it with a modern chair.
Dress your windows appropriately
Those character Victorian houses with the high ceilings and large windows that we all love highlight some of the most important elements of that design era – space and natural light. Both can make a huge difference to a room and even if you don't have it in abundance, there are ways to accentuate what you do have.
If you have a window in your room, make the most of it by dressing it carefully – perhaps with floor-length curtains or contemporary shutters. Utilise windowsills by adding a few plants or some pretty glassware, and remember to look outside regularly. A glimpse of the world beyond can refresh your brain and bring some energy to your day.
Try some panelling
Panelling is a staple feature of Victorian design and it can bring some character to a room. By installing some simple panelling to your walls or doors you can create some detail and life in your space. Panelling creates movement in the light and shade as it changes with the sun throughout the day. It's also one of the more sophisticated home office ideas, adding a classic touch.
Embrace hardwood flooring
If you've got carpet in your home office, it is always worth having a peek beneath it just in case it's hiding some original wooden floorboards or an elegant parquet. Simply sanding these down and painting them will make a big difference to the space. You could add a chunky rug beneath your desk to keep you feeling cosy.
Go big
Offices can pull off some large artwork. A statement piece not only looks great, but it can also help you feel energised and creative throughout your working day. Take a look around some local art galleries or go online for some large posters or photographs. Be brave, bold and, most importantly, choose something that you really love.
Mix old and new
Victorian styling is classic by nature, which makes it the perfect backdrop for some more modern accessories. Elevate your home office with some geometric prints or posters in bright frames. By mixing the old with the new, your interior design will stand the test of time.
Perfect your sophisticated home office set-up with Hammonds
Book a design visit with one of our experts for help creating a modern home office with a distinctive Victorian style.
You bring the space, we bring the inspiration
Whether you have an exact vision in tow, or are just at the beginning stage of your home renovation, we have heaps of inspiration for you to get stuck into. 
Find a wealth of design tips, trends and inspiration in the pages of our brochure, magazine and on our blog. Our experts are always ready to help you create dream home, pop in store or book your free design visit for experts to help on bringing your vision to life.