How to design the perfect home office
| Inspiration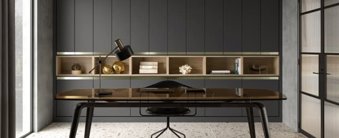 How to design the perfect home office
Home offices should be more than a cramped desk or a room with empty walls. They should be creative places where you can feel comfortable, inspired and energetic.
Working from home once felt like a bit of a luxury, but we've done it for so long now that maybe some of the novelty has worn off.
It's time to bring back the feeling that working from home is enjoyable, so here are our best home office design ideas to help you build a little sanctuary of peace and productivity.

Choose the right location
If you have the option, your home office should be as far as possible from all other noisy areas of your home. However, you'll still need to be close enough to the Wi-Fi to ensure your video calls are stable!
It's a tricky balance to strike, though, and since most people don't have that much choice available, it's best to work out what your priorities are. Choose a room with a door that shuts, a window that opens, and some wall space for shelves and storage. You'll also need space to fit the largest desk possible so you don't feel cramped.

Think about ergonomics
Designing a home office is about much more than how it looks. The ergonomics of the space –how it feels to use – are even more important than the colour of the walls and the general ambience.
Your ability to sit comfortably at your desk for long periods is often key to getting a good day's work done, so take care to fully test out furniture before you buy it. Our fitted home office furniture can be designed to suit your proportions. Plus, you get to decide on the important fine details, like which side of the desk you have your drawers and how deep your shelves should be. Equipment like laptop stands, wrist bars and foot stalls can also help you feel as comfortable as possible.

Consider storage
Having a messy home office isn't conducive to productivity, so you'll need to have a system in place to help keep your space tidy.
Practical storage is essential when you're working out how to design a home office, and in-built units are always the best way to maximise your space and create a clear and cohesive design.
Keep lines clear and simple, with modern painted finishes and simple details. By using the vertical space in your room with shelves or cabinets, you can find metres of extra space to hide away any papers or cables.

Personalise your space
Once these core details have been finalised, you can get to work making your home office feel like yours. Spending some time making the space reflect your interests can help you enjoy your time there.
Photographs and artworks can add some fun and colour to the walls as well as offering you moments within your day to smile and look away from the computer screen. Choose energising images – photographs of laughter and memorable holidays, for example, or artworks with bright yellows and greens.
Houseplants add important shape and movement, so be sure to include some of those – large, floor-standing ones can make a real impact. And then smaller details like scent diffusers and a cosy throw or a hot water bottle can bring an element of comfort and luxury.

Add some colour
Wall paint can have a transformative effect on a room, but it's all down to personal taste when it comes to colour.
If you like to keep things low-key, try warm whites and 'greige' – a sort of grey/beige colour. Both work beautifully against bright accessories or soft furnishings. These muted tones add a sense of softness and elegance. If you're looking for a slightly bolder look, though, you could opt for a deep teal or sage green.

Let Hammonds transform your office
For help finding your perfect fitted office furniture, book a design visit with a Hammonds expert. They can talk you through our ranges and find the perfect solution for you and your home
You bring the space, we bring the inspiration
Whether you have an exact vision in tow, or are just at the beginning stage of your home renovation, we have heaps of inspiration for you to get stuck into. 
Find a wealth of design tips, trends and inspiration in the pages of our brochure, magazine and on our blog. Our experts are always ready to help you create dream home, pop in store or book your free design visit for experts to help on bringing your vision to life.