How to fill a large living room
| Living Room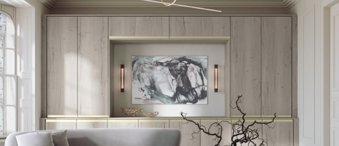 When it comes to home interior design, there's a fine line between spacious and empty.
Your living room is a space where the family comes together to enjoy relaxing moments and create fond memories, therefore you want the space to be comfortable and homely.
If your living room is larger than average and you are pondering about ways to fill it to appear cosier, then this article is for you.
Get smart with colour
If your living room is large, open and bright, you have the option to bring in plenty of colour to create dramatic effects.
Darker shades of green or blue make walls and furniture feel closer together, while painting the ceiling in a warmer tone creates a cosier feel. 
Accessorise with further pops of colour on rugs, throws and cushions, and make the area feel welcoming with tall plants, floral displays and candle arrangements.
Think about zoning
Setting up zones in a space helps to create separate areas for different purposes. It's a useful technique in larger rooms for breaking up open space while bringing it together as a family environment.
You could, for example, create a zone for entertainment, which includes a TV, a comfy sofa and a storage area for games. This is sure to be a popular place to chill, so extra seating can be added in the form of bean bags and large cushions, and perhaps a colourful rug to section off the area.
A relaxation zone in your living room could feature a swing chair or cuddle chair with a corner bookshelf to house your collection. Consider adding a tall lamp to use for reading and a side table to rest your cup of tea or coffee.
Add room dividers
Once you have decided which zones would work best for your household, you can use dividers to keep the zones apart.
Sofas make great dividers, so you can place a three or four-piece to section off a space. Alternatively, coffee tables work just as well if they are the right proportion and height.
Japanese folding screens can be very beautiful and offer an interesting way to divide off a zone. This could be a nice idea to make an eating area private from a living area if you have a large open plan space. 
More permanent room dividers could include half walls, pocket doors or glass partitions, if you want a fixed divide.
Choose oversized pieces
Oversized furniture helps to anchor a space. And with the luxury of a large area, you can afford to be generous with furniture spacing too.
Big corner sofas are not only very comfortable, but they also fill a larger, often unused space. You could even opt for a matching footstool to fill further space.
Oversized rugs break up large areas of floor space and you can even mix and match various types of rugs in a single room to help with the zoning aspect.
When it comes to lighting, clusters of large pendant lights or even chandeliers create a real statement in big rooms with high ceilings.
Invest in built-in storage
When you are blessed with a large living room, there are plenty of options to max out your storage to house a range of household items.
Not only does fitted living room furniture look stylish and chic, but it can be the answer to how to fill a large living room wall. A bespoke fitted storage cabinet can fill a full wall from floor to ceiling and feature custom niches for all your living room essentials.
If your TV takes prime position in your room, then built-in TV and media units create a cinema-like atmosphere with plenty of storage around the screen itself. Perfect for housing DVDs, remote controls, movie snacks and anything else you like to have close by as you cosy down on an evening or rainy day.
Another beauty of built-in storage is that you can design it to suit your interior taste. Choose from a wide range of colourways and styles to find the perfect design for you.
Fill your living room in style with Hammonds
Here at Hammonds, we're very familiar with making large rooms feel cosy and relaxing.
Our in-home design service gives you the chance to discuss your storage, budget and style preferences all in one go. So, book in a free design visit today to begin your exciting new interior project.
You bring the space, we bring the inspiration
Whether you have an exact vision in tow, or are just at the beginning stage of your home renovation, we have heaps of inspiration for you to get stuck into. 
Find a wealth of design tips, trends and inspiration in the pages of our brochure, magazine and on our blog. Our experts are always ready to help you create dream home, pop in store or book your free design visit for experts to help on bringing your vision to life.