How to Freshen up Your Bedroom for Summer
| Bedroom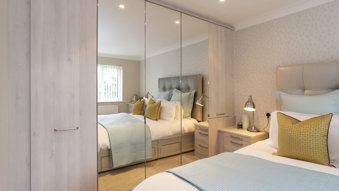 How to

f

reshen up
y

our

b

edroom

for summer

It's time to give your bedroom the summer refresh it deserves. So, why not create a cool, comfy space with our ultimate summer glow-up for your room? Let us give you a few tips on how to freshen up your bedroom with the warmer months in mind.
De-clutter your space
Before you do anything else, clean and tidy your space so that you can get off to a fresh start for summer. Clear out your drawers and throw away things that are out of date or no longer needed. Basically, 'Marie Kondo' your space. And this may be a good time to put together a bag of old clothes for the charity shop.
If you notice that your storage space is chaotic or brimming over with excess items, it may be time to consider getting a new wardrobe where you can store your things in a more efficient, organised manner.
The beauty of a fitted wardrobe is that it can max out your storage space without encroaching on your floor space too much. At Hammonds, we've got a great range of fitted wardrobes that we can create bespoke for you and finish with the colour of your choice.
Swap out your duvet
The summer months usually mean a heatwave or two, and heatwaves mean warm nights when it's sometimes a challenge to get to sleep. So, pack away the winter duvet and choose a lightweight, low-tog alternative.
When shopping for new bedding, consider the material. Natural fibres like cotton and linen are more conducive to a good night's sleep in the heat. Linen works well for all seasons, as it's a natural regulator of temperature as well as a natural insulator.
Silk is another cooling fabric for summer. Even if you only invest in silk pillowcases, they'll feel smoother on your skin than other fabrics and have the same regulating benefits as linen.
Invest in black-out curtains
While the sunshine's great, the lighter mornings and evenings can disrupt sleep if you're not prepared.
Consider getting black-out blinds or black-out curtains to keep unwanted rays at bay.
Add some colour pops
If you're just looking for easy ideas for a fresh bedroom look, adding a decorative feature like a vibrant piece of home decor can make all the difference. And summer offers the perfect opportunity to choose bold, colourful items that bring your room to life.
Why not think like an interior designer and use the colour wheel to decide what you need for your colour burst look? For added drama, choose a colour that's opposite the dominant one in your room and find an accessory that shows it off. Or create a split complementary look by selecting accessories with several colours of opposite and nearly opposite positions on the colour wheel.
Refresh with houseplants
If you've got a spacious room, why not share it with houseplants? Nothing says 'fresh' like some greenery, whether real or artificial.
A small jasmine plant could be a great addition. This plant has dainty white flowers and is associated with improved sleep efficiency. Other plants that emit relaxing scents include valerian and lavender while a snake plant is a good air purifier.
If you're looking for something larger, perhaps to fill an unused corner, what about an Australian chestnut or a rubber plant? Both can purify the air around you and look appealing in any room, as long as you know how to care for them.
Choose summer scents
The smells of clean cotton and freshly cut grass are part and parcel of summer, so consider ways you can bring them into your home. A summer refresh for your bedroom can go beyond visuals.
Whether it's a scented candle or a reed diffuser, it's easy to make your bedroom smell summery and inviting without having to do too much!
Freshen up your bedroom

with Hammonds
At Hammonds, we have fitted storage solutions for interiors of all kinds that can give your room the ultimate refresh and help you live in a tidier environment. Book a free design visit so you can discuss your bedroom refresh ideas with our friendly experts, who can help you achieve a crisp new look for your room.
You bring the space, we bring the inspiration
Whether you have an exact vision in tow, or are just at the beginning stage of your home renovation, we have heaps of inspiration for you to get stuck into. 
Find a wealth of design tips, trends and inspiration in the pages of our brochure, magazine and on our blog. Our experts are always ready to help you create dream home, pop in store or book your free design visit for experts to help on bringing your vision to life.