How to get the right headboard for your bedroom
| Inspiration, Bedroom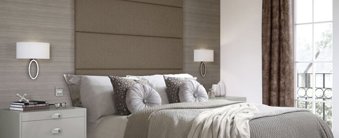 How to get the right headboard for your bedroom
The bed is the centrepiece of any bedroom. Providing comfort and welcoming us at the end of a long, hard day. Elevating your humble bed with a statement headboard is essential for getting the look and feel you want from your space. Whether it's amped up glamour or a clean, minimalist style you want.
Double, queen or king, there's a headboard to suit every size of bed and every shape of room. Of course, getting the right headboard is a matter of personal taste, interior style and architectural features. That's where Hammonds comes in. We're here to offer some essential advice when making a choice on the headboard ideas available to you.
Why get a headboard?
There are many reasons to invest in a headboard for your bedroom. Aesthetically, it can add drama and impact to your design scheme. Create a focal point for the eye and turn your bedroom from simple to elevated instantly, while complementing your fitted wardrobes perfectly.
On a more practical note, a headboard provides an exceptional amount of support to you and your bed. It will prevent pillows from sliding behind your bed during the night and keep your paintwork from being marked and stained. Cushioned headboards also provide added comfort for when you're sitting up in bed, either reading a book or enjoying a lazy Sunday with breakfast in bed.
Measure up
An ill-fitting headboard will ruin the design of your bedroom interior. The last thing you want to do is spend hours and hours selecting your dream headboard, only to find out it doesn't fit your bed when it arrives.
The old maxim says, "measure twice, cut once", and although you probably won't be doing the cutting yourself, we still suggest you take your measurements at least twice to ensure accuracy. You'll need to measure the width, depth and height of your bed, including the mattress, to get the right measurements.
Settle on a design
Once you've collated all your headboard ideas, you'll want to choose your design theme or scheme before you set about looking for your headboard and matching bedroom furniture. If you're still unsure which design route to take, you could forge ahead with choosing materials and finishes and let them inspire your aesthetic choices.
Decide on the size you want
The size of your headboard ideas is different to the measurements you need to take. Headboards come in a range of heights, depths, shapes and styles, and the size headboard you choose will entirely depend on your particular design scheme.
Impactful, towering headboards work well in dramatic and opulent interiors. While clean, natural, streamlined and low headboards create a more serene feel. The shape and size of your bedroom might also impact the size of headboard you choose. While you may want drama, you don't want a headboard that overwhelms your entire space.
What are the options?
Regardless of your personal taste, there's a headboard design to suit you. You might be wondering "what colour headboard should I get?" or "which finishes does my headboard come in?" Don't worry, there's likely a headboard with the finishing touches you want. If not, you could always consider something bespoke to bring your design elements together.
If you regularly sit up in bed, an upholstered headboard might be what you're looking for, with button styles being particularly trendy of late. Wood headboards in a range of natural and veneer finishes can suit a variety of styles. For an altogether more industrial feel, metal designs could be just the thing to set off your space.
Remember to be practical
When you get round to deciding on those all-important finishing touches, remember the practical uses of your headboard and how much maintenance you will need to do to keep it looking fresh.
A headboard is in near daily use, so whether you opt for a metal, wood or fabric-covered headboard, make sure you have the right supplies to keep it clean. Depending on the fabric used to upholster your headboard, you might need specialist cleaning materials. Familiarise yourself with how to keep your upholstered headboard clean before you buy.
If your bedroom has limited storage space, give your headboard a dual purpose with in-built shelving that replaces space consuming side tables.
The perfect headboard with Hammonds
At Hammonds, we're committed to creating bespoke bedroom designs with the features and finishes you love. There are few better ways to pull your aesthetic together than with a statement headboard.
Find out more about our headboard ideas and how they can make your bedroom a space you'll love to spend time in, by booking a free home design visit. One of our friendly interior experts will visit you at a time that's convenient and help you to visualise your dream bedroom interior.
If you'd like to browse our collection first hand, visit your nearest Hammonds showroom, or order a brochure now.
You bring the space, we bring the inspiration
Whether you have an exact vision in tow, or are just at the beginning stage of your home renovation, we have heaps of inspiration for you to get stuck into. 
Find a wealth of design tips, trends and inspiration in the pages of our brochure, magazine and on our blog. Our experts are always ready to help you create dream home, pop in store or book your free design visit for experts to help on bringing your vision to life.