How to incorporate multiple patterns into your bedroom
| Bedroom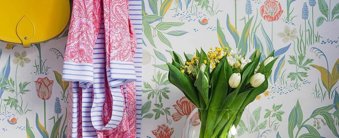 How to incorporate multiple patterns into your bedroom
A splash of leopard print, a few stripes, some florals – you don't have to choose your favourite any more; with some careful balancing you can have them all! Patterns add a playful edge to any space and mixing patterns in your bedroom is a great way to revamp your room without spending a fortune.
As you might expect, incorporating multiple patterns into one room can be tricky to pull off – but maybe not as much as you think. Here's our guide to clashing beautifully.
Consider the style that you want to achieve
What do you want from your bedroom? Perhaps you want it to feel feminine and fresh, or maybe you are more of a 'sultry glamour' kind of person. Whatever mood you want to achieve, there is likely to be a pattern or two to help to create it. Florals or foliage prints are great for keeping things relaxed and light, and the natural curves can contrast well with big stripes. Keep the two patterns within the same colour tones to help it all to feel coherent.
Animal print or damask wallpaper can add a glamourous touch to a bedroom. If you go for two loud patterns, then try to keep one of them limited to a couple of cushions or a throw for a bed so that it doesn't overwhelm the room.
Decide how many patterns to choose
You could take on the pattern-mixing look by just clashing your cushions and keeping the rest of the room simple and plain. When it's on a small scale, we think that almost any pattern will work together, be it stars, roses, tartans, zebra print – you name it.
On a larger scale, you could also pair striped walls with big floral artworks or jazzy curtains. If we have learned anything from watching television interior design programmes, though, it's that it's best to just stick to one patterned wallpaper per room. Any more is too much.
Decide which colours to use
When it comes to clashing bedroom pattern ideas, it's best to opt for colours that have the same hue and intensity, so that your space doesn't look chaotic. It is a bedroom, after all, and you will want it to be a relaxing place where you can drift off to sleep peacefully. If you are using a patterned wallpaper, pick out one of the colours for the rest of the walls. Otherwise, you could opt for different shades of the same colour (greens are thought to be calming and peaceful), or a theme, such as a soft pastels or autumnal reds.
Placing your patterns
Distributing your patterns evenly around your bedroom will help create a balanced finish. That's not to say that you need the same amount of each pattern on each wall; it's more about balancing the effect and the drama of them. If you love a really loud, opulent wallpaper, for example, then go for it – but consider using it on just one wall as a feature and keeping the others more toned-down.
Cushions, throws and lampshades can all be used to add pops of pattern, as well as rugs, which are an easy way to help to build the theme. Berber-style rugs often have geometric prints that can work well with any pattern; the same goes for Persian-style rugs, with their florals and repeating patterns.
Storage space
If you are going to go for mixed patterns in a bedroom, then you need to keep the rest of the space in good order. Any clutter left lying around can ruin the aesthetic and just make it feel chaotic. Our bespoke wardrobes are the best way to maximise the available space in your room and they look great in alcoves or along a spare wall. When there's space for hanging rails, folded clothes, and all those accessories like belts, bags and shoes, it's much easier to keep on top of things.
When you are going for pattern on the walls and furnishings, it can be a good idea to keep the fitted furniture more neutral in style. A soft matte finish always looks good, whether you opt for white, light grey or a more dramatic colour like one of our deep blues.
Let Hammonds help with your patterned bedroom
Book a Hammonds design visit for help with creating a bedroom with storage space to keep clutter out of sight, so that your patterned décor can really shine. One of our experts will visit your home and create a CAD version of your room so that you can visualise exactly how it will look.
You bring the space, we bring the inspiration
Whether you have an exact vision in tow, or are just at the beginning stage of your home renovation, we have heaps of inspiration for you to get stuck into. 
Find a wealth of design tips, trends and inspiration in the pages of our brochure, magazine and on our blog. Our experts are always ready to help you create dream home, pop in store or book your free design visit for experts to help on bringing your vision to life.