How to incorporate plants into your bedroom design
| Bedroom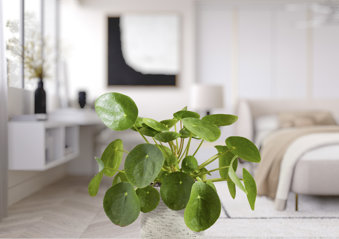 How to incorporate plants into your bedroom design for a good night's sleep
There's an old wives' tale that says houseplants and bedrooms don't mix… but we disagree! When used appropriately, houseplants can be hugely beneficial to our health – and sleep cycles.
In this article, we explore various houseplant bedroom ideas and how to create a space that's conducive to a good night's sleep.
What are the benefits of houseplants in the bedroom?
Not only do houseplants look good, but they're also highly functional. They can work wonders when it comes to helping us catch those Zs, as houseplants can reduce our stress hormones and help us sleep soundly.
There are several benefits to keeping these leafy green wonders in our bedrooms. Some of these include:
Releasing moisture into the air: Houseplants naturally help to raise humidity levels, which is great for preventing congestion and dry skin.
Purifying the air: Houseplants have qualities that can remove harmful toxins from the atmosphere, making the air cleaner for us to breathe.
Promoting stress release: Prepare to wake up happier, as houseplants have been found to release negative ions which trigger the release of serotonin – helping to relieve stress and anxiety.
Creating a calming atmosphere: Houseplants are renowned for creating a calm and relaxed atmosphere when added to any room in the house. This will make it easier for you to drift off and enjoy a great night's sleep.
Improving room acoustics: Expect sounder sleep as houseplants can help to reduce noise pollution, promising a peaceful slumber.
What are the best houseplants for a bedroom?
Whether you're looking for a houseplant that can thrive with a little care, is a natural air-purifier or simply want to add a splash of green to your bedside table, there's sure to be something to suit. We've listed some good houseplants to implement into your bedroom design:
English ivy: Ivy plants look beautiful draping from pots or hanging baskets. Known for releasing oxygen and absorbing indoor air pollutants, this plant thrives in moderate light during the spring and summer months.
Snake plant: This striking plant features sword-like foliage and is popular among homeowners due to the lack of maintenance required. All it needs is a little water and some indirect light.
Peace lily: Perfect for first-time plant owners, a peace lily boasts glossy green leaves and white flowers. It removes toxins and allergens from the air and is best positioned in a well-lit bedroom.
Lavender: This pretty plant releases a soothing scent that is renowned for improving sleep. The natural aroma helps relax our nervous system and is a great addition if you're struggling to snooze.
How to style your bedroom with houseplants
Place plants around your bed
Just catching a glimpse of your beloved houseplants can prompt a sense of calm and serenity. By positioning houseplants near your bed or on bedside tables, they'll be the first and last thing you see each morning and night.
Plants are lovely to look at and can really spruce up your side tables. It's also easy to find a plant that matches your bedroom aesthetic. Perhaps you're into modern and minimalist interiors or prefer bohemian styles; whatever your taste, there's sure to be a houseplant for you!
Make use of all the nooks and crannies
If you're tight on space, you can still incorporate plants into your design. If you have an awkward alcove that's desperate for some attention, why not create an eye-catching plant corner?
Alternatively, trailing plants could be the answer. By hanging these from your ceiling or shelving units, you can create a calming sanctuary.
At Hammonds, we have a range of fitted wardrobes designed for awkward spaces. Say goodbye to that little corner of wasted space in your bedroom and prepare to truly transform your space.
Add a statement plant
If you're not one to shy away from bold design, why not add a statement plant to your bedroom? Create a focal point with a lush green oasis and brighten up even the dullest of corners. Not only will a vibrant green plant look good, but it can help you doze off too.
Create a brand-new bedroom design with Hammonds
Our innovative storage solutions can help you create a calming bedroom that encourages a good night's sleep.
Book a free design visit with us today and enjoy a simple, stress-free service delivered by our design experts. We'll work with you to create the tranquil space you've always dreamed of.
You bring the space, we bring the inspiration
Whether you have an exact vision in tow, or are just at the beginning stage of your home renovation, we have heaps of inspiration for you to get stuck into. 
Find a wealth of design tips, trends and inspiration in the pages of our brochure, magazine and on our blog. Our experts are always ready to help you create dream home, pop in store or book your free design visit for experts to help on bringing your vision to life.