How to incorporate Swedish Death Cleaning into your lifestyle
| Inspiration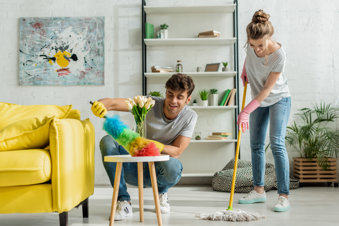 How to incorporate Swedish Death Cleaning into your lifestyle
It might sound morbid, but Swedish Death Cleaning is an increasingly popular trend amongst those who want to live clutter-free. As the slightly more extreme spring-cleaning alternative, Swedish Death Cleaning is all about removing unnecessary items from your home.
Here, we'll explore what Swedish Death Cleaning is, whether it's right for you, and some of our Swedish Death Cleaning tips.
What is Swedish Death Cleaning?
Originating from the word döstädning (which translates to 'death cleaning'!), Swedish Death Cleaning is a trend gaining popularity with celebrities such as Nigella Lawson as well as cleaning fanatics worldwide.
But what is it exactly?
Put simply, Swedish Death Cleaning is a concept in Swedish and Scandinavian cultures, and it involves eliminating unnecessary items from your home. From furniture to clothing and documents – nothing is safe from a Swedish Death Clean.
The idea behind the concept is simple: after someone dies, going through their old clutter can be burdensome for friends and family of the deceased. Döstädning aims to ease the burden of sorting through every item you own after your death.
How to Swedish Death Clean?
Begin with the wardrobe
Going through someone's wardrobe once they've passed away can be traumatic. So, what better place to start your Swedish Death Clean than your wardrobe?
To begin with, take out all the clothing from your wardrobe and drawers and lay it all out on the bed. Then, methodically work through each item and decide what you wish to keep, sell, or donate.
If you come across any items that no longer fit, are damaged, or they're looking past their sell-by date – they can go! Whilst it might sound ruthless, the idea behind this process is that you'll be left with a timeless, capsule wardrobe that you'll cherish both now and in years to come.
Once you've sorted your clothing, why not invest in new wardrobes to keep everything in order? At Hammonds, our range of fitted wardrobes is available in numerous styles, finishes, and colours to suit every interior design scheme – from Scandi to maximalist.
Declutter by size
Extreme decluttering can seem daunting. So, a good rule of thumb is to tackle the largest items first. Whether you've got an unloved armoire sitting in your hallway or some of your old furniture has been cast aside into the garage, start with the big bits of furniture first.
If they're in good condition, you might want to sell these second-hand. Or, if your old chest of drawers has seen better days, consider donating or recycling.
Once you've got the bulky items out of the way, it's time to sweat the small stuff. Working clockwise in each room, have a good look at your trinkets, magazines, and cushions. Although it might seem tricky to let go of your items at first, just remember that minimalism is popular for a reason: it helps us live a simpler, more fulfilling life.
Purchase less
Amid a cost-of-living crisis and a push to do more for the planet, purchasing less is a priority for many people across the UK. But there are other benefits to the buy-less mantra too.
The fewer items you have, the fewer you'll need to clean and organise. So, by regularly decluttering your home and only buying things you really love, you'll spend less time cleaning, and more time enjoying your life – whether that's at home or with friends and family.
Involve loved ones
Now, it's important not to take the Swedish Death Cleaning approach too far.
For example, throwing away your children's toys and only keeping a few solitary teddies probably isn't the best way forward! But you can try and encourage a loved one to live in a more minimalist, less materialistic way.
If you can, it's a good idea to involve the whole family in sort-outs. This means you won't accidentally throw away any sentimental items they cherish. Not to mention an extra pair of hands never goes amiss!
Start your minimalist living journey with Hammonds
If you're thinking of switching to a Scandinavian-inspired, minimalist way of living, we can help.
To get started, book a free design visit with our team of interior design experts. They'll listen to your needs and help you design a minimalist, clutter-free home that sparks joy every time you walk through the door.
You bring the space, we bring the inspiration
Whether you have an exact vision in tow, or are just at the beginning stage of your home renovation, we have heaps of inspiration for you to get stuck into. 
Find a wealth of design tips, trends and inspiration in the pages of our brochure, magazine and on our blog. Our experts are always ready to help you create dream home, pop in store or book your free design visit for experts to help on bringing your vision to life.