How to keep a bedroom smelling fresh
| Inspiration, Bedroom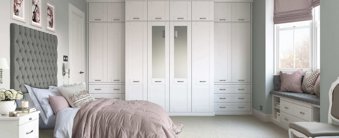 How to keep a bedroom smelling fresh
Keep your bedroom smelling clean and fresh with our top tips.
How to keep your bedroom smelling fresh
Fresh scents can help make a bedroom much more inviting to relax and doze off in. If your space is filled with bad odours, it's likely you won't want to spend much time in there, which is not what you want! Your bedroom should be a soothing space of serenity and calm, not a room you dread entering because of a bad smell. At Hammonds, we've pulled together our top tips on how to keep a bedroom smelling fresh as a daisy.
Identify bad odours
First things first, it's time to work out where any bad odours are coming from. Remember that masking bad smells is only a temporary solution and can affect your health in the long run, especially if you're covering up something potentially dangerous.
Inspect your bedroom for things like mould and condensation, as these are often the causes of a lot of bad smells. You'll also want to look out for things like dirty laundry, and don't forget about your en suite too if you have one!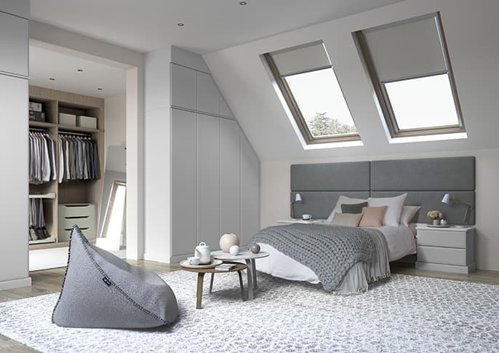 Clean key areas
It's seemingly an obvious tip, but one that needs to be done correctly. Make sure to dust all surfaces including on top of door frames, pictures and mirrors. Clean your floors by hoovering your carpet or using a damp mop on wood. You may also want to use antibacterial wipes on some areas around the bedroom.
If you've got stubborn and ingrained stains and smells in your carpet, did you know you can use baking soda to help remove them? Why not give it a try to see for yourself just how much it can make a difference!
Open your windows
Fresh air is good for a lot of things. Often famed for its healing powers, give your bedroom a hit of the good stuff by opening your windows to break up any stagnant air that's been lingering around. It's also a good idea to get your windows open while you're cleaning to release the smell and any other drifting household scents.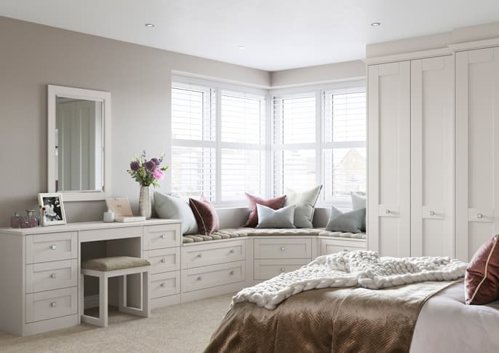 Wash bedsheets and laundry
Don't forget, we spend a lot of time on and in our bedsheets. It's a universal pleasure, the smell and feel of fresh sheets, and washing them regularly is an easy win for people wondering how to keep a bedroom smelling fresh. There's nothing worse than that musty bed linen smell!
You'll also want to wash or remove any laundry items that have built up over time. It's a good idea to get into a routine of washing your bedding and clothes at least once a week.
As part of your journey to a better-smelling bedroom, remove any other unnecessary clutter that's hiding in drawers or fitted wardrobes. Whether it's time for a clear-out or simply a re-organise, getting on top of your clothes and accessories is both important and satisfying.
Introduce natural scents
From diffusers and incense sticks to candles and room sprays, there are so many ways to introduce appealing scents to your space. With so many different options readily available in your local shops, we would recommend sticking with natural, chemical-free products that aren't too overbearing. You don't want to be put off by your new scent as you try to drift off to sleep!
If you want to opt for completely natural smells, why not use fragrant plants instead, such as jasmine, lilies or roses? You could even make potpourri out of left-over rose petals or lavender.
Final tips for keeping bad smells at bay
Bad and lingering odours can be frustrating at the best of times, especially if they're sticking around in your bedroom. As a tranquil space, you'll want it to smell fresh and airy as each day passes.
If you have pets, it's a good idea to ban them from your space if possible, as they can bring in dirt, grime and unwanted smells. You should also make sure you're not traipsing in with outdoor shoes on too, as these can also bring in dirt that can cause stains and a multitude of lingering smells!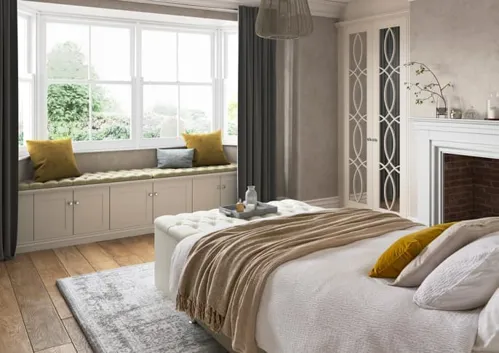 Book your design visit with Hammonds
Thanks to our top tips, you'll never have to wonder again about how to keep a bedroom smelling fresh! From spring to summer and autumn to winter, your space will be smelling fresh as a daisy.
Keeping your bedroom fresh and generally practising wellbeing in the home is vital. It helps to support your mental and physical health. Take a look around the Hammonds blog for more tips on wellbeing in the home.
You bring the space, we bring the inspiration
Whether you have an exact vision in tow, or are just at the beginning stage of your home renovation, we have heaps of inspiration for you to get stuck into. 
Find a wealth of design tips, trends and inspiration in the pages of our brochure, magazine and on our blog. Our experts are always ready to help you create dream home, pop in store or book your free design visit for experts to help on bringing your vision to life.