How to make a classroom at home
| Inspiration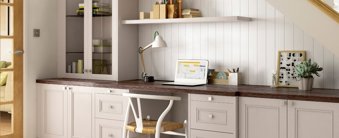 Want to create a home classroom? Make learning at home simpler with these design tips.

How to make a classroom at home

We know that home schooling raises a number of challenges, including having the right space at home for your children. The right surroundings can help to bolster their education and create an environment that makes learning fun. Whether you're transforming their bedroom or a spare room, we've got some top tips on how to create a stimulating home classroom space as and when they need it.
Carve out a designated space
Having a designated space can help to differentiate between time to learn and time to rest or play. Whether you introduce a desk or table, creating a specific area to complete their school activities will help to build a consistent routine and prevent a blurred line between play and school. Their home classroom should work for them and what their day-to-day schedule looks like.
Invest in the right furniture
Just like you working from home, it's important for children to have a comfortable setup where they can study confidently. Why not invest in an appropriate desk or repurpose a table you're not using anymore. You'll be able to tailor it to their learning and schedule – if they need drawer space, cupboards or even somewhere for them to take and wipe away notes, now is the time to get those things in place.
You'll also need to make sure they've got an appropriate chair, as the wrong one could make them uncomfortable or fidgety. Whether they'll be sitting on it for short or long periods of time, make sure it's the right height and that they have plenty of back support.
Keep school supplies organised
Children's learning equipment can vary depending on the level of their education. They'll have everything from books and notepads to craft kits and bits of tech, all of which will need storing and organising.
There are a number of different options for you to look at. Rolling trolleys or baskets are two great ways of keeping everything together and within reach whenever they need them. You could also look at popping some fitted shelves on the wall and having transparent drawers or boxes clearly labelled – all you'll need to do is to make sure everything is easily accessible.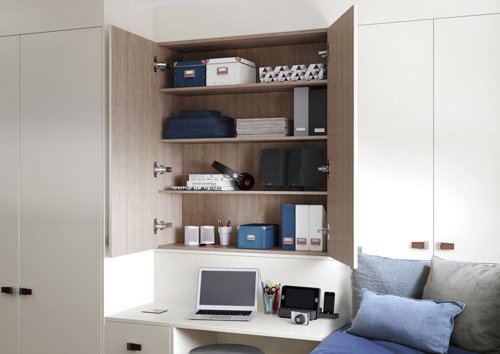 Home classroom décor
Having a home classroom doesn't mean it has to be a dull, boring space. The right décor can help to create an area that a child feels fond of and excited to return to between Monday and Friday. Why not choose bright, vibrant colours to decorate with, as well as adding calendars featuring their favourite characters to keep them on track.
You could even bring colour into their storage containers and pick different coloured pens for them to make notes with. Get them involved in the design process from the beginning, so that they have a sense of ownership. It will help to create a space that they love and want to learn in.
Reduce distractions with smart storage
If you're utilising a space within their bedroom, it's important to remember there will be a number of things that can become a distraction. With toys and games, as well as TVs and consoles, it can be easy for them to break off when they're learning.
A way to reduce distractions is by using built-in furniture and other concealed storage options to prevent their attention from wandering. Whether that's to keep their technology tucked away in drawers under their bed or games stored in overbed cupboards, custom built-in storage can help to keep them on track when they need to be.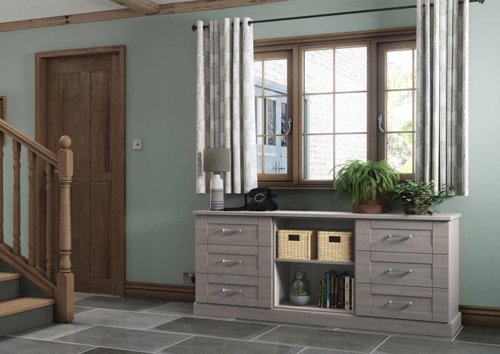 Book your design visit with Hammonds
By following these tips, you can stop worrying about how to make a classroom at home. Whether you have any existing ideas or need help designing your space, get in touch with our expert team to book a design visit. We'll talk you through the ranges we have available including colours and finishes as well as storage solutions for their home classroom.
You bring the space, we bring the inspiration
Whether you have an exact vision in tow, or are just at the beginning stage of your home renovation, we have heaps of inspiration for you to get stuck into. 
Find a wealth of design tips, trends and inspiration in the pages of our brochure, magazine and on our blog. Our experts are always ready to help you create dream home, pop in store or book your free design visit for experts to help on bringing your vision to life.