How to make a dining room look bigger
| Dining Room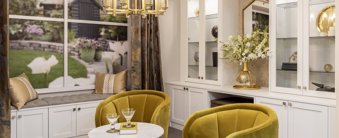 Your dining room is a space where you will enjoy many memorable times with family and friends. It's a place to entertain, celebrate milestones and share many Sunday roast dinners together.
As an important social space, you naturally want your dining room to be as inviting and comfortable as possible. However, space can be at a premium. Therefore, in this article we hope to give you plenty of advice and inspiration on how to make your dining room look bigger and more spacious for those special occasions.
Choose a light and airy colour scheme 
When your dining area is limited, it's wise to decorate the area with light colours to give the feeling of more space.
White, cream and light pastel shades reflect the amount of light available in the room and will make the room appear airy and spacious.
A decorating technique known as 'boxing' consists of painting the walls, ceilings, skirting boards and fitted furniture the same colour. This technique gives the appearance of a larger room and will help to direct the focus onto the dining table and chairs – just where you want it to be. 
Scale down furniture
Large dining tables may look grand when it comes to entertaining a number of people at a dinner party, but there is no point having an extra-large table when your guests can't move around it to get to their chairs!
In general, round or oval dining tables take up less space, and are often more sociable than square or rectangle alternatives. Long, rectangular tables, however, are ideal for narrow dining rooms and low benches offer a flexible seating option that can be stored under the table when not in use.
Extending tables offer flexibility when you need extra room for certain occasions. Stackable chairs are also a good idea for this same reason, and can be stored in the loft or garage when not in use.
Hang a mirror
A mirror is a perfect feature for reflecting natural light and creating an illusion of extra space.
Choose a large wall mirror to hang on the wall beside your table. This will instantly make the dining area appear more spacious and brighter than before. 
Plus, mirrors come in many wonderful styles and shapes, so opt for one that blends in with the theme of your furniture and table accessories for ultimate style consistency. 
Minimise clutter
Clutter can make a space feel smaller and more cramped than it is. However, despite the desire for calm, you also want your dining room to be practical and house all the items you need to create a fantastic atmosphere.
Therefore, investing in fitted dining room storage is a great option to maximise wall space in a small dining room. Your fitted storage space creates a home for crockery, napkins, cutlery and table linen when you're not using it, as well as providing an option for shelving to display candles, photos and plants. 
Creating a bespoke storage area means blending in your storage to suit your room. You also have many options to customise the colourway, style and finish of the doors, shelving and accessories to your exact taste.
There are various ways to make your dining room appear larger than it is. With a few updates here and there, you will soon be ready to host the dinner party of the century for lucky friends and family members.
Get the dining room of dreams with Hammonds
Our expert team here at Hammonds are full of ideas when it comes to creating storage options in a small dining room. So, why not book a free design visit today with our in-home design service. 
We have options to suit all budgets and will work with you to create a design that you and your family will love.
You bring the space, we bring the inspiration
Whether you have an exact vision in tow, or are just at the beginning stage of your home renovation, we have heaps of inspiration for you to get stuck into. 
Find a wealth of design tips, trends and inspiration in the pages of our brochure, magazine and on our blog. Our experts are always ready to help you create dream home, pop in store or book your free design visit for experts to help on bringing your vision to life.