How to make a small bedroom look bigger
| Bedroom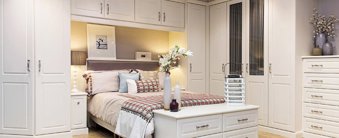 How to make a small bedroom look bigger
Struggling with a small bedroom? There are lots of ways to make the most of what you have and create the illusion of extra space. Read some of the best here!
Do you have a bedroom on the border between cosy and cramped? Are clothes or other belongings spilling over into other rooms? Working with limited space is a common challenge – especially considering the average house size in the UK is getting smaller. But without a full house remodel, you simply have to find ways to make the space work harder.  
It could be your master bedroom, a guest room or a child's room. Regardless, there are bound to be opportunities to make more of what you have and create the illusion of extra space.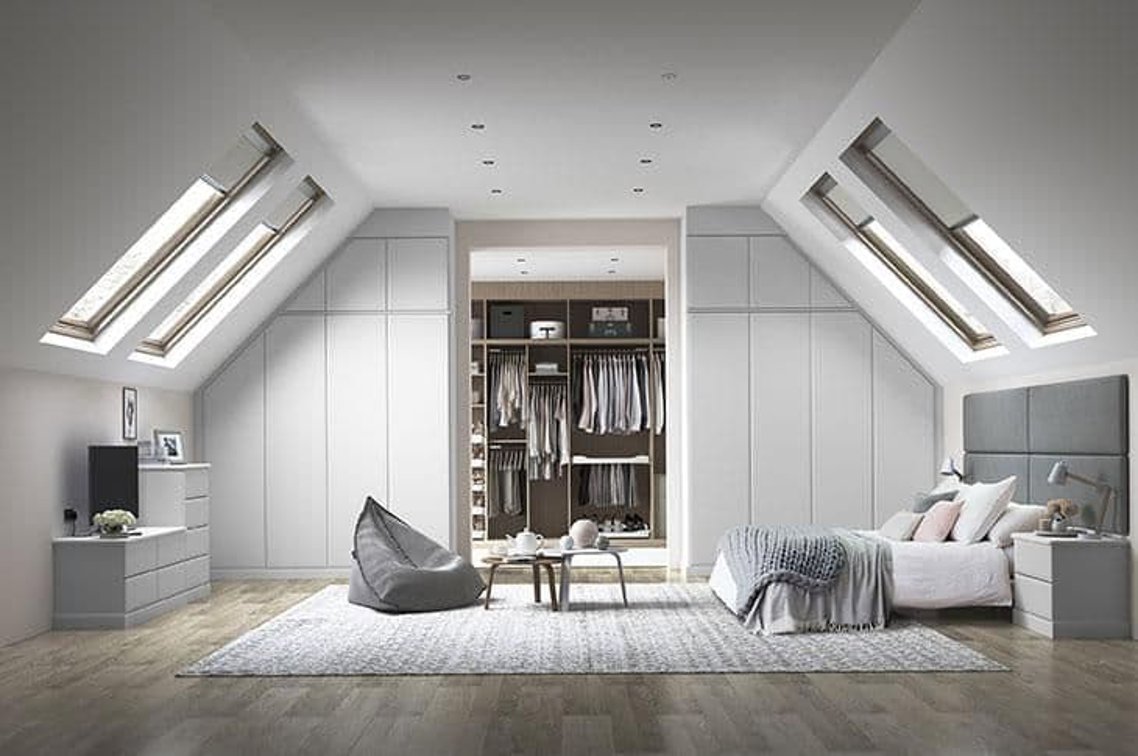 As experts in clever home design, read our simple tips on how to make a small bedroom look bigger below.
Choose light monochromatic colours
Colour scheme can have a significant impact on the look and feel of a bedroom. Light colours make a space feel airier by reflecting light, whereas darker colours tend to absorb it. That's not to say you're restricted to white and grey, however. Pastel blues, pinks and yellows can all work just as well.
Whatever your preference, try sticking to monochromatic or similar shades from wall to wall. This helps ensure fluidity rather than sectioning them off. You can still add pops of contrast with art or plants.
And again, while there's no need to avoid them altogether, try to use prints and patterns sparingly. Opt for mostly solid bedding, for example, and decorate with a patterned throw. Mixing textures while sticking to a similar palette is another way to add interest without things feeling too busy. 
Maximise your storage options
Clutter is the enemy of an already-small bedroom. If yours is littered with clothes, books and other personal items, increasing your storage options will allow everything its rightful place.
Fitted wardrobes and bedroom furniture are designed to fit seamlessly into a room's dimensions. Fitted solutions utilise dead space around corners and sloped ceilings in ways that off-the-shelf options cannot.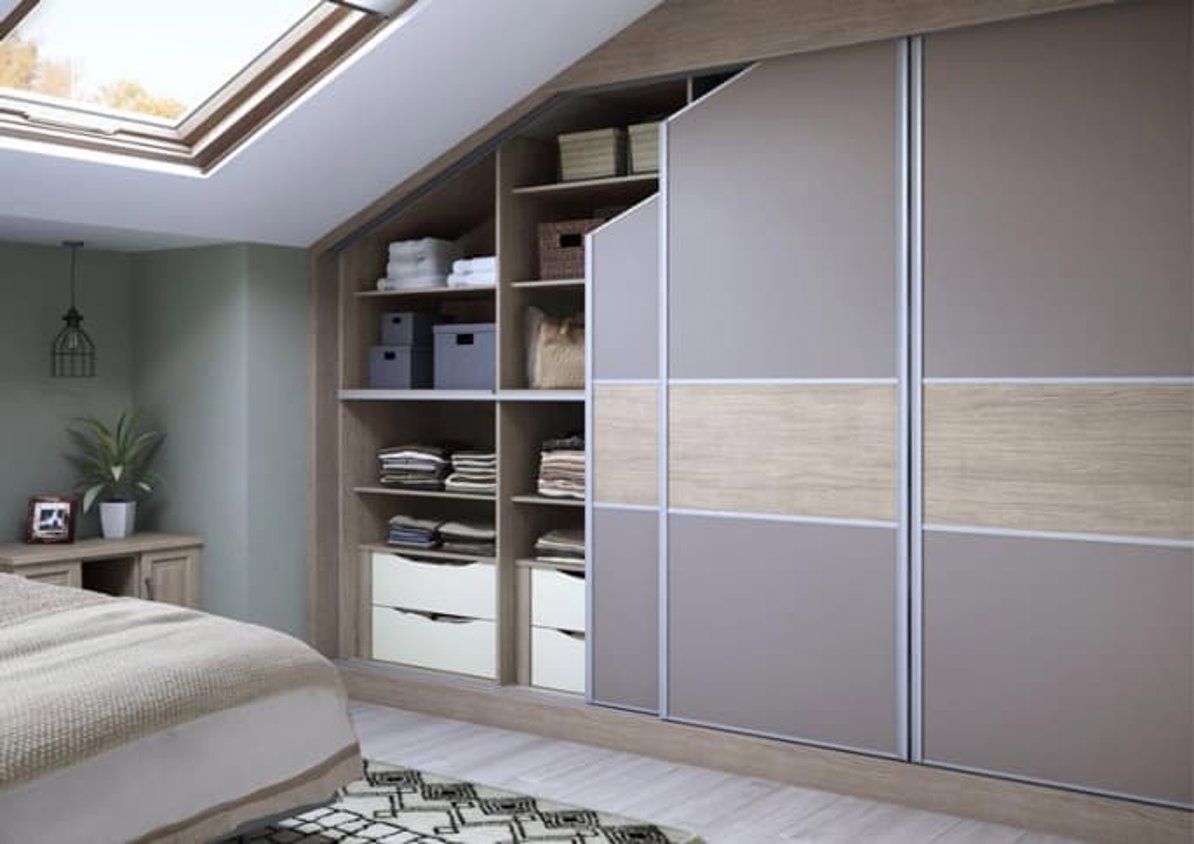 If you have plenty of wall space left over, thinking vertically could free up your floor. Adding shelves and tall bookcases – ideally the same colour as the walls – offers practicality while drawing the eye upwards. Curate what you display on them to maintain a cohesive, personalised feel.     
Use mirrors to create an optical illusion
Mirrors are another great tool for reflecting light and creating the illusion of more space. A full-length mirror is an essential when getting ready, and when combined with smaller dressing table and wall mirrors - and even chrome-finished accessories - can help bounce light from wall to wall.
Floor-to-ceiling mirrored wardrobe doors offer another smart way to put this tip into practice. Make them sliding to avoid encroaching on your floorspace.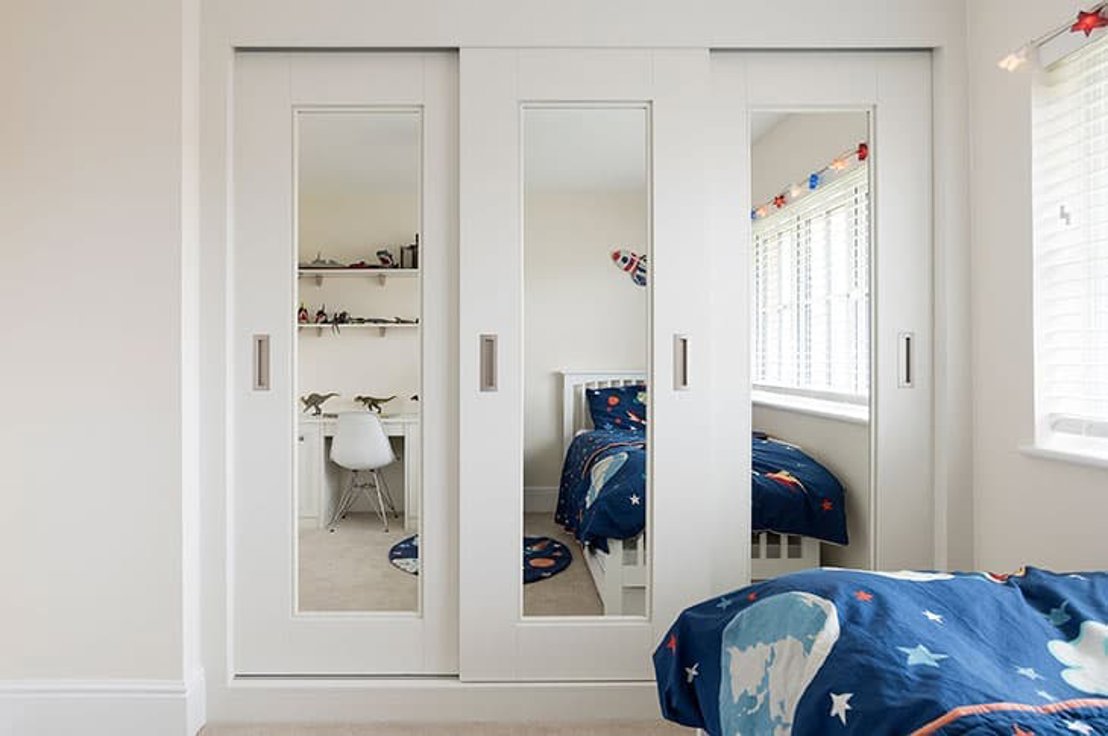 Add only the right furniture
Furniture can make a statement, add functionality or make a space feel cramped for little reason. And from a bed to drawers and nightstands, you could have a lot to fit in. Choose space-saving or multifunctional options and avoid keeping excessive items for the sake of it − do you need two side tables?
The largest piece in any bedroom is always likely to be the bed. Try to choose a frame with storage underneath or surface space around the sides or headboard for essentials. While not traditional, low beds without a headboard can feel less imposing.      
Even choosing furniture with legs can create an airier feel by showing more of your floor and walls. Just make sure to keep the visible area clean and organised.
Have a clear out
If you've improved your lighting, storage and furniture and still find yourself struggling, perhaps it's time for a clear out. Get to work on your wardrobe, surfaces and floor to remove any unwanted items, donating or selling what you can to continue their lifecycle.   
If it's not all rubbish, stripping back decorations can also make a difference. Avoid overloading walls and surfaces with too many art pieces, souvenirs or other accessories. You could always find a home for them elsewhere or create a rotation system if you'd prefer not to let go. What are you waiting for?
We hope these tips have shown you that a small space doesn't have to be limiting.
The ultimate way to discover how to make a small bedroom look bigger, however, is to book a design visit. Either at your home or online, one of our expert designers will be able to find and create more storage than you ever thought possible.
Head to our blog for more handy home guides.     
You bring the space, we bring the inspiration
Whether you have an exact vision in tow, or are just at the beginning stage of your home renovation, we have heaps of inspiration for you to get stuck into. 
Find a wealth of design tips, trends and inspiration in the pages of our brochure, magazine and on our blog. Our experts are always ready to help you create dream home, pop in store or book your free design visit for experts to help on bringing your vision to life.