How to make more storage space without cluttering your home office | Hammonds
| Home Office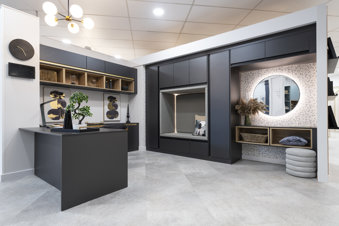 How to create more storage space without cluttering your home office
Files, stationery, books, and gadgets can all contribute to a cluttered office. However, there's no escaping the fact that you need them all to complete your work. If you're looking for a solution to this predicament, we can help. By implementing smart storage solutions with the help of design experts, you can keep your items organised and safely tucked away – but still within easy reach.
Whether you prefer traditional or contemporary interior styles, it's important to find home office storage solutions that work for you. Below, we've shared our best ideas for keeping your everyday working essentials tidy.
Floating shelves
Create clean lines on the walls and use up empty spaces for beautifully designed storage. Floating shelves are a fantastic option for storing books, files or adding a decorative sculpture to enhance the overall style of the room.
These shelves can be installed in a material of your choice, too. Choose gloss black metal for a modern, industrial effect, or dark, natural wood for a rustic, stripped-back aesthetic. We love dark shelves paired with light, neutral shades on walls. But if you'd like your shelves to be subtle and discreet, there's nothing wrong with going for a matching colour.
Create a cosy nook
Designing a cosy desk set-up with a nook is a wonderful way to utilise home office storage space. One way to achieve this is to install two fitted cupboards with a desk seamlessly integrated in between. This allows you to put all your office storage in one place and free up the rest of your room for other furniture.
And the more you add to the storage space either side of your cosy nook, the more personality you can give it. Whether you choose a small table lamp with a colourful lampshade or a few of your favourite family photos, your cosy nook will quickly become one of your favourite spots in the house.
Desk cupboards and drawers
Desks don't need to be just a simple tabletop. Contemporary home office desks with storage can be an excellent choice for busy family homes or for keeping on top of your paperwork. Not only does fitted home office furniture help to keep your belongings tucked away and out of sight, but it's also invaluable in helping with your organisation too.
All you need to do is get in touch with our design experts to arrange a free consultation. From there, the furniture will be tailored to your requirements and built specifically around the dimensions and interior features in your space.
Fitted shelving units
You can still make the most of fitted home office storage solutions without incorporating them into your desk. To make full use of your rooms, installing fitted units is the way to go. These can cover floor-to-ceiling wall spaces, and offer ample storage for your office supplies as well as other household items you need storing too.
Fitted shelves enable you to add symmetry to your home interior with ease. This carries multiple positive effects, but above all, makes your space seem much more inviting and pleasing to the eye. 
Decorated bookshelves
One of our favourite home office storage ideas is decorated bookshelves[KM1] . Bookshelves offer a vibrant backdrop in any room, but with work documents and books needing to be stored with easy access, they make a fantastic home office storage idea too.
Furthermore, you can keep more than just books on your bookshelves. Whether you choose to display succulent plants or your DVD collection, use your creative licence to curate a wonderful, eye-catching display that your colleagues will admire on your next video call.
Create your dream home office with Hammonds
At Hammonds, we're here to help you find bespoke home office storage to suit your requirements. When you book a free design visit with us, we'll use our expertise to design the best solution for your home office, and provide you with an integrated solution to all your office storage needs. Please don't hesitate to contact our team today.
You bring the space, we bring the inspiration
Whether you have an exact vision in tow, or are just at the beginning stage of your home renovation, we have heaps of inspiration for you to get stuck into. 
Find a wealth of design tips, trends and inspiration in the pages of our brochure, magazine and on our blog. Our experts are always ready to help you create dream home, pop in store or book your free design visit for experts to help on bringing your vision to life.