How to make your bedroom cosy for winter
| Bedroom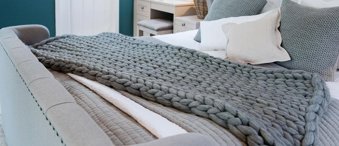 How to make your bedroom cosy for winter
As the nights draw in and the mornings turn frostier, your bedroom should feel like a sanctuary to keep you warm and cosy. After all, it is the place where you start and end every day.
From tweaking bedroom colours and lighting to sorting out your room insulation, these cosy bedroom ideas for winter can make your place of rest feel more inviting and comfortable.
Layer textures
Inspired by Scandinavian hygge, your bedroom should ideally be filled with plenty of places to rest with lots of cosy textures against your skin.  
Rugs are a great addition to bedroom floors to give a soft landing for feet when you step out of and into bed. A deep-pile rug feels luxurious and will make the journey out of bed a little easier each morning.
Layers of blankets and throws on your bed will not only look inviting but will enable you to adjust your temperature during the night if you get too chilly. Plush cushions and pillows will create a velvety backdrop to your head and neck as you read a book or magazine, and don't forget to add finishing touches including hot water bottles and slippers for that extra snuggle factor.
Incorporate warm colours
Pale colours are great for spring and summer to emphasise that feeling of brightness and light. However, when the days get colder, you will find that warmer colours help a space feel more homely and inviting.
Play around with winter bedroom colours like orange, dark green, navy and plum to create the perfect wonderland vibe. You could experiment with changing wall and ceiling colours, but if that's too much of a transformation incorporate these tones through bedding, rugs, art and soft furnishings.
Add soft lighting options
Overhead lighting is usually essential when getting dressed and ready in the mornings, especially when it's darker outside. However, in the afternoons and evenings, think about layering soft lighting to capture a peaceful ambience.
Bedside lamps make curling up with a book and a mug of cocoa welcoming, whereas pendant lights offer more of a sultry mood that is perfect for a romantic night in. Note that lightbulbs come in various shades, so opt for warmer tones to take away that frosty edge from your lights.
Candles are a great way to make your bedroom cosy for winter. Not only do they act as additional lighting, but they stimulate multiple other senses too. Choose scents of seasonal fruits, spice or natural wood and position them around the room where their flicker can be seen and enjoyed.
Create an inviting bed set-up
Make getting into bed a special occasion every evening by making your bed set-up as inviting as possible.
Padded headboards can create a hotel-like indulgent feel, and high-quality bed linen can make all the difference in terms of visual appeal and comfort. Opt for high thread count linen and consider investing in a winter-specific duvet with a higher tog rating. Goose-down pillows offer a sumptuous place to lay your head and padded mattress protectors give that extra layer of support and softness.
Matching bedroom furniture will certainly make your space feel more luxurious too. Combine bedside tables, dressing tables and chests of drawers to ensure your relaxing haven remains uncluttered and has plenty of space to place books, drinks, winter houseplants and aromatherapy diffusers around you.
Insulate
The above ideas will ensure you make your bedroom cosy for winter, but it's impossible to feel fully relaxed if there is still a chill in the air.
Therefore, as winter approaches, be sure to service your radiators to ensure they are working correctly. Insulate your room as much as you can by using closed blinds and drawn curtains to stop the heat from escaping through windows. Rugs and draught excluders under doors can help retain the warmth and stop the cold sneaking in too.
Hunker down with help from Hammonds
The team at Hammonds are experts in luxury bedroom design. We can help you create a room that feels cosy and cohesive, with plenty of storage space included.
Get in touch today to book a free design visit. We'll be happy to discuss your needs, tastes and budget so we can start creating you the perfect cosy winter bedroom. 
You bring the space, we bring the inspiration
Whether you have an exact vision in tow, or are just at the beginning stage of your home renovation, we have heaps of inspiration for you to get stuck into. 
Find a wealth of design tips, trends and inspiration in the pages of our brochure, magazine and on our blog. Our experts are always ready to help you create dream home, pop in store or book your free design visit for experts to help on bringing your vision to life.