How to make your bedroom eco-friendly
| Bedroom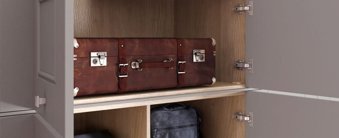 How to make your bedroom eco-friendly
We should all be looking at ways to make our homes more sustainable - and, thankfully, it's much easier to find out how than ever before. From the materials that we choose to the way in which they are used, to shopping second-hand and refurbishing old items, it's possible to make a difference without comprising on style or comfort. Read on for our guide to the best eco-friendly bedroom ideas.
What is eco-style?
Eco-style is centred around wellbeing, sustainability and, most importantly, avoiding causing further harm to our planet. Some of that comes down to not buying new things and working with what you have - that is always the most sustainable option. However, when you need to replace something then use companies with sustainable credentials which work with natural, well-sourced materials, in search of quality and style that will last for decades. Eco-friendly bedroom design has all the potential to feel luxurious, warm and beautiful.
Choose wooden furniture
Natural materials that have been grown and processed sustainably are often the best way to achieve an eco-friendly home. Wooden furniture not only looks great (especially in rustic, farmhouse-style schemes) but it is also traditionally strong, sturdy and timeless. Our wooden fitted wardrobes are all about classic style and quality craftsmanship, designed to curb those urges for regular redecoration. Getting fitted furniture that works well with the shape of your room means that it could be there for decades to come.
Opt for a plastic-free mattress
Often the furniture that we buy new can contain some fairly harmful substances but, by choosing your products carefully and paying attention to their manufacturers' practices, you can make more informed choices. Many mattresses on the market, for example, contain flame retardants made from plastics - instead, look out for materials such as wool, cotton, hemp and bamboo. They are just as comfortable and will have you sleeping soundly.
Choose natural bedding
When it comes to fabrics, go for natural fibres that won't release microplastics every time that you wash them. Organic fabrics made from sustainable materials like bamboo are brilliantly sustainable because bamboo grows so quickly and takes up less space than traditional cotton.
We should be careful not to rule out all human-made fabrics, though. Reused or recycled polyesters are sometimes more sustainable that brand-new natural fibres.
Second-hand furniture
The simple answer to how to make your bedroom eco-friendly is to do nothing at all. Keep the things that you already have and look after them carefully so that they last for years. If you do need something new, though, then opt for second-hand purchases. Not only does it reduce the amount of furniture that goes into landfill but it also enables you to get something that's both unique and likely to be much less expensive than high-street stuff.
Look carefully through online preloved stores and charity shops to find your perfect items. And always bear in mind that you can repaint things or get them reupholstered, so that they suit your style.
Stick with your current floor
One of the greenest choices that you can make is keeping your current flooring rather than replacing it with anything new. If you have floorboards, you could try painting them to give your room a lift, choose an eco-paint that is specifically designed for hard-use spaces. Natural, sheep-wool rugs are also great for adding a bit of cosiness underfoot. If you're set on replacing your flooring, though, choose your materials carefully. Depending on the size of your room, you could use carpet remnants. Some stores sell off end-of-roll pieces (at quite large sizes) for really cheap prices - and you would be saving it from going to landfill.
Consider LED lighting
Not only does LED lighting save you money on your heating bills but it's also great for the environment as it uses up to 75% less energy than old-fashioned bulbs - so it's well worth a refresh if you haven't already.
Talk to Hammonds for eco-friendly bedroom ideas
Making a commitment to creating a bedroom that's as eco-friendly as possible is an exciting opportunity - as it means that you're ready to put together a space that you'll love for years and years without needing to change it up. We can't wait to contribute to it. Book online for a free design visit and one of our experts will help you to get to grips with your space, offering a host of ideas to create the perfect eco-friendly bedroom.
You bring the space, we bring the inspiration
Whether you have an exact vision in tow, or are just at the beginning stage of your home renovation, we have heaps of inspiration for you to get stuck into. 
Find a wealth of design tips, trends and inspiration in the pages of our brochure, magazine and on our blog. Our experts are always ready to help you create dream home, pop in store or book your free design visit for experts to help on bringing your vision to life.