How to make your bedroom more comfortable
| Inspiration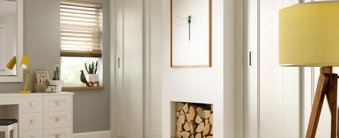 How to make your bedroom more comfortable
Bedrooms are such an important room in your home. It's where you relax and regroup after a long day and is possibly one of the only rooms in the house that can be free of discarded toys, pet paraphernalia and all the other clutter of everyday life.
Unfortunately, though, because it's not a room often seen by visitors, it can easily become a forgotten space and a bit of a dumping ground. We think it's time you reclaimed your space and created a little sanctuary just for you, so here are our ideas for how to make your bedroom comfortable, cosy and calming.

Use throws and rugs
Throws and rugs look lovely – they can add colour and make a design statement. The best thing about them, though, is the texture they can bring to a space.
Comfortable bedroom ideas have to start with some thought about warmth, cosiness (especially as winter approaches) and how things feel underfoot. A thick, fluffy rug beside your bed, for example, means that each morning when you get up you will immediately sink into something luxurious.
A chunky knitted throw will have you feeling cosy even on the coldest of nights. And you don't have to stop at just one – you could layer wool with velvet or soft faux fur, or a vintage-style quilt with a simple fleece. More is definitely better when it comes to creating comfort.

Be mindful of light
Sometimes you need bright light in your bedroom, like when you're getting ready to go out or cleaning. But most of the time it feels better to keep things soft.
Bedside lamps are perfect for helping you to wind down in the evening with a book. Choose fabric shades and orange-toned bulbs for a really warm glow. We also love the coral tones of Himalayan salt lamps, which can add a serene cosiness that feels like you're at a spa.

Invest in good bedding
Bedding can feel like a huge investment, especially if you have a double or king-sized bed. But soft, warm, comforting sheets and blankets can lull you into a deep sleep that you can't put a price on – it's the obvious thing to focus on when you're planning how to make your bedroom more comfortable.
For winter, you could try brushed cotton for the ultimate cosiness. Soft linens look great all year, while some luxuriously soft silk pillowcases should be high up the list if you're really splashing out.

Be selective with colours
If you're looking for a cosy atmosphere, it's a good plan to keep your colour scheme warm and muted. Beige, soft oranges and some warm grey tones all work well, and they're great for mixing with more colourful accessories.
Or, if you love the simplicity of white walls, pick a shade that has some pink undertones. Think about the amount of natural light that you have in your room and if you have a sample paint pot, be sure to test it on a few different walls to get the best idea of how it looks.
When it comes to dressing your room, stick to the same limited palette with just a couple of complementary contrasts. If you went for orange walls, sage green can look great for your throw or a few scatter cushions.

De-clutter your space
Keeping your bedroom organised and clutter-free will help you feel truly relaxed. Our fitted wardrobes can maximise any awkward spaces such as alcoves or sloping ceilings. They're also designed bespoke for you, so you can choose your perfect range of hanging spaces, shelves and drawers. Our Marden range can help build a modern, simple look, while more traditional options like Croft can help keep the room looking classic and elegant.

Rely on Hammonds for comfort
For help making your bedroom more comfortable and to find out about all the various storage options to choose from, book a design visit with one of our experts.
Let us help you bring together a cohesive plan for a comfortable bedroom.
You bring the space, we bring the inspiration
Whether you have an exact vision in tow, or are just at the beginning stage of your home renovation, we have heaps of inspiration for you to get stuck into. 
Find a wealth of design tips, trends and inspiration in the pages of our brochure, magazine and on our blog. Our experts are always ready to help you create dream home, pop in store or book your free design visit for experts to help on bringing your vision to life.