How to make your house dog friendly
|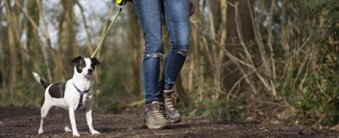 How to make your house dog friendly
Organising your home can be challenging enough, but with a furry friend in the mix, there are a few extra things to think about. Whether you're expecting a new puppy or you're already leader of the pack, it's always important to dog-proof your house and furniture. In this blog, we'll cover some of the best ways to create a safe and comfortable environment for your canine companions.
Think about flooring
Sometimes, long walks end with muddy pawprints in the house. To make sure you never see them on the carpet, it's a good idea to place a long, dark runner in your hallway, with a practical hard tile or wooden floor underneath. Even if you've got a small breed, it's still surprising to see just how much mud can end up in the house. Choose a hard-wearing, easy-to-clean surface to make life simpler.
Try to implement a routine to follow once you get home, too. Whether that involves giving your dog a quick pat down with a towel outside or heading straight to the bath, make sure you give him or her plenty of positive reinforcement in the process.
Transform your boot room into a dog utility room
If you've already got a utility or boot room in your house, why not make space for your pooch, too? With a few tweaks or even a small renovation project, it could become a versatile dog utility room, perfect for giving your pooch their own private space.
Not only could this room house your coats, shoes, and other belongings you'd rather not see around the house, but it acts as a great physical barrier to keep your living space and kitchen pristine.
A dog-washing sink nestled amongst bespoke fitted boot room cabinets could make your dog utility room look sleek and stylish. While thinking about how to make your house dog friendly, a great place to start is focusing on a single, multipurpose space dedicated to your dog.
Remember to keep hazards out of reach
Dogs are curious and love to explore with their teeth – so it's a good idea to keep hazards away from their reach. Electrical cables, including your phone charger, should be hidden from your dog, especially if you have a young puppy in the teething phase.
Plus, it's easy to overlook just how easily an ordinary household item could be a potential hazard for your four-legged friend. With their clumsy, playful bounds and wagging tails, items like standing vases, photo frames and lamps could quickly topple and either shatter or injure your dog. To keep on the safe side, make sure heavy, delicate items can't be found by a curious nose.
Identify and remove toxic plants
Exotic houseplants might complement interior design, but you may be surprised to learn that many can be toxic to dogs. Whether you keep greenery in the kitchen, living room, or outside on the patio, it's important to remember that your dog could see any plant as a tasty snack.
Common household plants including ivy, lily, and mistletoe may be harmful for your pup. The UK's largest dog welfare charity, Dogs Trust, offers a more comprehensive guide on plants to keep away from your pooch.
Create boundaries for a dog friendly house
Knowing how to make your house dog friendly isn't limited to protecting their physical safety from domestic hazards. Whether in the form of a baby gate, a closed door, or more specific training, it's important that your dog knows how to respect your space with boundaries.
Keeping separate areas for sleeping, playing, and spending time apart promotes a healthy balance in your relationship with your dog, making for a more fulfilling experience as an owner. Boundaries also help your dog or puppy to understand their role in the family and any expectations you might have.
Create a dog-friendly haven with Hammonds' help
If you already have a boot room, converting it into a dog utility room is a fantastic way to strengthen your bond with your dog. Not only could this offer them their own space, but it simplifies your daily routine – including washing them down after a muddy walk!
Our team at Hammonds can help you to transform your space into a convenient dog utility to make the most of your time together. With roomy and practical built-in units, you'll have more floor space for cuddles and getting ready for a walk. Why not book a free design visit online today?
You bring the space, we bring the inspiration
Whether you have an exact vision in tow, or are just at the beginning stage of your home renovation, we have heaps of inspiration for you to get stuck into. 
Find a wealth of design tips, trends and inspiration in the pages of our brochure, magazine and on our blog. Our experts are always ready to help you create dream home, pop in store or book your free design visit for experts to help on bringing your vision to life.