How to make your living space more eco-friendly
| Living Room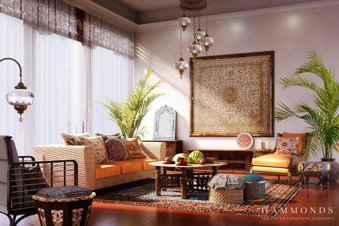 How to make your living space more eco-friendly
Becoming more environmentally-conscious has been a priority for many people in recent years, not just from a sustainability perspective but for health reasons, too. With increasing amounts of people changing their habits and lifestyles, there's never been a better time to go green with your décor.
Consider creating a space that is both comfortable and beneficial for your health, which also enables you to practice what matters most to you. Making a change doesn't need to be time-consuming or expensive with our simple sustainable home design tips.
Reuse and recycle
Reusing and recycling is the mantra for green living. Upcycling furniture is one way to think sustainably, especially if you're considering introducing green living room décor ideas to your home. Turn empty glass bottles into artistic containers, get that old armchair in the loft reupholstered, or give the coffee table a fresh lick of paint. Even the smallest changes can make all the difference.
If you're looking for some fresh décor to jazz up the place, consider only buying second-hand or vintage items. Pre-owned pieces don't always have to look shabby; you can find some absolute gems for a fraction of the retail price. Not only are you saving money, but you're also contributing to a more sustainable and eco-friendly living space and lifestyle.
Use natural materials
If you want to buy new but you're still being eco-aware, you can purchase furniture or items that are made from sustainable materials and are ethically sourced. These include materials like bamboo, hemp wood and recycled fabrics.
We understand it can be tempting to choose cheaper materials, but they're not particularly great for the environment. Using natural materials means you can tap into eco-friendly decoration, styling your space with green products that don't fund unethical labour and unsustainable sourcing practices.
Non-toxic paints and chemicals
It's easy to forget about your walls and carpets when designing your eco-friendly living room. Toxic paints and cleaning chemicals can leave a large carbon footprint, potentially releasing harmful fumes into your space.
Non-toxic paints, coatings, and cleaning products are durable and eco-friendly alternatives. They have fewer harmful chemicals and release no nasty pollutants into the environment. Plus, they produce low odour, which benefits those with allergies and asthma.
Quality furniture
When you invest in quality living room furniture, there isn't any need to replace it as often. You won't feel the urge to remodel your space, as you've already purchased durable pieces that meet your requirements in terms of functionality and style.
Our fitted living furniture is built to last. Ensure your living space is always organised and clutter-free by investing in quality storage solutions, providing a home for all of your belongings and creating a calm, clutter-free environment.
Indoor plants
A great way to achieve your dream green living room idea is to have a healthy helping of indoor plants, bringing the outside inside your home. Not only do plants enhance the aesthetic, but they are key to purifying the air inside and are a natural ventilation method.
These natural air purifiers will help to embody the connection to nature that you want to exemplify. They also have a variety of mental health benefits, such as improving your mood and reducing stress levels.
Perfect for evoking a sense of calm in your space, houseplants can be used almost anywhere in your home. The pop of greenery can help to brighten your space with ease.
Enhance your lifestyle with Hammonds
It's no secret that long-lasting fitted furniture can help you create an eco-friendly living room. At Hammonds, we have an entire range of innovative storage solutions to truly transform your home. Get started today by booking a design visit and let us help you create designs to suit your needs, taste, and budget.
You bring the space, we bring the inspiration
Whether you have an exact vision in tow, or are just at the beginning stage of your home renovation, we have heaps of inspiration for you to get stuck into. 
Find a wealth of design tips, trends and inspiration in the pages of our brochure, magazine and on our blog. Our experts are always ready to help you create dream home, pop in store or book your free design visit for experts to help on bringing your vision to life.