How to maximise natural light in an attic bedroom
| Bedroom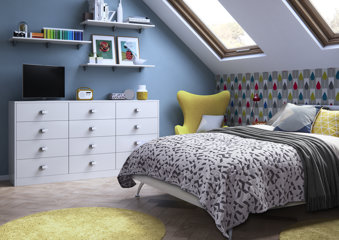 How to maximise natural light in an attic bedroom
Converting your loft space into a comfortable bedroom is no easy feat. Along with overcoming the challenges tied to changing the structure of your home, you'll also be faced with turning a vacant space into a liveable one.
And when it comes to attic bedrooms, getting enough natural light can be particularly tricky. Luckily, there are a few things you can do to maximise your attic bedroom lighting – with plenty of ideas for practical customisation too. Here are some tips on how to do it:
Go for skylights
Skylights are not only the best space-saving natural light solution for attic bedrooms, but they also fill the room with uninterrupted daylight. When installed in pairs, skylights also help define the shape of your bedroom, adding symmetrical lines that provide a useful form. Or, if you use just one, wide skylight, placing it directly in front of your bed could be a great way to illuminate it as a real focal point.
Skylights can be installed on the roof or in the angled ceiling. They come in different shapes and sizes, so you can choose a design that fits your needs. To ensure your sleep is not interrupted in the lighter summer months, be sure to install fitted blinds or shutters so you can effectively manage your attic bedroom lighting.
Use thoughtfully placed mirrors
Attic bedroom lighting can be greatly enhanced with the use of strategically placed mirrors. Mirrors are not only a practical solution for checking your appearance before you leave the house, but they are also a clever tool for naturally reflecting light. This can make a bedroom feel brighter and more spacious.
Consider placing a mirror opposite a window to reflect light into the room and spread it around the space. You could even install fitted wardrobes with mirrored doors to achieve the same effect, as well as benefitting from another space-saving feature.
Paint with light, neutral shades
When you're decorating an attic bedroom, it's important to consider the effect of sloped ceilings and irregularly shaped walls on the lighting. The paint colour for bedrooms with little natural light should be contemplated thoroughly to ensure you choose tones that maximise luminosity.
Except for bright, alluring feature walls, dark paint can often contribute to a room feeling smaller and darker. Pale colours, however, reflect light better so are an obvious choice for an attic bedroom with limited natural light and space.
Opt for pastels, off-whites and pale greys for a bedroom that feels airy and relaxing with room to breathe. Match walls, ceilings and skirting boards with the same colour to get the effect of a larger cohesive space. 
Keep things clean & clutter-free
Natural light flows easily into clear, open spaces, but if you allow your attic bedroom to become cluttered then these objects will soon distract attention and dominate the floor space.
Ensure you have plenty of space for all your clothing and accessories with clever fitted furniture and use other handy solutions such as under-bed storage and wall shelving to keep things off the floor. Bespoke furniture works well with even the most awkward of attic spaces, so sloping ceilings or tight corners don't need to cause a major problem.  
Also, be sure to keep your attic windows clean to allow as much light as possible to enter the room. Dirty windows can block natural light, making the room appear darker and oppressive.
Give corners a purpose
Attic spaces naturally have curves, corners and crannies – they provide character and charm. But corners can often present issues when it comes to placing furniture and functionality. Thankfully, corners can be used to give purpose to a room when planned strategically.
You could transform one into a cosy reading nook complete with a comfy beanbag, floor lamp and book shelving; create a dedicated workspace with a fitted desk; or install floating shelves to store items such as books, plants or decorative objects.
By using the space to suit your desired functional needs, corners can become a valuable and practical part of any attic bedroom.
Let Hammonds sort your attic storage
If you're considering transforming your attic into a bedroom space and are looking for ideas on how to enhance the lighting with furniture, our team can help. Book a free design visit today and our designers will come to your home to help you understand your storage opportunities.
You bring the space, we bring the inspiration
Whether you have an exact vision in tow, or are just at the beginning stage of your home renovation, we have heaps of inspiration for you to get stuck into. 
Find a wealth of design tips, trends and inspiration in the pages of our brochure, magazine and on our blog. Our experts are always ready to help you create dream home, pop in store or book your free design visit for experts to help on bringing your vision to life.