How to nail the 'all-white' living room trend
| Living Room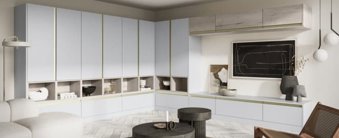 How to nail the 'all-white' living room trend
All-white living rooms can look undeniably cool in magazines but making them work in real life is a whole other thing altogether. There are some clever tricks to help you through it, though. High gloss, different textures and – perhaps most importantly – wipe-clean surfaces will all help to make this current trend stand up to daily life. So, if you are looking for some practical and on-trend white living room ideas, then we are here to help.
Pick an accent colour
So maybe 'all white' doesn't have to mean that every single thing should be white – that just isn't possible in a modern family home. Instead, you could choose one accent colour that could feature in your wall art or soft furnishings. You are bound to have something that needs to live in your living room that doesn't quite fit with your perfect white aesthetic – a guitar, maybe, or the dog's bed, perhaps some tiles on a fireplace. Whatever it is, use that as your colour inspiration so that it all fits together cohesively.
Introduce movement into the space
As you're keeping your colour palette minimal, now is the perfect time to experiment with some different shapes and silhouettes. A curved or textured sofa can add visual interest while deploying a chunky throw and a variety of cushions (all in white, of course) can keep things feeling playful and homely. If you're wondering how to make a white living room cosy, then rugs are an easy answer. Go for a sheepskin or a Moroccan Berber-style rug for gorgeous softness underfoot.
Add some playful touches
An all-white themed living room is pretty daring when it comes to interior design, so why not push it all the way and really have some fun? Scour vintage shops and flea markets for some unusual finds. If it doesn't fit your colour scheme, don't be afraid to get out your paintbrushes and transform it! Choose a mirror with a ridiculously ostentatious frame, or a fancy white chair that hangs from the ceiling.
You could add some playful touches simply with the choice of photographs that you display. Forego those classic portraits and find some images of your friends and family dancing and letting down their hair – whatever makes you smile.
Paint the floors and ceilings
White ceilings are standard – painted white floorboards, though, are anything but. We love the look of paint on wood, especially if it's textured and slightly imperfect. Floorboards take some serious wear and tear, so choose your paint wisely (most brands will offer specific floor-grade paints now). Taking the same colour all the way from the top to the bottom of a room lends a lovely sense of continuity and, what's more, you don't have to do all that careful cutting in. Just make sure that you choose a wipe-clean paint; many brands now offer it as an option and obviously white can be fairly unforgiving when it comes to dirty marks.
Add artwork
There's a reason why most galleries have white walls – because it makes the perfect backdrop for a statement piece of art. A large, standout canvas could give your room some definite wow factor.
Etsy and affordable art fairs are well worth a look but, if your budget doesn't stretch to an original painting, then look for some posters online. Vintage film and art exhibition prints always look stylish in clean simple frames.
Add storage that fits in with your colour scheme
The key to understanding how to decorate a white living room is knowing what storage to use. An all-white, minimal space must be clutter-free and built-in storage is an easy answer to this. Whether you should go for floor-to-ceiling cupboards, low shelving or bespoke alcove units really comes down to your room and the amount of stuff that you need to keep in it. Our range of living-room storage comes in a variety of styles, finishes and colours.
If your style is minimal and contemporary then one of our high-gloss, white, handle-free models would be a good fit. If you want to keep things slightly softer and more textured, you could opt for painted wood.
One of the trickiest things to fit neatly into a white living room is the television. Helpfully, we also make bespoke television units to hide away the tangle of wires and technology. You could even have a storage unit to cover the screen when you're not watching it.
For help and advice decorating your home, browse our website and book a free Hammonds design visit. Our experts will draw up a bespoke storage plan to fit your home and lifestyle, before creating computer images to help you visualise the finished result.
You bring the space, we bring the inspiration
Whether you have an exact vision in tow, or are just at the beginning stage of your home renovation, we have heaps of inspiration for you to get stuck into. 
Find a wealth of design tips, trends and inspiration in the pages of our brochure, magazine and on our blog. Our experts are always ready to help you create dream home, pop in store or book your free design visit for experts to help on bringing your vision to life.