How to organise a bedroom
| Bedroom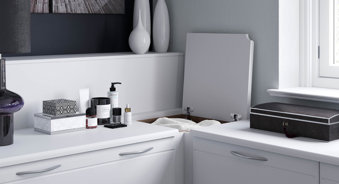 5 things you need to know about organising your bedroom
Keeping your bedroom tidy can often be tricky, especially if you're limited on time and space.
But as a place we go to relax after a hard day, your bedroom should be a haven of calm and serenity. A space that's cluttered and disorganised just won't do! 
In this article, we offer 5 insightful bedroom organisation hacks to help turn you into a tidying pro.
1. Less is more
When it comes to organising your bedroom, less is certainly more. The more minimal and less cluttered your bedroom is, the more relaxing and inviting it will feel.
As Marie Kondo famously recommends: "Keep only things that spark joy." So, if an item in your room doesn't instantly fill you with happiness, it's probably time to find it another home. That could be at the local charity shop, gifted to a friend or sold to someone who will find joy from it.
To live a more sustainable and organised life, try to reduce the amount of clothes and other accessories you buy. If you feel the need for some new items in your life, why not try the 'one in, one out' rule? It's pretty simple, really: to make way for a new item, re-home another item before you buy it.
2. Grouping your items is key
Organising your items in groups with similar things means you will instantly know where to find them and they're less likely to go missing when you need them most. By keeping socks with socks, and sports bottoms with sports tops, you'll never lose your favourite pair again. Lots of time will be saved hunting for matching pieces too.
Storage baskets, chests of drawers and door-hanging organisers are all handy items of storage in a bedroom and can help to keep things safe. Fitted wardrobes are also extremely helpful for those with a vast and varied collection of clothes, shoes and accessories. With many customisable options, you can make the most out of your unique space and ensure your bedroom is tidy and organised.
3. Keeping a junk draw can be helpful
Although your room should be as clutter-free as possible, it can be very helpful to have just one drawer for housing 'miscellaneous' items when organising your bedroom.
From lip balms and hair scrunchies to radiator keys and spare batteries, we all need a place to put those items that don't really fit with anything else in the room. Dedicating a special drawer or storage box for these items will ensure they don't end up littering the floors or surfaces of your bedroom.
4. Designated laundry areas are your friend
After a busy day or an evening out with friends, we're all guilty of swapping the trip to the washing machine with dirty clothes for a quick toss over the shoulder onto the bedroom floor! After all, it may mean an extra five or six precious minutes of sleep in our cosy bed.
Therefore, why not have a designated laundry basket or fabric bag in your bedroom where you can pop your clothes in after a long day, ready to take downstairs when it's full? This way, minimum effort is spent on trips to the washing machine and your bedroom floor can remain clear. 
5. Removing clutter from your bedside table works wonders
Our efforts to maintain a healthy sleep routine can often conflict with our desire for a tidy and minimal bedside area. Books, sleep sprays, oils, lavender bags, earplugs and face masks are all excellent items for helping secure those vital seven hours of slumber each night. However, if they're turning your bedside table into a breeding ground of disorganisation, it's time to think of a solution.
Be sure to keep only items that you use daily beside your bed. Add all other items to your 'miscellaneous' drawer or house them elsewhere for safekeeping. If you do have a selection of key items you want to keep close to your bed, consider a small basket or tray to house them in and keep things always looking smart and chic.
Hide cables and wires behind furniture if they're needed but choose an alternative place to charge your phone and other electronic items – it certainly won't help with your quest for great sleep if there are lights, beeps and notifications pinging beside you all night.
Organise your bedroom with help from Hammonds
If you're about to embark on a new, super-organised way of life, the team at Hammonds can help.
Book yourself a free design visit with one of our experts for advice on planning an organised bedroom with plenty of storage. 
You bring the space, we bring the inspiration
Whether you have an exact vision in tow, or are just at the beginning stage of your home renovation, we have heaps of inspiration for you to get stuck into. 
Find a wealth of design tips, trends and inspiration in the pages of our brochure, magazine and on our blog. Our experts are always ready to help you create dream home, pop in store or book your free design visit for experts to help on bringing your vision to life.