How to organise your children's room
| Bedroom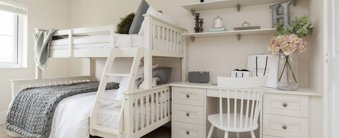 How to organise your children's room 
No matter how many times you clear away toys, the playroom always seems to be a mess! With parents leading busy lives and juggling so many things at once, it can be tricky to keep on top of a tidy home.
The pandemic has also played a role. Many children have been forced to stay at home and take part in lessons online due to the various COVID-19 restrictions that hit schools hard over 2021.
According to recent reports, parents have had to get more creative with ways to keep kids from making a mess amid the increased time spent at home.
In this blog, we share a few helpful tips on how to organise your children's playroom and toys.
Turn 'tidy up time' into an engaging game
For parents with younger children, turning 'tidy up time' into a fun and playful game is an ideal way to spin this mundane task on its head. Not only does this change a child's perception of tidying up, but it also teaches them the importance of clearing up after themselves.
There are countless ways you can go about making this an engaging experience for your child. One idea would be to set a timer and race against the clock to get everything packed away before the time runs out. This should inject fast-paced fun and exhilaration into the task, while also helping you to get the job done quicker in the process. Hurrah!
Reward helpful behaviour
Create a reward system of your choice to incentivise children to help with tiding the playroom. This avoids the negative association that can lead to clearing away being seen as a chore.
Every time your child helps with tidying up, they can earn a reward. Your reward system could be a star chart, where so many stars add up to an end-of-week treat. Alternatively, they could get a coin to put in a piggy bank every time they contribute to tidying up. This option is particularly good for slightly older children, as it encourages them to save up for a treat they can purchase themselves.
Using such systems can teach children the value of money while allowing them to make independent choices. If you search online, there are tonnes of different reward systems to choose from.
Have a clear-out
One of the main causes of a messy playroom is an excess of toys. Having a clear out is a great way to declutter your home and create more space. Why not spend a weekend putting toys into piles of ones to keep and ones that can go? It's a good idea to get your child involved in this process to ensure you aren't throwing away anything they'd be upset to lose! Be decisive. A good rule of thumb is if they haven't played with a toy for over a year, consider it as clutter.
Remember, there's no need to throw away old toys – they can be reused again and again. Check with your family and friends who have children to see if they would like them. Alternatively, do a good deed and take them to a local charity or children's hospital where other children can make good use of them.
Stay organised
Any parent knows you can turn your head for a split second and when you look back a mountain of mess has emerged.
Built-in storage units can be a great solution for helping quickly get that untidiness out of sight without encroaching on room for playing. They are also helpful when considering how to organise your children's toys efficiently. It's easy to create dedicated drawers and cupboards for different categories of items, speeding up the tidying process.
This can help keep everything in order, and when combined with a reward system you might not even have to be the one clearing things away!
Hammonds can help you keep your playroom tidy
With years of expertise, Hammonds has all the top tips on how to organise children's rooms to keep them neat and tidy.
If you'd like some help with creating a well-organised playroom within your home, simply arrange a free design visit with one of our friendly advisors to start that journey. Head to our website to book your appointment today
You bring the space, we bring the inspiration
Whether you have an exact vision in tow, or are just at the beginning stage of your home renovation, we have heaps of inspiration for you to get stuck into. 
Find a wealth of design tips, trends and inspiration in the pages of our brochure, magazine and on our blog. Our experts are always ready to help you create dream home, pop in store or book your free design visit for experts to help on bringing your vision to life.