How to prepare for a stress-free dinner party
| Dining Room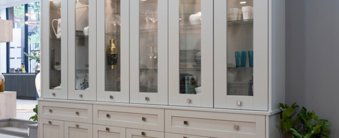 Your guide to hosting a stress-free dinner party
Dinner parties are back this summer! And, as fun as they can be for your guests, sometimes things can get a bit overwhelming when you're the host.
Entertaining doesn't have to be a daunting task though. With a little organisation and know-how, you can prepare the perfect dinner party and keep as cool as a cucumber. Here's how…
Stick to what you know
Even if you are a chef in the making, a dinner party isn't really the time to experiment with brand-new recipes that you haven't tried before. Keeping things simple with one of your all-time favourites is the best option for minimal stress in the build-up to the party. Cooking something you have made successfully in the past will not only reduce the chance of something going wrong, but it will also make you feel more confident about the end result.
If you're cooking for several guests, then a batch-made dish will be easier to prepare than individually served items. For example, a lasagne, curry, or chilli con carne can be made in advance and simply placed in the oven before your guests arrive, compared to steak or fillets of fish, which would need to be prepared individually and served immediately when ready.  
Ask about dietary requirements
The last thing you need on the day of the party is to be told that one of your guests can't eat what you've made because of an allergy or personal preference. Therefore, be sure to asking all guests to confirm any allergies or dietary requirements well in advance of the event.  
This will ensure you can do your research with plenty of notice and serve a meal that everyone will enjoy. This will also minimise any embarrassment for your guests who won't want to cause any upset or extra work for you.
Keep your dining space organised
You are certainly less likely to get in a flap before your dinner party if all your crockery, cutlery and glassware are organised well in your kitchen. This way there will be no missing salad bowls or serving spoons when you need them.
Fitted dining room storage is ideal for all your dinner party essentials – all within close proximity to your dinner table. This way you can keep all your best dinner party sets in one place, all stored neatly away with easy access.
Built-in dining room cabinets not only look luxurious, but they can be customised to suit your exact needs. So, whether you want more space for glassware or large serving bowls or platters, you can have something designed that perfectly suits your entertaining style.
Sort the drinks out
When you're planning how to host a successful dinner party, organising a consistent flow of drinks is almost as important as serving delicious food. Try to match the drinks you serve to the theme of the evening.
For example, if you are serving lasagne, then you could choose some Italian wine, followed by Limoncello shots as a digestif after the meal. Alternatively, if you are serving Mexican-themed dishes, then you could prepare some Paloma cocktails or frozen Margheritas to serve as your guests arrive.
Testing out your cocktail recipes beforehand will ensure you get the mixtures right and don't waste valuable socialising time by having to experiment on the night. Be sure to offer non-alcoholic alternatives for those who don't drink or who are driving.
If you have a home bar then make sure it's stocked up with mixers, ice, and garnishes to treat your guests to a restaurant-style experience in the comfort of your own home.
We can help make your dining room more organised
Hopefully our tips have offered valuable insight on how to prepare for a dinner party with minimal stress. We would love to help you to design an organised dining room with efficient storage for all your dining essentials. Simply book in your free design visit to make a start.  
You bring the space, we bring the inspiration
Whether you have an exact vision in tow, or are just at the beginning stage of your home renovation, we have heaps of inspiration for you to get stuck into. 
Find a wealth of design tips, trends and inspiration in the pages of our brochure, magazine and on our blog. Our experts are always ready to help you create dream home, pop in store or book your free design visit for experts to help on bringing your vision to life.