How to safely co-sleep with your baby
| Inspiration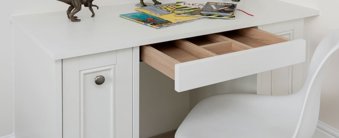 How to safely co-sleep with your baby
Bringing a baby into the world or giving one a home is one of the biggest challenges and most rewarding experiences a person can go through in life. It can fundamentally disrupt your sleeping routine, especially in the early months of the child's life.
Many parents choose to co-sleep with their newborns in the early weeks of their lives. This can be extremely convenient and promote bonding, but there are dangers to consider when co-sleeping, most notably for heavy sleepers. In this guide, we take a look at important considerations, such as what co-sleeping is; why parents choose to co-sleep; the potential dangers; how to safely co-sleep, and when to stop co-sleeping with a baby.
Please note: this blog is for guidance only. For detailed advice about safely co-sleeping with your baby, talk to your midwife, post-natal healthcare adviser or general practitioner.
What is co-sleeping?
Co-sleeping is simply the term given to sharing your bed or close sleeping space with your baby. While each has its pros and cons, the simple premise of co-sleeping is being in close proximity to your baby while you sleep.
Why do people co-sleep?
The biggest factor for most parents co-sleeping with their newborn child is convenience. A newborn baby needs round-the-clock care and will wake several times a night for feeding and changing. Co-sleeping with a newborn makes it easier to do these things with the least amount of stress.
Another factor in co-sleeping is bonding. The closeness facilitated between parent and child while co-sleeping can help to cement child-parent relationships. This primal bonding can be seen in many mammals, and is a natural maternal instinct for many mothers.
The dangers of co-sleeping
In extremely rare circumstances, Sudden Infant Death Syndrome (SIDS) has been know to occur while babies co-sleep with their parents. Although SIDS might not always be preventable, there are things you can do to prevent it. In the following section, we'll offer some rules to follow to keep your baby safe.
In addition, if you or your partner are a heavy sleeper, you run the risk of rolling onto your newborn baby in the night and not noticing. Try to understand your sleep patterns and ways of sleeping before deciding to co-sleep, as some risks just aren't worth taking.
Your baby could also be at risk of overheating by co-sleeping with you. Additional bodies, blankets and pillows will all raise the temperature of the sleeping environment. For babies born in the warm summer months, especially in hot, humid urban environments, co-sleeping should be done with the utmost caution and potentially not at all.
Rules to follow
If you decide that co-sleeping is the right choice for you and your baby, there are a few simple rules to follow:
Place the baby on their back, with nothing else near them.
Make sure they cannot fall out of the bed or become trapped anywhere.
Do not allow pets in the room while you are co-sleeping.
Ensure the room is tidy and clear to avoid tripping over while doing night feeds.
Build adequate storage solutions to house all your baby's stuff.
Keep essential items nearby, such as nappies, muslin cloths, bottles, wipes etc.
When not to co-sleep
In certain circumstances, you should never co-sleep with your baby in the same bed. Understandably, the birth or adoption of a newborn baby is reason to celebrate, which often involves popping some bubbles toasting your new arrival. If you have been drinking, it is not advisable to share a bed with your baby. Alcohol will disrupt your natural sleep habits and could make you unaware of your baby while you sleep.
You should also avoid co-sleeping in a bed with your baby if they were premature or very low weight when born. Low weight and premature babies may have difficulty with their breathing and co-sleeping in a bed with an adult may inhibit their ability to breathe freely.
Finally, never co-sleep in an armchair or on a couch with your newborn baby. There is not enough space to safely co-sleep in such a confined space.
When to stop co-sleeping
For parents who do decide to co-sleep with their babies, it is important to know when to stop. Most healthcare advice recommends that co-sleeping only happen during the first six months of a baby's life. This is predominantly to break the routine of co-sleeping and encourage your growing baby to sleep on their own.
When transitioning your baby from co-sleeping to independent sleeping, it is important to get the environmental factors right. Sleep with your baby's bedsheets for a few nights before you move them to their new room. This will help them to get a sense of you throughout the night, even if you aren't there.
Setting up your baby's first room can be difficult too. Although tiny, babies generally have a lot of stuff, whether it's a seemingly endless supply of nappies, baby grows, toys, blankets and more. Consider clever storage solutions in your nursery so that all the things you need are nearby when you check on your baby during the night.
Stress-free storage solutions for your nursery
If you need a little support getting the design of your nursery just right, why not book a home design visit from Hammonds? One of our friendly design experts will visit you at home and help you plan the perfect nursery with all the storage you need.
Alternatively, drop in at your nearest showroom to talk to a team member, or order a brochure today to browse at your leisure.
You bring the space, we bring the inspiration
Whether you have an exact vision in tow, or are just at the beginning stage of your home renovation, we have heaps of inspiration for you to get stuck into. 
Find a wealth of design tips, trends and inspiration in the pages of our brochure, magazine and on our blog. Our experts are always ready to help you create dream home, pop in store or book your free design visit for experts to help on bringing your vision to life.