How to save space in studio apartment
| Studio Apartment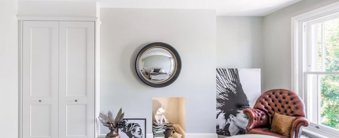 Life-changing hacks for small apartment living 
The interior design of small apartments should be an art form all of its own. Fitting all of daily life into relatively few square metres requires creative thinking and ultra-organisation. Clever storage hacks and understanding how to save space in a small apartment are central to the design – but what else could you do?
Pick a cohesive colour scheme
If you've got a small apartment, keeping your colours simple can really pay off. The best small-flat colour schemes are cohesive, ideally with the same paint throughout, or some slight tonal variations. Light colours are thought to make small spaces feel larger, so stick with white or neutrals if you can. It doesn't have to be boring, though. Simple walls can make your accessories pop, allowing you to go bold on a few key pieces. If you can't resist a bit of colour, then pick the bathroom in which to let loose as it's likely to be the room that is the most set apart from the rest of your home.
Use mirrors
Mirrors can be magic in small spaces. They bounce light around and trick the eye into thinking that there is much more space than there actually is. Go large and think carefully about your placement. A mirror situated opposite a window always works well. If you have a bit of space on a wall, you could put a mirror above a console table for a classically elegant look. And for those who like parties, try introducing a mirror ball or two into your décor. Not only do they look fun but the confetti-style light show that they put on when the sun is out will make even the smallest home look like a palace.
Maximise every nook and cranny
Working out how to save space in studio apartment can sometimes require some expert help – luckily, our Hammonds designers are here to help. Book a free design visit and our designers can come and suggest some seriously clever storage that will help to keep your clutter out of sight and make sure that no space is wasted. From tiny alcoves to awkward eaves spaces and sloping ceilings, we've seen it all and we can create detailed CAD drawings so that you can visualise exactly what you're getting.
But it's not just about the big things. Sometimes simple tricks like using hooks and baskets on the backs of doors, or vacuum-packing your unused bedsheets or out-of-season clothes, can make a really big difference.
Choose mid-century furniture
If you live in an apartment, you may want to take inspiration from mid-century design. This style is characterised by streamlined furniture, functional pieces and a distinctly unfussy look. It's particularly good for a small space because, often, the pieces are slim and neat as well as featuring tapered legs, making your apartment feel much bigger. High-street brands such as Habitat and Made have their own mid-century inspired lines, or you could look online for some original pieces.
Match your furniture
Eclectic mixes of furniture look great in large rooms but, when it comes to smaller spaces, less is often more. By matching your furniture, you'll avoid creating a space that's too busy, so keep things within style and colour themes. Many shops will have design 'stories' available, both online and in store, meaning that everything within that story is designed to complement each other. It can be a great place to start your shopping if you feel that you need some help to rein it in.
Hang your greenery
We think that all homes need some plants in them but, when space is at a premium, you won't want them to take up too much room. By hanging plants from the ceiling in macramé hangers, you can add texture while drawing the eye upwards. This will create the illusion of a taller, larger space. Create a grouping of plants hanging in one corner to get your green fix and, if you do want a floor-standing one, then it is a good idea to go big. One statement plant can make an impact without any of the clutter.
Forego the gallery wall
Although on-trend, gallery walls can work against you in a small space – there's just too much going on. Instead of many smaller pieces, adorn your walls with fewer, larger artworks, leaving clear spaces of wall between the frames. That way, your apartment will feel much less cluttered. If you find a gallery wall too hard to resist, then pick three or four images in matching frames and hang them together in a neat, even line. This can add a feeling of length to a room.
For more advice about how to decorate a small apartment living room and choosing the best storage, visit our website and book your free design visit.
You bring the space, we bring the inspiration
Whether you have an exact vision in tow, or are just at the beginning stage of your home renovation, we have heaps of inspiration for you to get stuck into. 
Find a wealth of design tips, trends and inspiration in the pages of our brochure, magazine and on our blog. Our experts are always ready to help you create dream home, pop in store or book your free design visit for experts to help on bringing your vision to life.