How to set up an ergonomic home office
| Office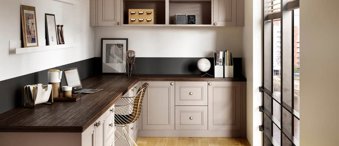 How to set up an ergonomic home office  
When we spend so much time sitting at our desks, it's important to get the set-up right. For obvious reasons, Instagram-worthy home offices have become ubiquitous during the past couple of years, but there's more to successful design than stylish décor.
Great home offices are comfortable and efficient, as well as good looking. Many companies have staff whose job it is to check your desk space is safe and set up correctly, but if you're working from home then it's down to you. So, what do you need to know?
Here we have put together some tips about how to set up an ergonomic home office that will help you become your most productive, creative and organised.
A suitable chair and desk
There have been government papers written about office chairs and how they should fit with a desk. While we are certainly not suggesting that you read all of them, it does highlight the importance of your home office ergonomics on your life and health.
The basic advice is this - your chair and desk should allow your hands, wrists and forearms to be flush. An adjustable chair is perfect, so you can tweak its height accordingly. Aim to sit back slightly so you can feel some lower back support like you would in a car seat. Some chairs have more support than others, so try a few out before you buy, and if it's still not right, you could simply try adding a cushion.
When it comes to a desk, obviously size is important. You want it to fit as neatly as possible into your home, while also giving you space to work and feel uncluttered. One of our favourite home office ergonomics tips is to incorporate some space that allows you to stand for a while. Adjustable standing desks are great, but you could also incorporate shelving that is deep enough to hold your laptop.
Supportive equipment
A laptop stand is useful for bringing screens up to eye level (a stack of books works equally well). Anything that stops you from looking downwards and keeps your head straight will help you keep a more natural posture and protect your neck.
External keyboards and mice help you create a set-up that is right for you. Some keyboards come with built-in wrist support, which can help protect against muscle strain. Headsets with microphones are also helpful as they eliminate the need to cradle a phone.
Appropriate lighting
You'll want to avoid straining your eyes or craning your neck, so it's a good idea to combine your usual overhead lighting with a more flexible desk or floor lamp. Having a lamp you can move around has the added benefit of introducing some warmth and soft focus to your face on video calls – many of us spend so much time on them now that it's worth consideration.
Maximise the natural light in your room too, as it creates a sense of wellbeing and calm. Gloss surfaces, mirrors and light-coloured paint can help with this.
Efficient storage 
Storage is everything when it comes to being stress-free and maximising your time. Knowing things have a place and knowing exactly where that is can save you precious moments.
Desk trays and filing cabinets are really useful here, and a fitted home office can offer a custom solution for your needs. Whether you share your office with other family members and want separate drawers or you work alone and would prefer standing space and shelves that will hold your biggest books, our designers can help you to work out all the fine details.
Stress relievers
Work can be stressful at times and when your office is also your home it's even more important to find ways to keep a sense of calm and order.
Things as simple as houseplants or soft furnishings can help. Essential oil diffusers are great, but if that's not your thing then think about the artwork on your walls – images of nature are thought to make us more creative. Noise-cancelling headphones are also helpful to dampen out any other sounds in your house.
Behavioural habits
Setting yourself some work-life boundaries is important when you are based at home. In an ideal world, you would take short breaks every one to two hours and get up to stretch and walk around.
You could even use stretching equipment such as a yoga mat and foam rollers. At the very least, allow yourself a lunch break (no eating at your desk) and at the end of the day leave the office behind you, shut the door and enjoy the rest of your home.
Get more home office ergonomics tips on a visit to Hammonds
For help, inspiration and advice about how to set up your own ergonomic home office, you can book a free Hammonds design visit.
Our designers will talk through your storage needs, style choices and budget to help you find the perfect solution.
You bring the space, we bring the inspiration
Whether you have an exact vision in tow, or are just at the beginning stage of your home renovation, we have heaps of inspiration for you to get stuck into. 
Find a wealth of design tips, trends and inspiration in the pages of our brochure, magazine and on our blog. Our experts are always ready to help you create dream home, pop in store or book your free design visit for experts to help on bringing your vision to life.