How to set up living rooms for entertaining
| Living Room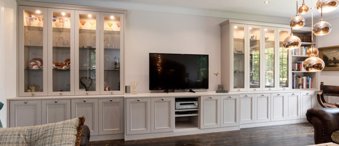 How to set up living rooms for entertaining
Living rooms are spaces where we can relax and spend time together as a family. However, if you also like to entertain guests regularly, your living room will also be a social space for sharing food, drinks and good times.    
With this in mind, it's worth thinking about how to create the best living room layout for entertaining. We offer advice, ideas and inspiration on how to arrange your living room to make sure it's party-ready this festive season.
Create a sociable layout
When you have guests over to your house, the last thing you want is for people to be so spread out that the room feels empty and stark. However, neither do you want everyone to be bunched up together with no space to move around at all.
Therefore, it's important to think about the layout of your living room to make entertaining easy and effortless.
For standing gatherings, clear coffee tables out of the centre of the room and arrange smaller pieces of furniture around the sides for people to rest drinks and plates on. Sofas can be moved a little further back to the walls and you might even want to move armchairs or cuddle chairs to other rooms in your house for the occasion.
If guests are likely to be seated, position sofas and additional seating inwards rather than focusing on a TV and bring them close enough for guests to chat easily. Be sure to leave enough space between the seats to be able to walk around easily. 
Build in flexibility
The best living room layouts for entertaining are flexible. As mentioned above, it's useful if smaller pieces of furniture such as coffee tables and armchairs can be moved to other places, allowing larger pieces to be used in a more accommodating fashion.
Equally, you might be relying on furniture to house decorations, drinks and nibbles during the event, so items like nest tables can be really useful as they are easily moved around to create extra space but fold back into one space when not in use.
Choosing furniture with thin legs will prevent the space from feeling cramped, and items such as stools and pouffes offer extra seating options for those who might want to rest their legs or sit down for a chat as the night unfolds.
Declutter
Clutter and mess are two guests who are definitely not invited to the party! Therefore, think about living room storage options so everything you want out of sight can be hidden while you entertain. 
If you want to retain the maximum socialising space, built-in living room furniture is the best option. Corner cupboards, integrated bookshelves and bespoke media units will ensure all your possessions have a home when the time comes to prepare for your friends to arrive.
TVs, books, magazines, paperwork, remote controls and toys can all be out of sight when you need them to be, but easily found again when your guests have left.
Take décor inspiration
We all have our favourite places where we love to socialise – perhaps cool bars, restaurants or hotels that we have visited in the past. Think back to a time when you felt relaxed and perhaps even indulged and try to incorporate elements of the setting into your living room design.
Be inspired by colours, patterns and accessories that you have been impressed with elsewhere and recreate the atmosphere at home. Sculptures, candles, diffusers, decanters and floral arrangements are all things that are easy to shop for but can make all the difference in creating a special ambience that remains in people's memories for a long time after the party is over.
Choose mood lighting
Lighting is really important when it comes to entertaining. You don't want the room to be too dark so your guests can't see what they are eating or who they are talking to, but you don't want bright lights to blind them and make them feel like they are in a doctor's waiting room!
Layer different levels and types of lighting throughout your living room to create an inviting feel. Standing lamps, table lamps and pendant lights on a dimmer can all be used simultaneously to create pockets of warm light in different areas of the room as people move around.
Candles, log burners and fairy lights can be lit as final additions to top off that cosy atmosphere. 
Living rooms for entertaining from Hammonds
Here at Hammonds, we are experts in creating spaces that are perfect for hosting guests.
We know how best to arrange living rooms for entertaining by incorporating built-in storage. If you're interested in arranging a free design visit with one of our experts, get booked in and start your living room transformation. 
You bring the space, we bring the inspiration
Whether you have an exact vision in tow, or are just at the beginning stage of your home renovation, we have heaps of inspiration for you to get stuck into. 
Find a wealth of design tips, trends and inspiration in the pages of our brochure, magazine and on our blog. Our experts are always ready to help you create dream home, pop in store or book your free design visit for experts to help on bringing your vision to life.