How to sleep better in the winter
| Bedroom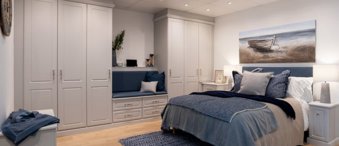 How to sleep better in the winter
Once the winter months hit, it's tempting to want to hibernate until the spring begins – but with chilly temperatures and reduced daylight, sleeping well during the winter isn't always that simple.
In this article, you will find a series of practical lifestyle tips (backed up by respected sources) to arm you with all the essentials you need to get a good night's sleep.
Get sunlight where possible

Light has a dramatic effect on our sleep – influencing our circadian rhythms and the production of the melatonin hormone. Reduced daylight hours in winter can disrupt our sleep cycles by messing up our circadian rhythm (body clock) and increasing our melatonin levels, which make us drowsy.
Therefore, it's important to soak up the sunlight at every opportunity. Whether you are working from home or the office, be sure to take regular breaks outdoors. A brisk walk at lunchtime or an afternoon cycle before the sun goes down will not only help to increase your activity levels but will also lead to more conductive and consistent sleep. In addition, keep blinds and curtains open as much as possible during the day to let in the light while you can.
Create a comfortable sleep environment

A comfortable sleep environment has also been proven to affect the quality of your sleep, and a cosy bedroom environment is even more essential in the winter months when we need extra help to keep us warm.
Always opt for natural fibre bed linen, such as cotton, silk or linen, as it will help to manage your body temperature and reduce moisture retention during the night. Also, add soft blankets and throws to your bed, which you can add and remove when needed, and which also feel great against your skin.
Keep clutter at bay

In addition to your bed linen, other items in your room can also determine your sleep quality. Bedroom clutter and mess around your sleep area can cause stress and distraction, which are known to be barriers to sleep.
Practically organising your bedroom can help to eliminate these anxieties. Therefore, spend a few minutes each day picking up clothing from the floor, tidying away used coffee mugs and putting your cosmetics back in the drawer.
You might find that you need to invest in some good quality fitted bedroom storage to help you manage your space better. Bespoke bedroom wardrobes are a great idea to make use of every inch of space in your room and offer a place to store away items that you don't necessarily want to look at when they are not being used.
Take a break from screens

It might be tempting to binge-watch TV shows and films when it's cold and wet outside, but it's still important to take a break from screens in the hour or so before trying to sleep.
Watching TV in the bedroom before going to bed is bound to negatively impact your sleep. Screen time (computers, phones or TVs) exposes your eyes to blue light that not only interferes with your circadian rhythm but also activates your brain's thought patterns, so you will find it hard to wind down for sleep.
If you need to keep a device in your bedroom for any reason, then store it out of arm's reach and avoid using it for at least one hour or more before you plan to go to sleep.
Keep exercising

We know it's harder to muster up the motivation to go out for a run or hit the gym when the night's and mornings are darker and colder, but keeping active is one of the best ways to get consistently good sleep.
Even when the weather is bad, you could try a new activity indoors, and there are literally thousands of free exercise videos on YouTube waiting to be tried at home. Yoga and Pilates are nice, gentle activities to perform before bed and will help to get you in a relaxed state of mind for sleep.
Stay cool (but not cold)

Many of us will turn up the heat in winter to make our homes warmer and cosier, however, did you know that a cool bedroom is actually better for sleeping? If you keep your bedroom cooler and regulate the temperature throughout the night, you'll find that your overall sleep quality improves as a result.
Research shows that bedrooms with temperatures in the range of 60 to 68 degrees Fahrenheit stimulate the production of melatonin, which encourages sleep, as well as offers powerful anti-ageing benefits too!
Maintain a balanced diet

Not only does the winter make us lazier minded when it comes to exercise, but it also tends to make us crave the carbs too when it comes to our daily diet. Carb-heavy foods, such as pasta, bread and potatoes, can be more difficult to digest – especially if eaten late at night – so try to minimise these and instead stock up on wholegrains, seasonal vegetables and protein.
You are sure to sleep better in winter if you maintain a healthy, balanced diet throughout. Also limiting alcohol, caffeine and sugary products as much as possible.
Resist the urge to sleep in or nap

Contrary to popular belief, we don't actually need extra sleep in winter. Sleeping longer at night or taking naps during the day can also disrupt your circadian rhythm, making getting to sleep again more difficult at night.
Try to stick to your regular sleep routine as close as you can, and instead of taking that nap, head outside for a fresh dose of air and light!
Get a restful night in a Hammonds bedroom

Here at Hammonds, we can help you create a comfortable environment to help you to sleep better in the winter.
Book a design visit and one of our expert team members will be able to advise you on ways to make your space less cluttered and more relaxing.
You bring the space, we bring the inspiration
Whether you have an exact vision in tow, or are just at the beginning stage of your home renovation, we have heaps of inspiration for you to get stuck into. 
Find a wealth of design tips, trends and inspiration in the pages of our brochure, magazine and on our blog. Our experts are always ready to help you create dream home, pop in store or book your free design visit for experts to help on bringing your vision to life.