How to Store Clothes to Save Space, Time & Money
| Bedroom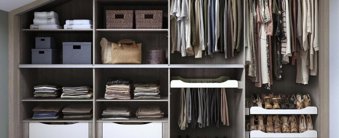 How to store clothes to save space, time and money
Storing your clothes smartly can keep them wearable for longer, stop your home from becoming untidy and simplify the process of getting ready. All are especially important as we try to cut back on clothes consumption while finding new ways to save time.
But it's not always that simple. With so much else going on in your personal and professional life, it's easy to go into autopilot with your household chores and continue the same bad habits. Yet storing your clothes poorly can spoil their appearance and slow you down.     
Thankfully there are lots of tricks and techniques you can adopt to keep your wardrobe in top condition. Read our simple step-by-step guide on how to store clothes, better.
Review what you already have
Are you guilty of forgetting what clothing items you already own? It's common to feel as if you have nothing to wear while staring at an over-spilling wardrobe.
But constantly buying new clothes can make your wardrobe cramped and creased – and that's not to mention the damaging environmental impact of fast fashion. Experts predict that the fashion industry will use up a quarter of the world's carbon budget by 2050 if nothing changes.
Take stock of what you own and assess what to keep, what to revamp or alter, and what to sell, pass on, or recycle. This simple process can save you buying more clothes you don't need and is especially effective for items you're saving for the future, such as baby clothes.
Having a clear-out will help to keep your favourite items in top condition by giving them the storage space they deserve. You also won't have to root around so much for them when it's time to head out.      
Make sure your clothes are clean
Making sure your clothes are clean before storing them away helps to prevent odours and stains from getting any worse or spreading to other items. Check the state of each piece of clothing and follow the label instructions accordingly. 
Once washed, allow your clothes to properly dry to avoid creating bad smells or mould. Using a clothes rack instead of a tumble dryer is a good way to cut down on electricity usage and create a gentler drying cycle for your more delicate items.      
There's no need to rewash items that are already clean, however. Doing so will waste energy and could increase your water bill. Simply check each clothing item before you get it ready for storage.    
Categorise by type and usage
Next, think about which clothing items you use regularly and which you don't to create a clear organisation strategy. Things like ski clothes and even wedding dresses don't need to be as easily accessible as your gym trainers or hat and gloves, for example. Do you have hidden space under your bed or elsewhere to keep them out the way?   
Deciding how to store your out-of-season clothes can be tricky if they're particularly bulky. Vacuum-packed bags can help you save on space while still protecting your clothes from dirt and damp. 
And if you're not doing so already, it's a good idea to keep your like-for-like items close to each other to make finding and comparing them easier when you come to get ready. Separate your sleepwear from work outfits and keep all your casual tops close by.
Assess your storage furniture and features
Having the right storage is essential for keeping your clothes in order. From drawers to hanging space and shoe racks, does your furniture meet your needs? Non-bespoke options may not always cut it.
Having fitted bedroom storage tailored to your home and lifestyle can make a huge difference to your everyday routines. Not only will you be able to make the most of awkward spaces and corners, but you'll be to install storage features that suit your needs and preferences.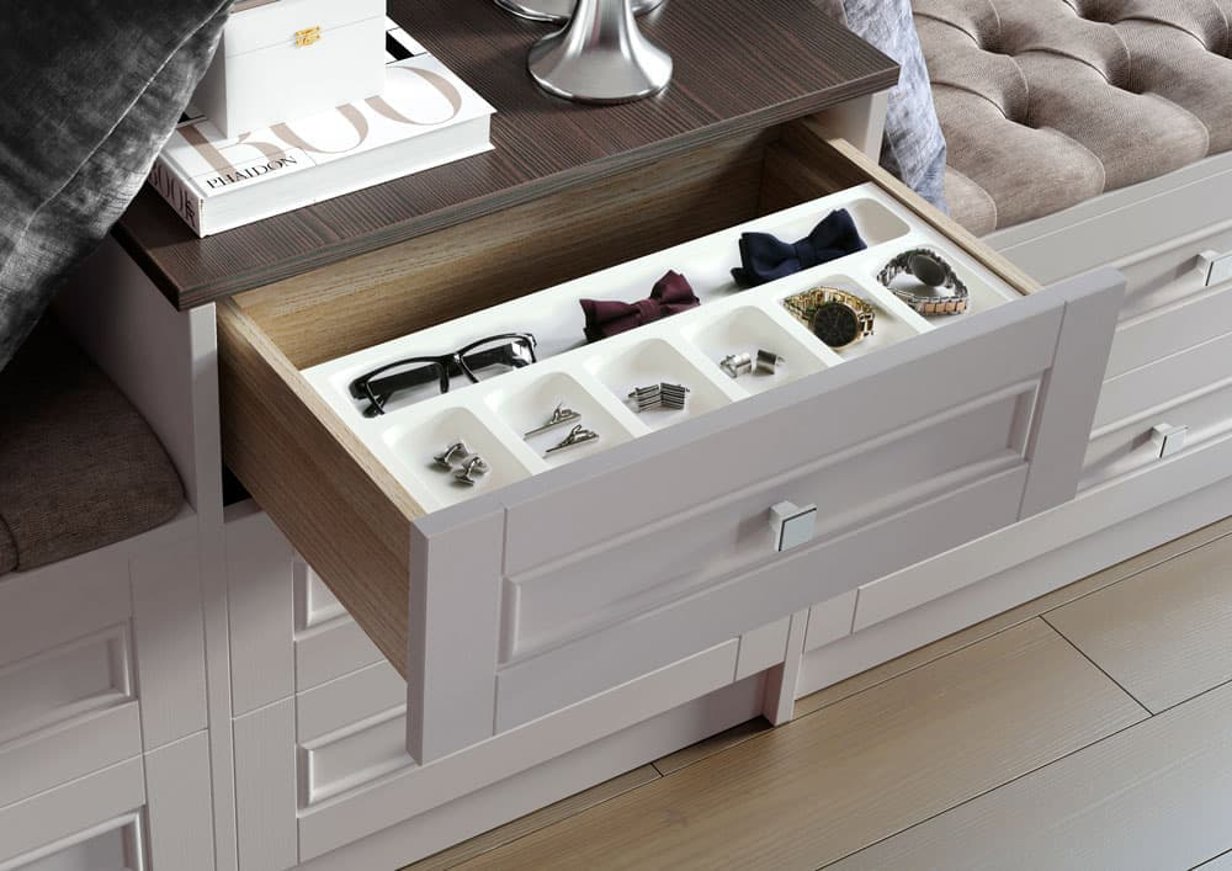 A jewellery tray could keep your accessories organised, accessible, and secure. A pull-out shoe rack will save you searching your home for that missing stiletto or brogue, while a tie rack will keep creases and tangles at bay.
Hone your storage techniques
Have you ever wished you knew how to fold clothes like the stores do? With your clothes cleaned and organised and your ideal storage in place, now it's time to hone your techniques.
A method made famous by the home organisation expert Marie Kondo, storing your clothes in drawers vertically, rather than stacked on top of each other is a clever way to display all your options at once. It can help you avoid messing your neatly folded items up to get at the ones below, too.
Simply fold items so that they are stood on end, and line them up in rows. It's a good idea to refold your less-worn items once or twice a year to prevent rigid creases from setting in for good.
Are you ready to master your clothes storage? Try the tips mentioned above to save space and time and keep your clothes in pristine condition for years to come.
You can find more inspirational guides and handy how-to guides on the Hammonds hub. 
You bring the space, we bring the inspiration
Whether you have an exact vision in tow, or are just at the beginning stage of your home renovation, we have heaps of inspiration for you to get stuck into. 
Find a wealth of design tips, trends and inspiration in the pages of our brochure, magazine and on our blog. Our experts are always ready to help you create dream home, pop in store or book your free design visit for experts to help on bringing your vision to life.