How to style a master bedroom
| Bedroom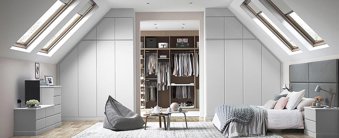 Your master bedroom is your retreat from the outside world, as well as from the chaos of the rest of your home! It should be a haven of calm and comfort; a space that feels both luxurious and relaxing.
Whether you are creating your master bedroom from scratch or looking for ideas to update your space to make it more inviting, this article will help you to design a master bedroom you won't ever want to leave.  
Pick a theme
Choosing a theme for your master bedroom will help to make it look and feel cohesive throughout.
Whether you prefer traditional or more contemporary interiors, there are many ways to style a master bedroom.
You could opt to incorporate Chinese Feng Shui practices into how to arrange your master bedroom, creating a serene and harmonious space. Or maybe you would prefer to choose a farmhouse aesthetic with rustic furniture and cosy accessories. The Scandi style bedroom is also a very popular choice at the moment, and allows for a modern, clean and airy feel, with a very limited palette.
Your choice of theme is likely to guide your colour scheme too. Just remember that the aim is to create a space full of your personality where you feel completely relaxed.
Think about zoning
Your bedroom is likely to be a place where various routines and rituals take place. So, it's useful to think about what you want from your bedroom and how you want to use the space available.
Obviously, there is your sleep zone, which should be calming and comfortable. But what else do you need in this area apart from your bed? A shelf to store your evening reading? A bedside table to house your night-time essentials?
Will you designate a dressing area in your bedroom? If so, think about how you want to separate this from the rest of the room. Whether it be with a partition wall or a lovely Japanese folding screen, there are many clever ways to section off an area of the room. 
If you are fortunate enough to have a larger bedroom space, then perhaps you could accommodate a reading zone or a yoga space too. These are activities that promote relaxation and calm, so are perfect for a bedroom environment. 
Choose the right size and style of furniture
When it comes to bedroom furniture, you need to come back to your theme and see what styles, colours and materials you want to work with.
Matte white wooden furniture works well for a Scandi theme, whereas mirrored furniture with bold features will blend in beautifully to an art deco style.
As well as having your theme in mind, think about the size of your space. Your bed, wardrobe, dressing table and bedside tables are all key pieces, so consider how best to fit them into the room so that it still feels spacious and comfortable.
Furniture comes in all sizes and shapes, so research well and find the perfect items for your room.  
Add plenty of storage
To create a harmonious space, your bedroom should be free from clutter. However, it still needs to be practical.
There are sure to be things that you will want to store in your master bedroom such as clothes, shoes, accessories, sportswear, bed linen and cosmetics. Therefore, think about a solution which helps to store all your items as you want them, while keeping them out of view.
Choosing fitted wardrobes in your master bedroom is a great idea for this very reason. Fitted wardrobes come in many stylish designs to suit your theme, but are also immensely practical, offering much more space than stand-alone wardrobes. Your fitted wardrobe interior can also be customised to your exact requirements. So, whether you prefer more hanging or folding space, the choice is completely yours.
And, to finish off your theme beautifully, you can complement your fitted wardrobes with other pieces of matching bedroom furniture to maximise your storage options. Chests of drawers, bedside tables and dressing tables ensure you have a luxury home for absolutely everything you need.
Build a lighting scheme
Once you have got your head around designing and arranging the layout of your master bedroom, it's time to consider the lighting options available.
When it comes to bedroom lighting, it's all about getting the level right for different moods and parts of the day. From bright lighting to get dressed in the morning, to sultry, low lighting for a pre-bed bath, it's important to have options available depending on the occasion.
LED spotlights help to create ambient bedroom lighting that serves the same function as natural sunlight. You can opt for dimmer switches, so that you can alter the amount of ambient light in your room to suit your mood and requirements. Spotlights create quite a modern feel, so if you are going for a more traditional theme, pendant lamps offer similar benefits. Hung from the ceiling, pendant lights come in a whole range of shapes and designs and generally give a cosier feel.
In addition to your ambient lighting, you can opt for accent lighting in your room too. Accent lights, such as standard lamps or bedside lamps, can be placed in key areas of the room to highlight various features and create a warming glow. Use them to create ether a pleasant or practical mood in the room. For example, situate a lamp in the ideal spot for comfortable night time reading. 
Get the master bedroom of your dreams with Hammonds
Deciding how to style your master bedroom is an exciting task, but also one with many different options to consider, including what best suits your lifestyle.
If you would like some help from our interior experts, then why not book a design visit using our in-home design service. Our team can help you to create an organised, stylish and serene master bedroom to suit all your needs (and more).  
You bring the space, we bring the inspiration
Whether you have an exact vision in tow, or are just at the beginning stage of your home renovation, we have heaps of inspiration for you to get stuck into. 
Find a wealth of design tips, trends and inspiration in the pages of our brochure, magazine and on our blog. Our experts are always ready to help you create dream home, pop in store or book your free design visit for experts to help on bringing your vision to life.