How to transform an empty space into a stylish guest bedroom
| Bedroom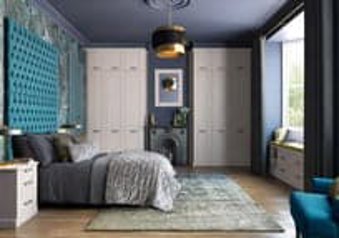 How to transform an empty space into a stylish guest bedroom
Having a stylish guest bedroom in your home opens up a whole world of socialising, hosting and generally having fun. If you have the space – maybe you're empty nesters or your housemate has just moved out – take the opportunity to transform your spare room into something fabulous.
You'll become the destination of choice for your friends, and you can even take advantage of it yourself if you usually share a room and want some time alone.
Here are our dream guest bedroom ideas to help you get started.
Experiment with different beds
If your spare room is big enough, you could show your intentions as far as luxury is concerned and invest in a four-poster bed.
There are plenty of sleek, modern versions available, some featuring clean, simple wooden lines while others are crafted for a more romantic tone with curved metal edges. You could twist some fairy lights along it for a fun vibe, but if you're going for sophistication, drape white fabric across the top. Just remember to secure it, so it doesn't fall in the middle of the night.
Add a cosy place to sit
Most hotel rooms will have an armchair or two where guests can sit, read a book and generally relax. We think this would be a great idea when it comes to styling your guest bedroom. A chair placed in the corner of the room can look really inviting, and if you accessorise with a throw or a couple of cushions then so much the better. Adding a small table nearby with a few books stacked up and a coaster for teacups will complete the scene perfectly.
Add some storage
The danger of spare rooms is that they become a dumping ground for laundry and anything else that doesn't have an immediate home. To help to keep your spare room tidy and free of clutter, invest in some storage.
Fitted wardrobes can create what feels like acres of space. And as it isn't anyone's bedroom, you can use it to store things like winter coats, special occasion clothes and bulky sports equipment. We have various styles, ranging from Shaker-inspired Seton with panelled wood to sleek, high gloss units for a contemporary look.
Utilise the nooks and crannies
Bedrooms come in all shapes and sizes and if you live in a character house, you're likely to have some interesting spaces to contend with. The art of dealing with sloping ceilings, random steps, funny corners or whatever quirk your bedroom happens to have is to embrace them and make them useful.
Shelving is a great way to use irregular spaces and it gives you a reason to display some beautiful objects and plants. If you have a disused fireplace, you could go bold and paint the inside a bright colour or fill it with books or candles.
Go bold!
Spare rooms are perfect for experimenting and testing your interior design skills. There's no need to be too serious with your guest bedroom ideas. If you're tempted to let loose but are concerned about keeping things stylish, why not go classy with a bold accent wall?
Go for a bright and decorative wallpaper and use the tones within the design as accents in the rest of the room. If you have a plain wall that needs attention, you could also commission a mural. Find a local artist you love and talk through some design ideas. You could go for delicate flowers or even a graffiti image.
Get artsy
Another way to make a statement while styling a guest bedroom is to invest in a piece of art. As a low-traffic area, your picture will be safe from damage. But you can still go and enjoy it whenever you feel the need.
It doesn't have to be a painting – you could go for a drawing or even a collage. Choose something you love, rather than something that feels like a sensible investment.
Let Hammonds take care of the storage
For help and advice on designing your stylish guest bedroom, book a design visit with one of our experts. They will talk you through all your options and create a detailed picture so you can visualise exactly what you're getting.
You bring the space, we bring the inspiration
Whether you have an exact vision in tow, or are just at the beginning stage of your home renovation, we have heaps of inspiration for you to get stuck into. 
Find a wealth of design tips, trends and inspiration in the pages of our brochure, magazine and on our blog. Our experts are always ready to help you create dream home, pop in store or book your free design visit for experts to help on bringing your vision to life.