How to transform your bedroom into a peaceful oasis
| Bedroom, Inspiration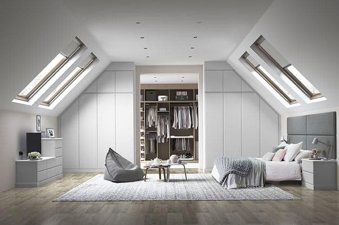 With many of us working from home these days, having a place to escape to is more important than ever. We'll show you how to make your bedroom an oasis.
How to transform your bedroom into a peaceful oasis
You might well be familiar with the adage of "nothing beats coming home and relaxing after a long hard day." Well, these days, thanks to a certain pandemic, it's a little more like "nothing beats clocking off from your living room desk after a long hard day" for a lot of us.
If you are one of the many who have been working at home for the past few months, you understandably might be sick of the sight of the four walls of your living room, kitchen, home office or wherever you choose to work. That makes having somewhere to separate yourself, chill out and relax in your home even more important.
The obvious choice for this getaway spot? That would have to be your master bedroom – and we want to show you how to make your bedroom an oasis you look forward to visiting every evening.
Invest in a dreamy mattress
You (hopefully) spend eight hours asleep in your bed each night, and that doesn't begin to take into account the additional time you spend there reading, watching Netflix or using your laptop. It's the most used and important piece of furniture in your house, and no truly relaxing bedroom is complete with a truly relaxing mattress. So, if you haven't already invested in a dreamy mattress, what are you waiting for?
Now, this isn't something to be taken lightly. When picking out the mattress for you, you'll have a number of factors to consider. How firm? Memory foam, latex, pocket springs or hybrid? What size? What pillows to complement? Find a guide online to ensure you get it right.
Adjust your lighting
When it comes to calming bedroom ideas and how to make your bedroom more peaceful, lighting should play a big part, or two parts in the case.
During the daytime, try to embrace as much natural light as possible to give the space, and you, a boost throughout daylight hours. Once dusk comes, your attention should turn to creating an ambience that's going to help you relax after the day and get you ready for a good night's sleep. Stay away from harsher options such as spot lighting and instead turn to softer, more calming bedroom lights like bedside lamps and candles scattered about the room to create your oasis vibe.
Introduce some greenery
Green spaces are being readily encouraged in all walks of life, from office blocks to urban areas. Why? Because the introduction of greenery into a space has been scientifically proven to offer both mental and physical benefits, most importantly by providing psychological relaxation and stress alleviation. With those two elements in mind, a little natural green should find its way into your bedroom oasis, too.
In your bedroom, it's all about aromas and breathability, and there are a number of plants you can bring in to help boost both areas. Plants like jasmine and gardenia are great for releasing relaxing scents ahead of bedtime, while aloe vera will help boost the oxygen levels in the room at night.
Fill the room with sleepy scents
Speaking of scents, invest in an all-natural oil repertoire to help you unwind and slip into a dreamy sleep on a night. Aromatherapy has been shown to help with mild sleep disturbances, and there is a wonderful variation of soothing scents available to suit every taste.
Choose a tried and tested option like lavender or ylang ylang or go for something a little more out there such sweet marjoram or clary sage. All you need to do is pop a few drops of your chosen oil on your pillow before bedtime to help you drift off.
Clear away any clutter
A messy house equals a messy mind, and a bedroom is typically the number-one suspect when it comes to general clutter and untidiness. Clutter can affect your ability to sleep, your focus, your anxiety and stress levels and lead you to find coping mechanisms such as eating unhealthily. If your bedroom is like this then you've no chance of creating that oasis you want, so it's time to get tidying!
Maybe it's time for a throw out of old bits, or maybe it's time to invest in one of our smart storage options or a tasteful fitted wardrobes. Keep your essentials hidden away tidily and this will give you the space to put your calming bedroom ideas into action.
With the mental and physical benefits that come with creating a retreat space in your bedroom, there's no better time than now to look in to how to make your bedroom a peaceful environment.
With the tips above and maybe a little help from our perfectly designed fitted storage, you can make your bedroom the oasis you need to get through these testing times. For more inspiration on how to chieve the bedroom of your dreams, check out our blog.
You bring the space, we bring the inspiration
Whether you have an exact vision in tow, or are just at the beginning stage of your home renovation, we have heaps of inspiration for you to get stuck into. 
Find a wealth of design tips, trends and inspiration in the pages of our brochure, magazine and on our blog. Our experts are always ready to help you create dream home, pop in store or book your free design visit for experts to help on bringing your vision to life.