How to transform your spare bedroom into a walk-in wardrobe
| Bedroom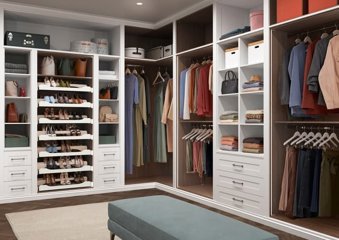 How to transform your spare bedroom into a walk-in wardrobe
Your spare room doesn't have to be neglected. Even if you don't need the extra space for guests, there's an array of small spare room ideas for you to choose from, so you can turn it into a valuable addition to your home.
If you're running out of space for your clothes, bags or shoes, why not use your spare room for storage instead? In this article, we'll be outlining simple steps to transform your spare room into a stunning walk-in wardrobe.
Clear the floors
Perhaps your spare room is home to a multitude of cardboard boxes and free-standing clothes rails. If you're considering spare room walk-in wardrobe ideas, it's time to give the space a good clear-out.
Starting from scratch means you can maximise your space. Measure the room's dimensions beforehand so you can use every corner. And don't be put off by awkward room shapes – even rooms with alcoves and sloping ceilings can be used as a walk-in wardrobe.
Paint in neutral shades
Space is often at a premium when it comes to spare bedrooms, but they can still be stylish. Sticking to soft, neutral colours will create a welcoming ambience, and such shades are perfect for small, compact walk-in wardrobes.
Walk-in wardrobes often lack natural light so brighter tones will make your small room appear more spacious and improve its overall visibility. Plus, neutral colours can evoke feelings of calm and serenity, helping you feel at ease in your new room.
Install bespoke fitted wardrobes
There are so many walk-in wardrobe designs to choose from. From floor-to-ceiling wardrobes to L-shaped closets, it can be tricky to decide which style best suits your needs and preferences.
Add your own unique spin on the spare room by installing custom-made fitted furniture. That way, you can create an immersive feel within the space and tailor your walk-in wardrobe to your requirements.
Creating a bespoke storage solution with Hammonds means you can choose exactly what you want, turning your walk-in wardrobe dreams into reality. Add mirrored wardrobe doors to keep your belongings tucked away or opt for a doorless option for a luxury look and feel. And, with pull-out shoe racks and counterbalance hanging rails, you can add the finishing touches to suit your own taste.
Add a soft armchair
Whether it's used for moments of quiet contemplation or the all-important outfit planning at the start of each day, a plush armchair makes a welcome addition to your new dressing space. Take a look at the way Samantha Faiers incorporates a soft, boxy white armchair to  .
Armchairs are also great for curling up on if you need a bit of time to yourself. Whether you want to cosy up in the corner, enjoy a good book or take a quick snooze, an armchair is a versatile piece of furniture. Use decorative pillows and a soft throw to complement the room's existing décor.
Let in some natural light
Whilst we've touched upon walk-in wardrobes typically lacking natural light, it can be an important feature in any dressing room. Along with helping you to style your outfits, plenty of natural light will make it even easier to organise your new wardrobe space.
Try to let in as much natural light as possible or consider adding a window to your dressing room if you have the budget. Not only will this increase visibility, but it can also help lift your mood.
De-clutter your spare room with Hammonds
Walk-in wardrobes are an enviable addition to any home. Take the leap today with Hammonds and renovate your spare room into a delightful dressing room. Our experienced designers will help bring your vision to life – simply book a free design visit and a member of our team will be in touch.
You bring the space, we bring the inspiration
Whether you have an exact vision in tow, or are just at the beginning stage of your home renovation, we have heaps of inspiration for you to get stuck into. 
Find a wealth of design tips, trends and inspiration in the pages of our brochure, magazine and on our blog. Our experts are always ready to help you create dream home, pop in store or book your free design visit for experts to help on bringing your vision to life.