How to update your dining room
| Inspiration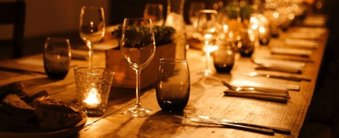 6 ways to update your dining room
Stuck for dining room interior design ideas and want to give the entire space a facelift? You've come to the right place. We'll go into depth about the little touches that can make a big difference, enabling you to create the ideal environment for entertaining guests, hosting dinners or simply settling down to enjoy your evening meal. There are plenty of things you can do to get started…
Add some paint
There are lots of ways to integrate modern dining room designs into your home. You can tap into eccentric wallpaper or bold colours by integrating an accent wall, or even go for panelling.
You don't have to be restricted to walls though. Why not go all out by jazzing up your furniture with a lick of paint? You'd be surprised by the impact this can make and it can even inspire a new colour scheme throughout the room, which you can complement with additional accessories.
Lay down a rug
Although you may associate rugs with rooms that have lots of soft furnishings, such as the living room or bedroom, they can make a big difference to your dining room too. They add a touch of softness to counteract the hard lines of the table, for instance.
On top of this, it's another opportunity to introduce new colour schemes, patterns or textures into the space, which means you can have fun with it too. A worthy investment, rugs are a valuable addition if you're stuck for dining room interior design ideas.
Dim the lights
Lighting is integral when setting the mood across a space; it can change the atmosphere entirely. You can hold more power over the ambience by swapping cold and blaring overhead lights for alternatives that can be dimmed, which comes in especially handy for dinner parties. Some people prefer to opt for warmly lit lamps instead of switching on the overhead light, so it's worth having a few options dispersed around the room.
Add artwork
The dining room is a great spot to showcase any statement artwork to guests who may be visiting your home. It makes for a great talking point and allows you to bring out your personality and tastes too.
You can have hanging artwork on the wall, stand-alone pieces or more delicate trinkets that can be placed across the room. In terms of dining room interior design ideas, artwork is a fantastic way to tie a scheme together or even elevate it to another level.
Refresh your furniture
Wondering how to update your dining room furniture? Switching up your existing furniture works wonders but can require quite a significant outlay.
Luckily, you can use a few tricks to freshen up your space without making a large dent in your bank account. This might include updating your table with new accessories – be it candles, vases or floral arrangements. Alternatively, you can get hands-on by upcycling your furniture with a touch of paint or by reupholstering any fabric on the seats.
Improve storage
If you're thinking about more substantial dining room renovation ideas, it may be worth considering fitted dining room furniture. From grand cupboards that showcase your best glassware to fitted window alcoves that combine storage and seating into one, this is your chance to go all out and create a beautiful, bespoke dining room set-up that ensures everything you require is close at hand.
Get advice from Hammonds
With our free design visits, you can make the most of our team's professional advice while benefiting from our 3D design software to help bring any ideas to life. Your dining room is one of the centrepieces of the home when entertaining guests, so it's important to get your designs spot on. That's where we can help.
You bring the space, we bring the inspiration
Whether you have an exact vision in tow, or are just at the beginning stage of your home renovation, we have heaps of inspiration for you to get stuck into. 
Find a wealth of design tips, trends and inspiration in the pages of our brochure, magazine and on our blog. Our experts are always ready to help you create dream home, pop in store or book your free design visit for experts to help on bringing your vision to life.