How to use colour drenching to create space in your bedroom
| Bedroom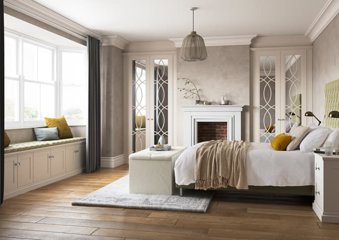 If you're in the middle of a home reno or you know someone that is, chances are you've heard of "colour drenching". A term coined by interior design enthusiasts, colour drenching is an interior trend taking the world by storm. Although it may sound a tad scary, colour drenching is simply selecting one colour and spreading different tones and shades of that colour over as many surfaces as possible.
Because why limit your favourite colour to just the walls or accessories!
If you're toying with the idea of colour drenching or simply want to learn more about the latest trend, read on to find out what colour drenching is and how you can use it to your advantage to create a spacious bedroom design.   
How to create a spacious bedroom design with colour drenching
Paint your ceiling
For a dramatic look, colour drenching can be used to create a bold yet spacious bedroom by painting your ceiling.
Although most of us shy away from painting the ceiling anything other than white, if your bedroom is a little on the bijou side, painting the ceiling the same colour as your walls might even give the illusion of space. By drawing the eye upwards, you'll create the illusion of a larger room and higher ceilings.
Rethink your woodwork
Traditionally, most homes have coloured walls and crisp white woodwork. Nowadays, though, this trend has been turned on its head, with many of us dabbling in painted woodwork.
As well as making a style statement, painted woodwork will make your walls feel taller – ideal if you aren't blessed with high Victorian ceilings!
If you're brave enough, why not experiment and paint your walls, skirting, doors, cornices, radiators and even windows? For a room that just exudes serenity, be sure to choose a cosy bedroom colour of which you won't tire.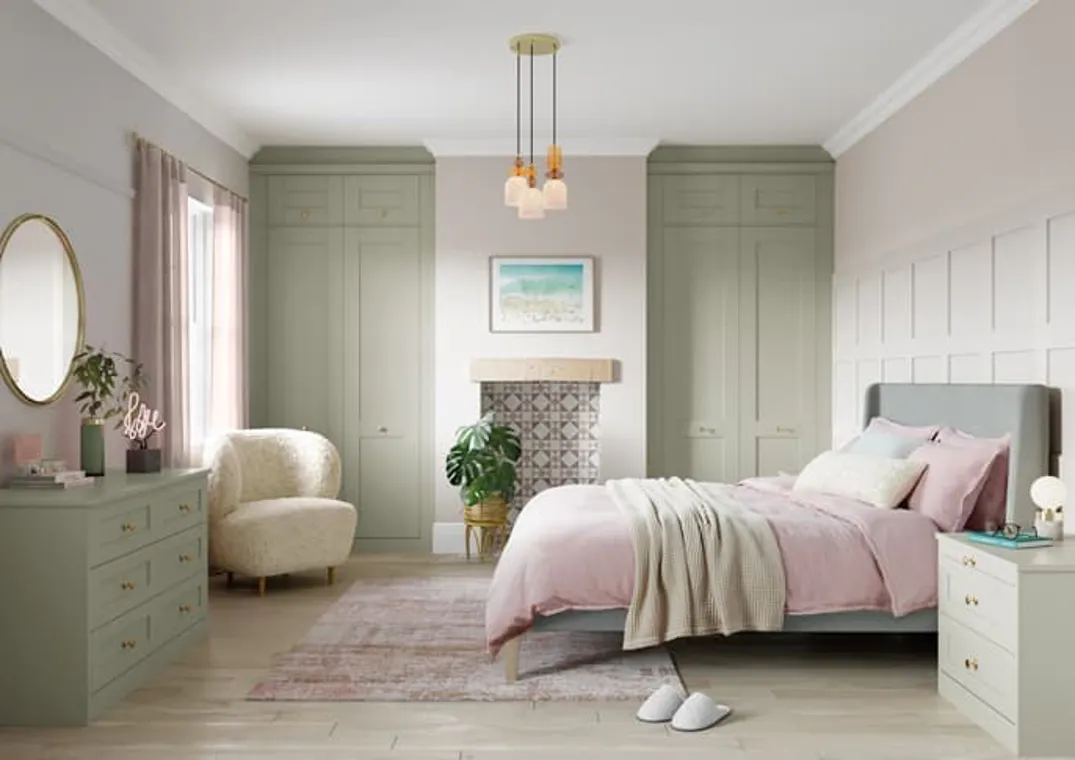 For a fun, playful take on colour drenching, why not match your furniture to your walls? This bold move will make even the smallest of rooms feel spacious by using continuous colour to accentuate the space.
The absence of harsh lines and varying colours means that your furniture simply blends into the scheme. By making your furniture part of your walls, you'll feel much less claustrophobic in a small room. If that weren't enough, your room will have a new sense of flow, making for a relaxed slumber.
The bottom line? By choosing coloured furniture that matches your chosen scheme, you'll create an on-trend look that simply works.
Break up the scheme with accessories
Just because your walls, ceiling and woodwork are the same colour, that doesn't mean that you can't have some fun with accessories! To stop your scheme from looking too monochromatic, add some visual interest with simple accessories in vibrant colours. Whether you choose a textured blanket, colourful cushion or stylish ornament, you'll instantly add a new dimension to your room.
Equally important in your spacious bedroom design scheme is the lighting. To avoid your bedroom turning into a cave, be sure to invest in some ambient lighting to set off your beautifully painted walls.
Who said that colour drenching had to be boring?
Go bold and daring
Even if your bedroom is small, why not make the space feel cosy and inviting? By being fearless and going bold with a cosy bedroom colour, you can create an inviting space that feels both intimate and contemporary. If you're brave enough, why not give colour of the year 'Very Peri' a try?
Just be sure to accessorise with neutrals and muted colours such as greys, beiges and whites to keep the scheme from looking chaotic.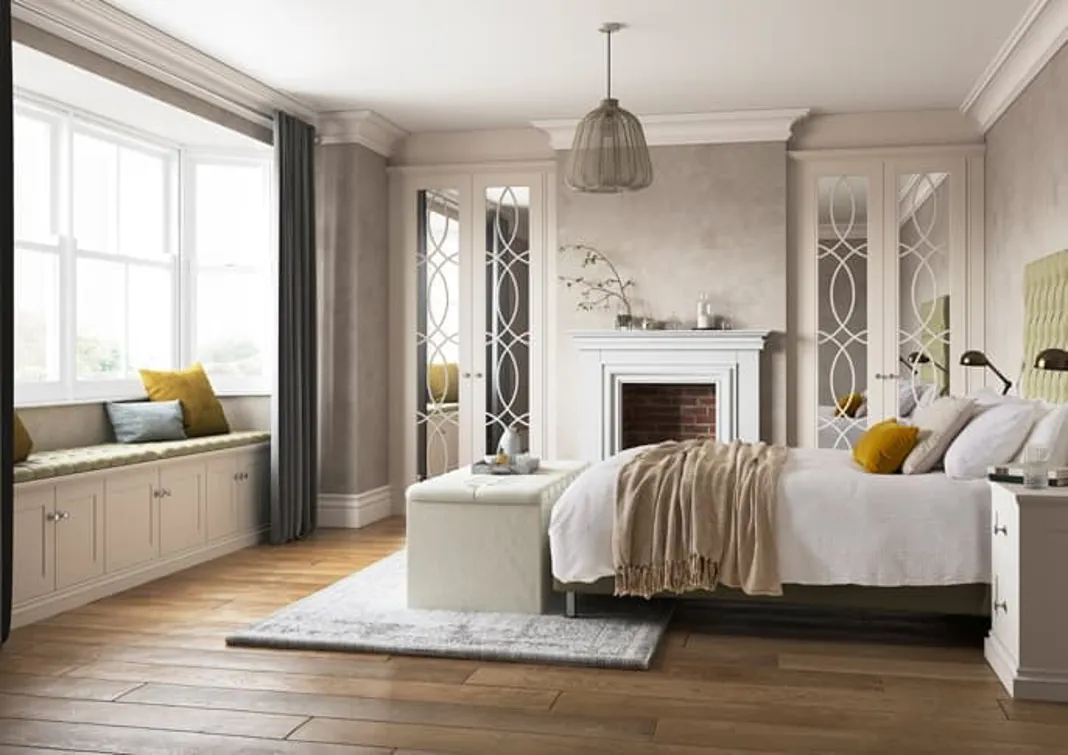 Though colour drenching is all the rage, you don't necessarily need to take the plunge with a dark colour.
If you like your bedroom to be bright and airy, then why not give colour drenching a go in your chosen neutrals?
By keeping the colour palette muted, you can create a serene space in which you'll treasure spending time. Whether you go for whites, greys, beiges or creams, colour-wash your walls, ceilings and woodwork for a harmonious look that'll never go out of style.
If you're looking to design an on-trend bedroom, we can help. With years of experience designing and creating luxurious bedrooms, we're on hand to offer spacious bedroom design ideas and expert help and advice on everything from colour schemes to the best layout for your abode.
Book a design visit and we'll help you to design a trendy bedroom in which you'll want to spend as much time as you can.
You bring the space, we bring the inspiration
Whether you have an exact vision in tow, or are just at the beginning stage of your home renovation, we have heaps of inspiration for you to get stuck into. 
Find a wealth of design tips, trends and inspiration in the pages of our brochure, magazine and on our blog. Our experts are always ready to help you create dream home, pop in store or book your free design visit for experts to help on bringing your vision to life.