How to use lighting to enhance the colours in your bedroom
| Inspiration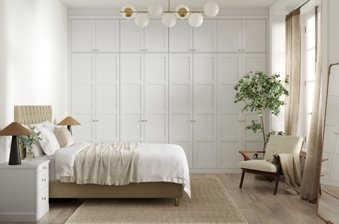 How to use lighting to enhance the colours in your bedroom
Any bedroom décor can only truly be appreciated with the right lighting. In fact, it's so surprising how different forms of light can impact the appearance of paint colours.
From carefully placed ceiling pendants and lamps to furniture and mirrors, there are several ways to make sure that the lighting draws attention to your bedroom colour scheme beautifully.
Here, we outline a few of the best ways to use light to your advantage.
Focus on warm light
The role of colour temperature can dramatically affect the appearance of colour and texture in your room. It is measured on the Kelvin scale and a higher number means it is closer to replicating bright sunlight. Higher temperatures on the scale appear whiter or bluer, while lower ones provide a light that looks more yellow or red.
Uncovered, intensely bright white light would most often be too harsh and not reflect your colour scheme in the best way, especially if you have used soft, neutral colours that are meant to be calming and sleep-inducing.
Instead, aiming for more orange/yellow bulbs and vintage LED filaments will help your bedroom colour scheme encourage sleep and relaxation.
Layer your lighting
A perfect balance of light can be achieved via a mix of layers and forms. Since bedrooms are spaces for relaxation and practicality, using a mixture of task and mood lighting can help you achieve the right atmosphere at the right time.
For example, desk lamps on your dressing table provide great task lighting for doing hair and make-up, while fairy lights around your bed or flickering candles on a bedside table can create the perfect bedroom mood lighting.
Make the most of your furniture
From bookshelves to dressing tables, the larger objects in your bedroom will naturally make your décor more distinctive. Plus, a lot of the time, light can be directed to highlight certain features of the room.
For example, matching a set of white fitted wardrobes with a pastel bedroom colour scheme can help make the space appear brighter and airier. You can install smart spotlights inside your fitted wardrobe to help provide practical lighting where it's most needed – either on a sensor or via a remote-control system. If your wardrobe has an alcove feature, placing a lamp in it could offer a lovely touch of bedroom mood lighting for an evening.
Use dimmable bulbs
Whether your space is large or small, bedroom lighting can be made even more flexible with the use of dimmable bulbs. You can still opt for a warmer tone but can turn them up when you need more artificial focus lighting or dim them to create a warm, cosy glow in the evenings.
Paired with a light or neutral décor, the colours in your room will feel bright and fresh when the lights are on full ­– or soft and cosy with them low.
Mix and match with colours
Lastly, don't forget that colours themselves can be effective in adding shape, warmth and character to your bedroom. Décor and soft furnishings can bring different elements that natural or artificial light can't always achieve.
Even if you want to keep your bedroom walls and ceilings relatively neutral, you could choose a matching pair of colourful, patterned lampshades to alter the effect of the light shining through them. Or you could add contrast with a bright ottoman or armchair with a floor lamp standing over it to bring some personality and light to your space.
Make space for light with fitted wardrobes from Hammonds
If you would like one of our team members to help you find the best fitted furniture and lighting options for your bedroom colour scheme, get in touch today to book your free design visit consultation.